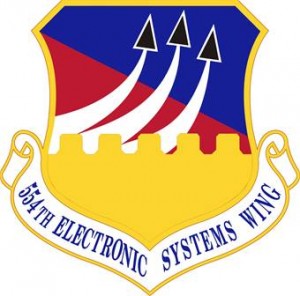 Overview
According to the Air Force, the 754th Electronic Systems Group "provides responsive information systems to support more efficient and effective logistics, contracting and comm-computer capabilities Air Force wide." It also "sustains comm-computer capabilities for Unified Commands services and specified DoD and non-DoD organizations." ((Ibid.))  A promotional guide produced by the 754th ELSG describes their functions as providing and suporting "secure combat information systems and networks that increase the capabilities of our commanders and leaders of the United States Air Force (USAF), the Department of Defense and other Federal Government Agencies. Our mission is to deliver information driving war-winning decisions by shaping, acquiring, and sustaining warfighting IT capabilities through responsive, adaptive and cost-effective logistics, enterprise services, and infrastructure solutions – to fly and fight in Air, Space and Cyberspace."5
The guide continues:
The 754 ELSG is a part of the 554th Electronic Systems Wing, supports the Wing's mission of providing the USAF with a wide array of horizontally integrated IT products and services and ensures timely, decision-ready information that delivers high quality solutions to support mission requirements.  In a June 17, 2008, address to Airmen at Nellis Air Force Base, Nev., Chairman of the Joint Chiefs of Staff, Admiral Mike Mullen, spoke about some of the challenges in integrating the cyber mission into the United States military. "Cyber is in amongst us and we as a nation and as a military have a long way to go to come to grips with it. We have invested a lot of money in the last two or three years in the cyber world. And we have experts who are world-class. But what we don't have is that broad approach yet…there are very few discussions I have in Washington these days that don't somehow get to the cyber challenge."


The 754 ELSG takes on the cyber challenge by responding to growing critical information technology and network needs offering secure and integrative IT systems, tools, products and services, through a wide variety of contracts and agreements. We will improve responsiveness and maintain customer focus, employ innovative and comprehensive strategic sourcing practices that deliver synergistic capabilities. We are ever vigilant of internal/external dynamics that influence the integrity of existing support systems as we track technology trends, budgetary cycles and political reforms that may affect opportunities to develop
more efficient processes.


The 754 ELSG continues to lead the Air Force in optimizing the IT investment and delivering the right solution at the right time at the right price.
Mission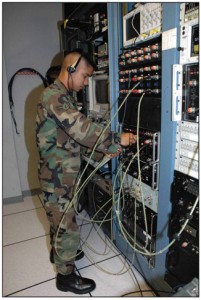 Acording to the Air Force, the 754th ELSG "provides technical and customer service support as well as acquisition and program management oversight of over 160 Combat Support Information Technology (IT) systems. 754 ELSG also manages the Air Force standard desktop environment, and serves as the USAF lead for software program management under the auspices of the DoD Enterprise Software Initiative. 754 ELSG is the source of a large infusion of commerce in the Montgomery area with government employees and contractors from local and national IT and support companies."6
In addition to this, the Group's activities include "managing the Air Force single enterprise-wide license contract with Microsoft Corporation, executing the Chief Information Officer's Information Technology Commodity Council Strategic Sourcing program and administering the Network Centric Solutions (NETCENTS) contract valued at over $9 billion. 754 ELSG manages over 50 Air Force Contracts and Basic Purchasing Agreements with a total value of $15 billion.  According to the Montgomery Area Chamber of Commerce, 754 ELSG is the largest single employer of information technology personnel in Montgomery."7
Contracts
The 754th ELSG manages several major contracts for the Air Force and Department of Defense.  The largest of these contracts is the Air Force Network-Centric Solutions (NETCENTS) contract which is a "five-year, $9 billion program, that provides engineering, software development, system integration, security, and telephone services, plus voice, video and data hardware, and software products. NETCENTS is the major Air Force contract vehicle; all new work for the USAF falling within scope must be executed through NETCENTS unless a waiver is granted."8

According to the NETCENTS website operated by the 754th:
The purpose of the Air Force Network-Centric Solutions (NETCENTS) contract is to provide Air Force, Department of Defense and other Federal Agencies a primary source of networking equipment/product supply and a means of system engineering, installation, integration, operations, and maintenance for a family of Department of Defense (DoD) adopted commercially standardized networking solutions that are interoperable with Air Force, Joint, and DoD Standardized Networking Technical Architectures.  The NETCENTS contract will include Network-Centric Information Technology, Networking, Telephony and Security (NCITNTS) Voice, Video and Data Communications to include (but not limited to) Commercial-off-the-Shelf (COTS) products, system solutions and systems hardware and software to satisfy the requirements for interoperability, compatibility, and resource sharing of both Government Furnished Equipment (GFE) and Contractor Furnished Equipment (CFE), supporting the Air Force's Global Information Grid (GIG) architecture. NCITNTS is designed as a flexible end-user solution to embrace diverse current and future requirements, ensure interoperability through standards-based technology (using both GFE and CFE) and implement the constant evolution of state-of-the-art technology and system solutions, supporting initiatives such as the Defense Information System Network (DISN), Defense Switch Network (DSN), Defense Message System (DMS), Air Force System Network (AFSN) (Secret Internet Protocol Router Network – (SIPRNET), Non-Classified Internet Protocol Router Network – (NIPRNET)), Defense Research & Engineering Network (DREN) and Combat Information Transport Systems (CITS) program.9
Some major recipients of these  contracts include:
Other contracts are for enterprise software and hardware aquisition, as well as for federal employee  purchase programs.  One particularly large contract is with Lockheed Martin for their involvement in the Global Combat Support System.  According to the Air Force, this system "provides a component-based Reference Architecture Framework that serves as the Integration and Application Framework Layers for GCSS-AF functional capabilities consistent with the Defense Information Infrastructure Common Operating Environment (DII COE), the Joint Technical Architecture — Air Force (JTA-AF), and based on commercial open standards. The GCSS-AF Reference Architecture Framework also provides common interfaces for those functions that either directly or indirectly support Command and Control (C2) or share information with C2 Systems."10  This contract was awarded August 16, 1996 is worth $304,490,950 for "indefinite delivery/indefinite quantity contract to provide for total system integration services and products to modernize, integrate, evolve and maintain Air Force and Department of Defense Automated Information Systems."11
There is now a second version of the Air Force Network-Centric Solutions contract known as NETCENTS-2.  However, there is only minimal details available at this time.12
Leadership
The 754th ELSG is currebtly being directed  by Gregory L. Garcia, a member of the Senior Executive Service.13 According to his Air Force Biography, Garcia "directs an organization comprising more than 1,700 military, civil service and contractor support personnel with an annual budget exceeding $300 million. The group develops, acquires, sustains and operates worldwide communications-computer capabilities for the President, Secretary of Defense, Department of Defense, Chairman of the Joint Chiefs of Staff and unified combatant commanders to direct military forces. The group's personnel are responsible for acquisition, sustainment, operation and support of secure integrated business, logistical, network and combat support information systems valued at more than $15 billion."14
Locations
The 754th Electronic Systems Group is the largest operating group of the 554th Electronic Systems Wing (554 ELSW) which is based out of the Air Force Electronic Systems Center at Hanscom AFB, Massachusetts.  The 754th Electronic Systems Group has its base of operations at Maxwell Air Force Base-Gunter Annex, Alabama.  It also operates secondary locations at Wright-Patterson AFB, Ohio; Hill AFB, Utah; and Tinker AFB, Oklahoma. 15
Maxwell AFB-Gunter Annex
The headquarters for the 754th ELSG is located at 501 E. Moore Drive, Maxwell, AFB-Gunter Annex, AL, 36114.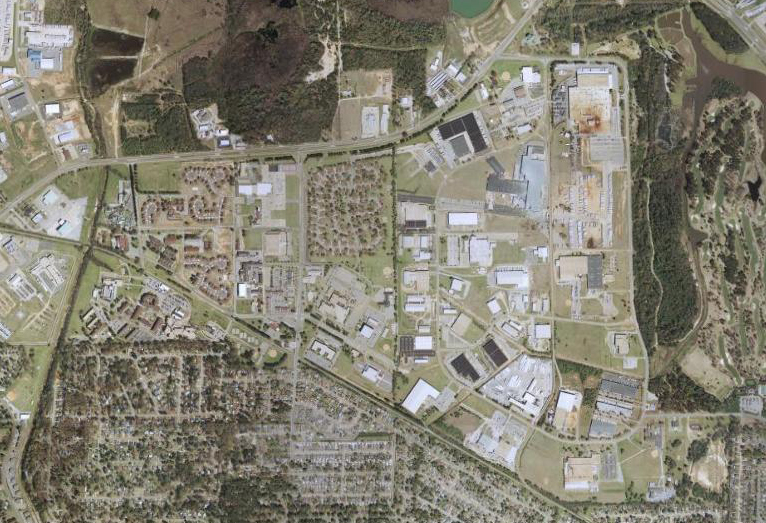 Share this:





Source notes: