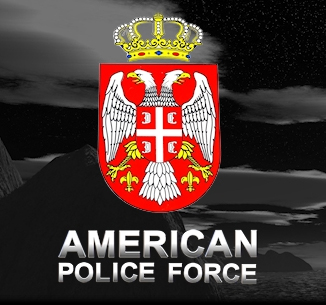 Private military company which refuses to identify basic information about itself
Makes numerous claims that are not able to be verified, some of which appear to be patently false
Run by a convicted felon from Montenegro with more than seventeen aliases and outstanding allegations of fraud in California civil courts
Uses coat of arms of Serbia for logo
In violation of a number of federal and local laws in multiple jurisdictions, particularly in regards to proper licensing and fraudulent claims
American Police Force is a private military company which claims to "service all 50 states and international countries" through law enforcement training, surveillance, kidnapping and ransom recovery services, as well as providing security to coalition forces in Iraq and Pakistan.  At this time, it is difficult to verify any of these claims.  The company is not listed in government contract databases, is not registered as a private investigative service, and only has "virtual offices" without physical addresses. 1 The company's owner and founder, Michael Hilton, is a convicted felon and native of Montenegro with outstanding claims of fraud in California civil courts.2
In September, American Police Force began taking over the security of a 2-year-old, never-used prison in Hardin, Montana that was briefly considered a possible spot for Guantanamo Bay prisoners.  The facility has more than 464 beds  According to local sources, members of American Police Force began driving through the streets of Hardin in black, Mercedes sport utility vehicles bearing faux police insignia and no license plates. 3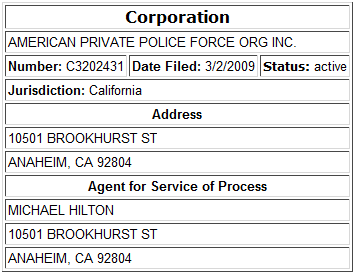 The Fictitious Nature of American Police Force
American Private Police Force Org, Inc. was registered with the state of California as an active business entity on March 2, 2009. 4 The company's registered contact is Michael Hilton, the ostensible owner of American Police Force.  The address listed in the California business entity registry is a private residence in Anaheim, CA which has no apparent ties to Mr. Hilton.  The current residents of the home are listed in most directories as being Jozefa Vidovic and Serafin Vidovic.  It is unclear whether these are the current residents or whether they have any connection to Mr. Hilton.
On their website, the company does not list an address or point of contact, other than five phone numbers, one of which is tied to a virtual office in Washington D.C.  According to the Associated Press, "the company lists as its headquarters a building in Washington near the White House that holds "virtual offices." A spokeswoman for the building said American Police Force never completed its application to use the address."5  The company's public relations director, Becky Shay was employed by the Billings Gazette, the local newspaper in the town of Billings, Montana.  Ms. Shay had written extensively for the newspaper concerning the Hardin prison prior to joining American Police Force.  In a press conference on October 2, 2009, Ms. Shay began crying and asked reporters to turn off their cameras.  She said that it is "important to me that I do not appear as vulnerable as I feel" and later expressed concerns regarding her own safety.6
The company's ostensible owner, Michael Hilton, is a convicted felon who claims that he is a naturalized U.S. citizen, but is originally from Montenegro.  He has outstanding fraud allegations in California civil courts and has filed for bankruptcy in the past, following several lawsuits which resulted in damages totaling several hundred thousand dollars.  Once of the schemes involved producing Super Bowl Commemorative Coins and defrauding investors of more than $200,000.  Mr. Hilton uses more than seventeen aliases, including Miodrag Dokovich, Miodrag Djokich, Miodrag Djokovich, Michael Hamilton, Anthony M. Hilton, Michael A. Hilton, Michael Milton, and Hristian Djokich.7  Mr. Hilton has worn a uniform with insignia reading "American Police Force" to city council meetings in Hardin, Montana and asked to be referred to as "Captain", despite his lack of a verifiable background in military or law enforcement. 8
American Police Force's legal director, Maziar Mafi, who worked for the company for approximately one month, announced October 2, 2009 that he is no longer working with the company, citing a need to see "more concrete action".9  Mr. Mafi's background is not in corporate law, but rather in personal injury cases. 10  According to local sources, Mr. Hilton had previously described Mr. Mafi as "a 'major' in American Police Force. He later said Mafi was the company's president – although Mafi denied the role and said he had no military or security background."  Apparently, Mafi also guaranteed the purchase of two Mercedes SUVs by Hilton on September 10 as part of his plans for the jail. They were among three Mercedes that Hilton brought to Montana last week, saying he intended to turn them over to the city of Hardin for use by law enforcement.  The Billings Gazette reports that "a financing payment on at least one of the vehicles is now overdue.  Only one Mercedes remains in Montana. It's being driven by Shay, who said Friday that she intends to register it soon." 11
Contact information on the company's website lists five phone numbers:
(406) 665-7356 landline in Hardin, MT
(714) 647-1500 landline in Santa Ana, CA
(202) 379-4910 landline in Washington, D.C.
(888) 647-3001 landline in Bethesda, MD
(888) 509-1110 unknown
One of the phone numbers (888) 647-3001 is listed as belonging to "Burke Robert J Ofc Repair Remodel Renovations" in Bethesda, Maryland.12  It is elsewhere listed as belonging to Miller Home Services which evidently does termite and pest control as well as repairing fences in the Washington, D.C. area.13
There is also an application for employment available for download.  The application asks questions like:
Are you a U.S. citizen or otherwise authorized to work in the U.S. on an unrestricted basis? (You may be required to provide documentation.) Yes  No

Have you ever been convicted of a felony? (This will not necessarily affect your application.) Yes No
Claims Made by American Police Force
On their website and in interviews with press, American Police Force employees have made a number of unsubstantiated claims.  These include:
An attorney for American Police Force, Maziar Mafi, claims that the company is a fledgling spin-off of a major security firm founded in 1984. But Mafi declines to name the parent firm or provide details on how the company will finance its jail operations.  "It will gradually be more clear as things go along," said Mafi, a personal injury and

medical malpractice lawyer

in Santa Ana who was only hired by American Police Force a month ago. "The nature of this entity is private security and for security purposes, as well as for the interest of their clientele, that's why they prefer not to be upfront."14

Claims to have sold weapons in Afghanistan on behalf of U.S. military forces

.15
The company makes numerous claims on its website that it "operates in all 50 states".16  There is no indiciation that this is true.  In fact, they barely operate in Montana.

Claims to have provided security for U.S. military convoys in Iraq, Pakistan, and Afghanistan.  This also seems unlikely given that, at this time, they have operated as a business entity for less than six months.

In interviews, representatives of the company claim that it employs at least 16 and as many as 28 people in the United States and 1,600 contractors worldwide.17
The comapny's website claims that "APF's team has collectively managed thousands of private investigators handling almost every investigative and security issue known to man. Their vast network of senior government officials both domestic and international, combined with their former law enforcement colleagues and current workforce, APF earned it's reputation of being an industry leader."  Several articles regarding the company note that industry contacts seem unaware of American Police Force.  Alan Chvotkin, executive vice-president and counsel for the Professional Services Council, a group which represents a number of military contractors including Blackwater and DynCorp, expressed his lack of knowledge of the company, saying that "even a single unclassified contract in the last couple of years should show up".18
The company claims to have government contracts going back at least five years.  This is despite the fact that they have only been a registered corporation in the U.S. since March of 2009.
The company claims to have "rapid response units awaiting our orders worldwide" and that it can field a battalion-sized team of

special forces soldiers

"within 72 hours."  This is also a claim made by Xe, formerly known as Blackwater Worldwide. 19
According to their website, "APPF has successfully provided assistance in training foreign military organizations in combating transnational terrorism, coastal/harbor patrol threat interdiction, and terror activity interdiction in support of governmental security initiatives."20
If you work for American Police Force, you will evidently "work on highly sophisticated projects and advanced technology known to man. Your input and ideas will be utilized to help keep America safe from threats around the world….."21
"APPF draws upon their vast global network of highly ranked officers and government officials providing private investigative services unparalelled to any operation in the industry worldwide. Our vast network of senior government officials both domestic and international combined with our law enforcement colleagues and current workforce has earned APPF a reputation as an industry leader."22
Website claims that:
Use of the Serbian National Coat of Arms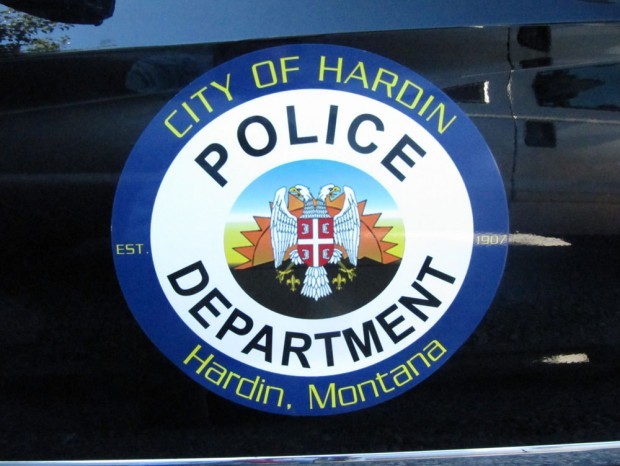 One of the more noteworthy features of American Police Force is their insistence on using the Serbian National Coat of Arms.  On October 3, 2009, the Serbian government asked that the company cease and desist from using the logo.  According to Blic, one of the largest tabloid newspapers in Serbia, Hilton has claimed that the logo is his family's crest.23  Of course, the double-headed eagle is a symbol utilized widely in heraldry.  Notable uses include: the coat of arms of Montenegro and the Russian Federation, the flag of Albania and the Greek Orthodox Church, as well as a number of historical uses from the Byzantine to the Roman empire.  The symbol is also notably used in Freemasonry where it is sometimes called the Eagle of Lagash.  In its most famous usage, it adorns the cover of Albert Pike's Morals and Dogma,  an extremely important work to masonic history.  It is often considered to be a symbol of the so-called "Black Nobility" of Europe.  The leader of this group was previously rumored to be Prince Bernard of the Netherlands, who was also a Nazi supporter and co-founder of the Bilderberg Group.24
Changes to Official Logo and Website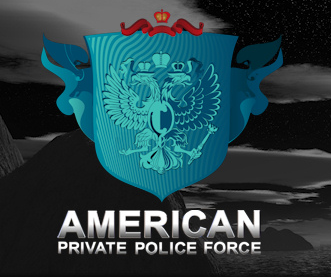 As of October 4, 2009, the website for American Police Force now displays a changed logo that bares less similarity to the Serbian National Coat of Arms.  The company now refers to itself as "American Private Police Force", a slightly more accurate version of their actual name as a registered business entity "American Private Police Force Org, Inc." 25  An updated opening page describes the organization's virtual office in Washington, D.C.
Our main office is located in Washington D.C. and we service all 50 States and most Countries. Our experienced staff consists of highly experienced former law enforcement officers.


American Private Police Force has years of experience and vast global resources to provide timely and professional international investigation services. Our highly trained staff will discover information that fits your needs to get the answers you need. Some of our services include kidnapping & ransom recovery, special forces training, security for convoys in Iraq, Pakistan + More!
Share this:





Source notes: