WARNING: WE ARE NOT AFFILIATED WITH BLACKROCK INC. PLEASE CONSIDER THIS BEFORE CONTACTING US.

If you would like to know why you are seeing this message, please read this explanation.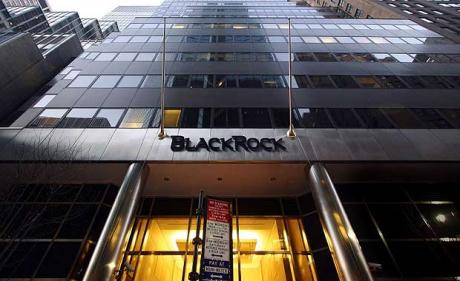 8,500 employees
Offices in 24 countries
As of December 31, 2009, assets under management total $3.35 trillion
Claims to have clients with portfolios totaling approximately $9 trillion.
Manages portfolios of Maiden Lane, Maiden Lane II, Maiden Lane III
History
BlackRock was founded as BlackStone Financial Management within the private equity firm Blackstone Group in 1988. Larry Fink, BlackRock's founder and CEO, had joined Blackstone in 1988 as a partner, along with Ralph Schlosstein, former White House aide under the Carter administration, and Robert Kapito and Sue Wagner. Before joining Blackstone, Fink was a managing director at First Boston, where he pioneered the mortgage-backed securities market in the United States. In 1992 Fink, Schlosstein and Co separated from the Blackstone Group under the name BlackRock and aggressively re-invented it as an independent asset-management company. In 1995, PNC Financial Services Group purchased BlackRock and in 1999, assets under management had grown to $165 billion and the firm decided to go public.1
Much of BlackRock's recent growth has been through its acquisitions. On January 28, 2005, BlackRock purchased State Street Research Management, a mutual-fund business that had previously been owned by MetLife. This acquisition added a sizable equity business to BlackRock's funds, which had previously comprised mostly fixed-income securities. On September 29, 2006, BlackRock completed its merger with Merrill Lynch Investment Managers (MLIM), halving PNC's ownership and giving Merrill Lynch a 49.5-percent stake in the company. On October 1, 2007, BlackRock acquired the fund-of-funds business of Quellos Capital Management. On April 30, 2009, BlackRock hired 43 employees from R3 Capital Management, LLC and took control of the $1.5 billion fund.2
Headquartered in New York, BlackRock serves clients from offices in 24 countries, maintaining a major presence in North America, Europe, Asia-Pacific, and the Middle East. With approximately 8,400 employees, including more than 700 investment professionals worldwide.3
Role in 2008-2009 Bailout, Management of Maiden Lane Portfolios
BlackRock Financial Management Inc. was retained by the New York Fed to manage and eventually liquidate the assets held in newly formed Delaware limited liability companys (LLC) to fund the purchase of residential mortgage-backed securities (RMBS) from the securities lending portfolio of several regulated U.S. insurance subsidiaries of AIG, as well as Bear Stearns.  These companies were formed in late 2008 under the names Maiden Lane LLC (which was incorporated with the purpose of facilitating "the merger of the Bear Stearns Companies, Inc. and JPMorgan Chase & Co."), Maiden Lane II LLC and Maiden Lane  III LLC (which were formed to fund the purchase of certain multi-sector collateralized debt obligations (CDOs) from certain counterparties of AIG Financial Products Corporation).  In early 2009, the collective worth of these companies was more than $200 billion.  According to Bloomberg, as of July 2009, BlackRock received at least $71 million in the first year of contracts to oversee assets previously owned by Bear Stearns Cos. and American International Group Inc. BlackRock is received $45.3 million  that year for running the Maiden Lane holdings that the Federal Reserve took over from Bear Stearns, based on contract terms released by the New York Fed. The company earned another $25.5 million to manage the Maiden Lane II and Maiden Lane III investments that the Fed purchased from AIG.4
In the initial stages of the U.S. government's bailout of the financial system, Maiden Lane III paid large sums of money to a number of other European banks, including some U.S. institutions already receiving money from the government.  Though these transactions were ostensibly designed to pay debts on credit default swaps held by AIG Financial Products, Maiden Lane III ultimately served as a conduit to funnel large sums of taxpayer money to pay off  private debts owed to foreign corporations.  These "counterparties" to so-called "toxic assets" held by AIG were paid more than $27.1 billion through Maiden Lane III, including Deutsche Bank, Landesbank Baden-Wuerttemberg, Deutsche Zentral-Genossenschaftsbank, Dresdner Bank AG,  Goldman Sachs, Société Générale, The Royal Bank of Scotland, Barclays, the Bank of Montreal, Rabobank, Calyon, Wachovia, and UBS, among others.  These payments occurred from September 16-December 31, 2009.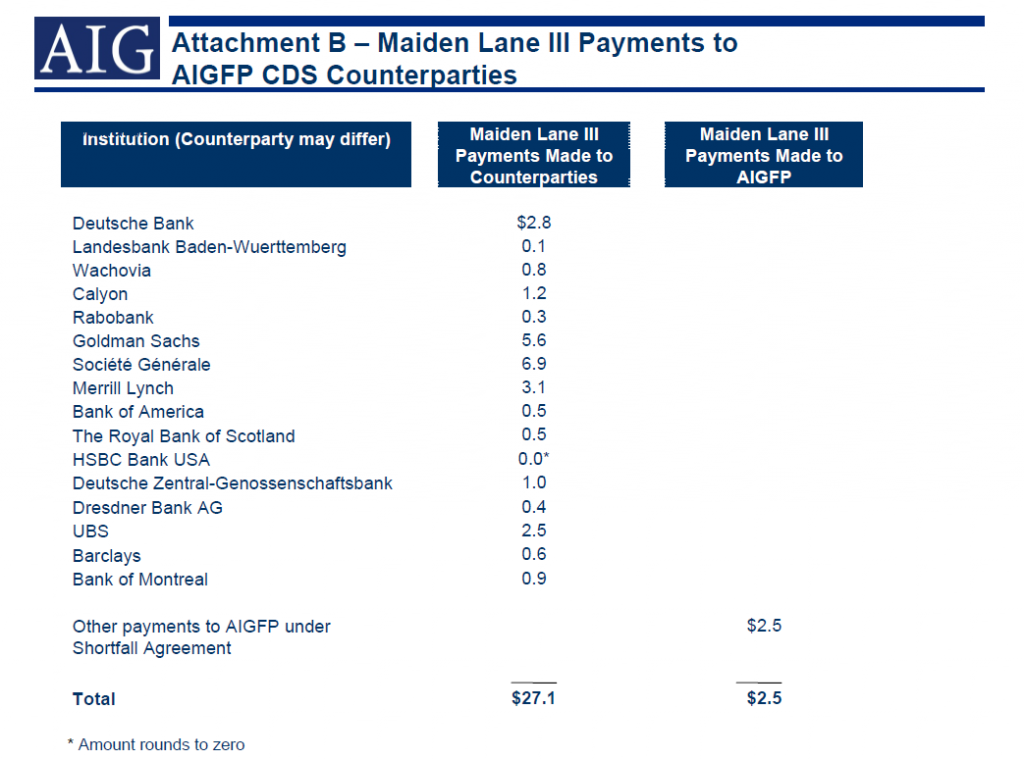 Connections and Conflicts of Interest in Maiden Lane
BlackRock was originally the Financial Management portion of Peter G. Peterson and Stephen A. Schwarzman's Blackstone Group. The Blackstone Group and BlackRock Financial Management both derive their name from their co-founders' surnames; schwarz means "black" in German and Peter is derived from the Greek word πετρος meaning "stone". Laurence Fink, who ran the Financial Management division of the Blackstone Group, was heavily involved with the initial creation of mortgage-backed securities, the same type of financial products that would later lead to the Global Financial Crisis of 2008-2009. 5
Peter G. Peterson, the cofounder of the Blackstone Group, is the Chairman Emeritus of the Council on Foreign Relations, as well as the former Chairman of the Federal Reserve Bank of New York prior to Timothy Geithner. 6  He is also the founder and chairman of the Peterson Institute for International Economics, a globalist think tank that is financially supported by David Rockefeller and Maurice Greenberg's Starr Foundation. 7  C. Fred Bergsten, the Director of the Peterson Institute for International Economics, is a North American Steering Committee member of the Trilateral Commission; David Walker, President and CEO of the Peter G. Peterson Foundation in New York is also a Trilateral commission member.8  Both Peter G. Peterson9 and Timothy Geithner10 are former Trilateral Commission members.  James Dimon, Timothy Geithner, and Stephen A. Schwarzman are all members of the Council on Foreign Relations.  James Dimon is also a Class A director of the Federal Reserve Bank of New York. Mr. Schwarzman was a also member of the Skull and Bones society at Yale University.111213
Ownership
Merrill Lynch & Co., Inc., a wholly-owned subsidiary of Bank of America Corporation, The PNC Financial Services Group, Inc. and Barclays PLC own economic interests in BlackRock approximating 34.1%, 24.6% and 19.9%, respectively, with the remainder owned by institutional and individual investors, as well as BlackRock employees.

Leadership
Laurence D. Fink
Chairman and Chief Executive Officer
Robert S. Kapito
President
Robert W. Fairbairn
Vice Chairman, Head of Global Client Group
Blake Grossman
Vice Chairman, Head of Scientific Equities
Charles S. Hallac
Vice Chairman, Chief Operating Officer
Rich Kushel
Vice Chairman, Head of International Businesses
Susan L. Wagner
Vice Chairman, Chief Operating Officer
Kendrick R. Wilson III
Vice Chairman
Products and Investment Vehicles
Strategies by Asset Class:
Fixed Income
Equity
Alternatives

Multi-Sector Products

Core Bond
Core Enhanced Index
Core PLUS
Intermediate Duration
Long Duration
Short Duration
Stable Value

Global Products

Aussie Dollar
Canadian Bond
Emerging Market Debt
Euro Bond
Global Bond
Sterling Bond
Yen Bond

Specialty Products

Asset-Backed
Bank Loan
Commercial Mortgages
Corporate Bond
High Yield
Inflation-Linked
Liability-Driven
LIBOR
Mortgage-Backed
Municipal Bond
Preferred

Liquidity
Enhanced Cash
Government
Off-Shore
Prime
Security Lending
Tax-exempt

US Large / Multi Cap

Core
Fundamental
Growth
Quantitative
Value

US MID and SMID Cap

Core
Growth
Value

US Small Cap

Core
Growth
Value

Equity Income

Sector-Specific

Energy
Financial Services
Global Science
Health Sciences
Technology

Region-Specific

Asia Pacific
Emerging Markets
Europe
Latin America
UK

Global

Global Equity
Global Flexible
Global Small Cap

International Equity

EAFE
International Small Cap

Index

Enhanced Index
Equity Structured / Derivatives
Index

Private Equity & Debt

BlackRock Kelso Capital
Private Equity FoF

Fund of Hedge Funds

Fully Diversified
Managed Futures
Sector-Specific
Separate Accounts

Hedge Funds

All Cap Energy
Credit-Oriented
Diversified Fixed Income
Emerging Europe
European Opportunities
Health Sciences
Municipal Bond
Natural Resources
Small Cap Energy
UK Emerging Companies
UK Equity

Structured Products

High Grade & Mezz. ABS
Invest. Grade Credit CSOs
Bank Loan CLOs
CMBS CDOs

Real Estate

Equity

Australian Property
Core
Core/Enhanced Core
European Property
UK Property
Value-Added

Debt

Anthracite Capital (REIT)
Carbon Capital
Carbon Capital II
Carbon Capital III


MULTI-ASSET CLASSAsset Allocation/Balanced
Commodities
Overlay Strategies (Duration & Currency)
Portable Alpha
Transition Management
Subsidiaries, Locations and Contact Information
International
BlackRock Investment Management (UK)
33 King William Street
London
EC4R 9AS
Australia
BlackRock Investment Management (Australia) Limited
ABN 13 006 165 975 AFS
Licence Number 230523
RSE License No L0000116
Melbourne
Office
Level 18, 120 Collins Street
Melbourne VIC 3000
Telephone: 61 3 9657 3000
Facsimile: 61 3 9657 3400
Postal
GPO Box 225
Melbourne VIC 3001
Sydney
Office
Level 43, Grosvenor Place
225 George Street
Sydney NSW 2000
Telephone: 61 2 9272 2200
Facsimile: 61 2 9272 2566
Postal
PO Box N43
Grosvenor Place NSW 1220
Brisbane
Office
Level 2, Waterfront Place
1 Eagle Street
Brisbane QLD 4000
Telephone: 61 7 3234 7000
Facsimile: 61 7 3234 7001
Postal
PO Box 7810
Waterfront Place
Brisbane QLD 4001
Perth
Office
Suite 4, Level 3, 1292 Hay Street
West Perth WA 6005
Telephone: 61 8 9229 2800
Facsimile: 61 8 9229 2805
Postal
PO Box 1106
West Perth WA 6872
Belgium
Financial Services Provider for Private Investors:
J.P Morgan Chase Bank
1, Boulevard du Roi Albert II
B-1210 Bruxelles
For professional investors, distributors or financial intermediaries:
BlackRock Investment Management (UK) Limited, Brussels Branch
Regus Park Atrium
Rue des Colonies 11
1000 Brussels
Tel.: +32 2 517 61 33
Fax: +32 2 517 66 65
Canada
161 Bay Street, Suite 2500
PO Box 614
Toronto, Ontario
M5J 2S1
Canada
Phone: 1-416-643-4000
Fax: 1-416-643-4001
Email: institutional.canada@blackrock.com
France
BlackRock Investment Managers
Succursale de Paris
Immeuble Washington Plaza – Bâtiment Artois
44 rue Washington
75008 Paris
France
Téléphone : 01.56.43.29.00
Fax : 01.56.43.29.99
Email : france@blackrock.com
Hong Kong
BlackRock (Hong Kong) Limited
11/F York House
No. 15 Queen's Road Central
Hong Kong
Phone: +852 3553 0900
Fax: +852 3763 0255
Hungary
Tel: +49 (0) 69 5899 2000
E-mail: hungary@blackrock.com
India
DSP BlackRock Investment Managers Private Limited
Tulsiani Chambers
West Wing, 11th Floor Nariman Point,
Mumbai – 400 021.
Branch Office:
Maker Chamber VI,
Office No. 126/127, 12th Floor,
Jamnalal Bajaj Road,
Nariman Point,
Mumbai – 400 021.
Italy
BlackRock Investment Management (UK) Limited
Succursale Italiana
Via Brera 5
20121 – Milano
Tel: +39 02 91597 1
Fax: +39 02 915 97 472
Email: Info.Italy@blackrock.com
Japan
住所
〒100-8217
東京都千代田区丸の内一丁目8番3号 丸の内トラストタワー本館
TEL
03-6703-4100(代表)
FAX
03-6703-4200
Poland
BlackRock Investment Management (UK) Limited
Oddział w Polsce
Rondo ONZ 1
00-124 Warszawa Polska
Tel.: +48 22 354 9265
Fax: +48 22 5449255
E-Mail: polska@blackrock.com
Singapore
Phone: +65 6411 3000
Fax: +65 6411 3051
email: clientservice.asiapac@blackrock.com
BlackRock Investment Management (Singapore) Limited
4 Shenton Way
#29-01
SGX Centre 2
Singapore, 068807
Singapore
South Korea
주소 : 서울시 중구 태평로 1가 84 서울파이낸스센터 23층 블랙록 자산운용
연락처 : 02-751-0500
Spain
BlackRock Investment Management (UK) Limited
Sucursal en España
Torre Picasso planta 14
Plaza Pablo Ruiz Picasso, 1
Madrid 28020
Email: info.spain@blackrock.com
Switzerland
BlackRock Investment Management (UK) Limited (London)
Zurich Branch
Claridenstrasse 25 Postfach 2118
CH-8022 
Zürich
Switzerland
Tel. +41 44 297 73 73
Fax +41 44 297 73 74
Email: switzerland@blackrock.com
Taiwan
貝萊德
電話: 886-2-2326-1600
傳真: 886-2-2326-1692
United States and Latin America
BlackRock Financial Management
40 East 52nd Street
New York, NY 10022
USA
+1. 212. 810. 5900 (Phone)
+1. 212. 810. 3562 (Fax)
latam@blackrock.com
Share this:





Source notes: