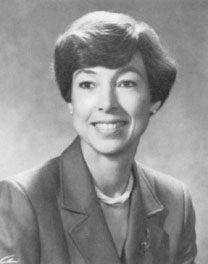 Co-Chairman of the Council on Foreign Relations1
Executive Committee, Trilateral Commission2
Chair, National Committee on United States-China Relation3
Executive Committee, Peterson Institute for International Economics4
Director, International Crisis Group5
Former Director, Chevron Corporation6

Former Director, American International Group, Inc.7
Former Director, The Coca-Cola Company, Inc.8
Former Director, IBM Corporation9
Biography
Carla Anderson was born in Los Angeles on January 3, 1934.  She received her B.A. degree from Stanford University, after studying at Oxford University. She earned an LL.B. from Yale University Law School in 1958 and married Roderick M. Hills the same year.

Mrs. Hills was admitted to the California Bar in 1959, serving as an Assistant United States Attorney in Los Angeles from 1959 to 1961. From 1962 to 1974, she was a partner at Munger, Tolles, Hills, and Rickershauser of Los Angeles. In 1972, she was an adjunct professor at UCLA. An authority on federal practice and anti-trust law, Mrs. Hills wrote of Federal Civil Practice and Antitrust Advisor. She is a former president of the National Association of Women Lawyers.10

She was an United States Assistant Attorney General heading the Civil Division of the U.S. Department of Justice before being named Secretary of Housing and Urban Development. 11 She was first offered an appointment as assistant U.S. Attorney General by Elliot L. Richardson in 1973, but he resigned shortly thereafter during the Watergate scandal. The offer was renewed by his successor, William B. Saxbe, in 1974.12

Hills' lack of relevant experience was somewhat controversial during the appointment hearings for her nomination to head the United States Department of Housing and Urban Development. From 1978 through 1989 she was again a practicing attorney, and was chairman of the Urban Institute from 1983 through 1988.13

U.S. Trade Representative – NAFTA & GATT Negotiator

Hills served as U.S. Trade Representative under President George H. W. Bush from 1989 to 1993.  During this time she was the President's principal adviser on international trade policy as well as the nation's chief trade negotiator.14

[donotprint]

Carla A. Hills was the primary negotiator of the North American Free Trade Agreement (NAFTA). She is pictured above at the signing ceremony in San Antonio, TX on October 7, 1992.

[/donotprint]As a staunch advocate of free trade, she was the primary U.S. negotiator of the North American Free Trade Agreement (NAFTA). On May 28, 1991, Rep. Esteban Torres (D-CA) complained to Hills in a letter that more Hispanics needed to be included in the NAFTA negotiations process. In 2000, Mrs. Hills was awarded the The Mexican Order of the Aztec Eagle (La Orden Mexicana del Aguila Azteca) which is the highest honor conveyed to non-citizens by the Mexican government. In fact, the first time Mexican-Americans were honored with this award was November 12, 1990, one of whom was the union leader, Cesar Chavez.15

Hills acted as the primary U.S. negotiator for the General Agreement on Tariffs and Trade(GATT) in the Uruguay Round.

Since 1993 she has acted as chairman and chief executive officer of Hills & Company International Consultants, which gives advice on investment, trade and risk issues abroad.  She was one of the founders of the Forum for International Policy where she is also a trustee.  Carla stepped down from Time Warner, Inc. with Ted Turner in 2006. She has served as a director for the American International Group, the Coca-Cola Company, Gilead Sciences, Inc., J.P. Morgan Chase and Rolls Royce as well as the board of the U.S.-China Business Council.16

Ms. Hills is actively involved with a number of organizations, serving as chair of the Inter American Dialogue and of the National Committee on U.S.-China Relations, co-chair of the International Advisory Board of the Center for Strategic and International Studies, member of the Executive Committee of the Peterson Institute for International Economics and of the Trilateral Commission, and member of the board of the International Crisis Group, among others.1718

In 2005 Ms. Hills participated in the Independent Task Force on North America, organized and sponsored by the Council on Foreign Relations.  The Task Force issued a report titled "Building a North American Community" which outlines the growing need for integration of North American governmental structures relating to security, border control, agriculture, transportation and trade.19 Key recommendations of the article include:

Laying the groundwork for the freer flow of people within North America.

Expanding NORAD into a multiservice Defense Command stretching across all of North America.

Increase information and intelligence-sharing at the local and national levels in both law enforcement and military organizations.

Integrating protection of food, health, and the environment.
Share this:





Source notes: