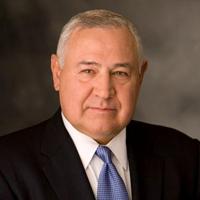 Former deputy commander of U.S. European Command
Former Vice President, L-3 Communications
Director and Senior Advisor, Deloitte LLP
Director, Atlantic Council
Charles (Chuck) F. Wald was previously the deputy commander of U.S. European Command (USEUCOM), a position he held from 2002 until his retirement from the U.S. Air Force in July 2006.  In this position, he was responsible for all U.S. forces operating across 91 countries in Europe, Africa, Russia, parts of Asia, the Middle East, and most of the Atlantic Ocean. Prior to that, he served as the US Air Force deputy chief of staff for Air and Space Operations at the Pentagon.
Wald has over 35 years of service in the Air Force, acting as a command pilot with more than 3,600 flying hours, and 430 combat hours. As the Supported Commander, he led the coalition air campaign in Operation Enduring Freedom, leading to the extraction of Taliban forces in Afghanistan.
General Wald has received major military awards and decorations, including the Defense Distinguished Service Medal, the Defense Superior Service Medal and the Distinguished Flying Cross. He is a graduate of North Dakota State University and received a Masters Degree in International Relations from Troy University. He has also completed coursework at Harvard University and the National War College. He has been awarded an Honorary Doctor of Laws degree from North Dakota State University.1
Work for Military Contractors
General Wald, director and senior advisor to the Aerospace & Defense Industry for Deloitte LLP, is responsible for providing senior leadership in strategy and relationships with defense contractors and Department of Defense (DOD) program executives. He is a subject matter specialist in weapons procurement and deployment, counter terrorism, national, energy and international security policy.
Prior to joining Deloitte, General Wald was the Vice President, International Programs for L-3 Communications Corporation, based in Washington D.C.2
General Wald is also a director of the Atlantic Council, a vehicle for "transatlantic cooperation" and NATO promotion within the U.S. 3  General Wald is a neoconservative who has authored editorials in the Wall Street Journal as late as August 2009 advocating the use of military force against Iran. 4
Education and Training
1971 Bachelor of Arts degree in pre-law, North Dakota State University
1975 Squadron Officer School, Maxwell AFB, Ala.
1982 Air Command and Staff College, Maxwell AFB, Ala.
1982 Master of Political Science degree in international relations, Troy State University
1990 National War College, Fort Lesley J. McNair, Washington, D.C.
1993 Program for Senior Officials in National Security, Harvard University, Cambridge, Mass.
Military Assignments
1. February 1971 – January 1972, student, undergraduate pilot training, Williams AFB, Ariz.
2. May 1972 – February 1973, forward air controller, Da Nang AB, South Vietnam
3. May 1973 – May 1976, instructor pilot and wing flight examiner, Air Training Command, Craig AFB, Ala.
4. December 1976 – August 1978, project officer, Operational Systems Engineering Branch, Norton AFB, Calif.
5. August 1978 – August 1981, F-15A aircraft commander, instructor pilot and flight commander, 22nd Tactical Fighter Squadron, Bitburg AB, West Germany
6. August 1981 – September 1982, student, Air Command and Staff College, Maxwell AFB, Ala.
7. September 1982 – August 1985, flight commander, assistant operations and operations officer, 71st Tactical Fighter Squadron, Langley AFB, Va.
8. August 1985 – August 1989, Chief, Strategic North Atlantic Treaty Organization Branch; later, Chief, Strategic and Middle East-Africa Branch; later, Chief, U.S. Air Force Combat Terrorism Center; later, assistant executive officer to the Air Force Chief of Staff, Washington, D.C.
9. August 1989 – July 1990, student, National War College, Fort Lesley J. McNair, Washington, D.C.
10. July 1990 – March 1993, Deputy Commander for Operations, 86th Tactical Fighter Wing; later, Commander, 86th Support Group; later, Commander, 86th Operations Group, Ramstein AB, Germany
11. March 1993 – September 1993, executive officer to Deputy Chief of Staff of Operations, Boerfink AB, Germany
12. September 1993 – May 1995, executive officer to Director of Operations and U.S. Senior National Representative, Headquarters Allied Air Forces Central Europe, Ramstein AB, Germany
13. May 1995 – July 1997, Commander, 31st Fighter Wing, Aviano AB, Italy
14. July 1997 – January 1998, special assistant to the Chief of Staff for National Defense Review, Headquarters U.S. Air Force, Washington, D.C.
15. January 1998 – October 1998, Director of Strategic Planning and Policy, Deputy Chief of Staff for Plans and Programs, Headquarters U.S. Air Force, Washington, D.C.
16. October 1998 – January 2000, Vice Director for Strategic Plans and Policy, the Joint Staff, Washington, D.C.
17. January 2000 – November 2001, Commander, 9th Air Force and U.S. Central Command Air Forces, Shaw AFB, S.C.
18. November 2001 – December 2002, Deputy Chief of Staff for Air and Space Operations, Headquarters U.S. Air Force, Washington, D.C.
19. December 2002 – present, Deputy Commander, Headquarters U.S. European Command, Stuttgart, Germany
Medals and Awards
Defense Distinguished Service Medal with oak leaf cluster
Distinguished Service Medal
Defense Superior Service Medal
Legion of Merit with oak leaf cluster
Distinguished Flying Cross with oak leaf cluster
Meritorious Service Medal with oak leaf cluster
Air Medal with silver oak leaf cluster
Aerial Achievement Medal
Air Force Commendation Medal
Presidential Unit Citation with oak leaf cluster
Joint Meritorious Unit Award with two oak leaf clusters
Air Force Outstanding Unit Award with V device and silver oak leaf cluster
Air Force Organizational Excellence Award with four oak leaf clusters
Combat Readiness Medal
National Defense Service Medal with two bronze stars
Armed Forces Expeditionary Medal
Vietnam Service Medal with bronze star
Southwest Asia Service Medal with bronze star
Global War on Terrorism Expeditionary Medal
Global War on Terrorism Service Medal
Armed Forces Service Medal
Humanitarian Service Medal
Air Force Expeditionary Service Ribbon with Gold Border
French National Order of Merit (Rank of Commander)
Gold Cross of Honor of the German Armed Forces
Republic of Vietnam Gallantry Cross with Palm
NATO Medal (Yugoslavia)
Inter-American Defense Board Medal with silver star
Republic of Vietnam Campaign Medal
Department of State Superior Honor Award
North Dakota Distinguished Service Medal
Honorary Doctorate of Laws, North Dakota State University
Defense Intelligence Agency Directors Award
Share this:





Source notes: