The Chicago Climate Exchange is the world's first environmental derivatives exchange.1
The exchange is owned by the London-based Climate Exchange PLC which also owns the European Climate Exchange, Montréal Climate Exchange, and the Tianjin Climate Exchange. Approximately 10% of CCX is owned by Goldman Sachs and another 10% is owned by Generation Investment Management LLP.2
Founding of the Exchange
The institution that is today the Chicago Climate Exchange (CCX) began with a grant in 2000 from the Joyce Foundation, a leading philanthropy based in Chicago known for its innovative approach to public policy issues, which supported the inception, creation, feasibility and design of CCX.3
An initial grant of $347,000 was made to the Kellogg Graduate School of Management at Northwestern University to provide technical support to Dr. Richard Sandor and colleagues to examine whether a cap-and-trade market was feasible in the U.S. to facilitate significant greenhouse gas reductions, using a voluntary regional Midwest model from which national and international lessons might be drawn.
A second grant of $760,000 was provided in 2001 to proceed with a design phase, which ran through 2002 and involved more than one hundred professionals in the corporate, public, non-governmental and academic sectors, who worked with Dr. Sandor, his colleague, Dr. Michael Walsh, and others to develop a core set of rules, protocols and design elements that would underpin and shape a pilot reduction and trading design.4
In 2003, CCX launched trading operations, with the following 13 Charter Members:
American Electric Power
Baxter International Inc.
City of Chicago
DuPont
Ford Motor Co.
International Paper
Manitoba Hydro Corp.
MeadWestvaco Corp.
Motorola Inc.
STMicroelectronics
Stora Enso North America
Temple-Inland Inc.
Waste Management Inc.
Through their CCX membership, the above organizations were first in the world to make legally binding commitments to reduce all six greenhouse gases, in the world's first multinational multi-sector market for reducing and trading greenhouse gases.5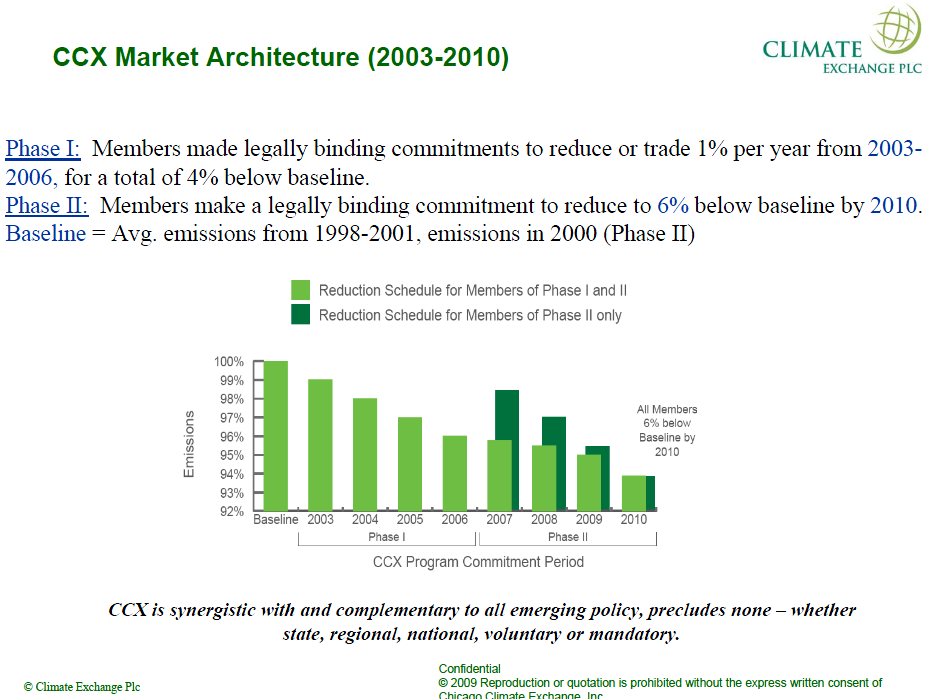 CCX is a U.S. corporation, and today remains the only emissions reduction and trading system for all six greenhouse gases and the only operational cap and trade system in North America. CCX membership includes over 450 leading entities. A 2009 briefing from Climate Exchange PLC declares this membership to represent 17% of Dow Industrials, 20% of US Utility sector, and 10% of Fortune 100 companies.  The same briefing claims CCX has executed more than 11,000 trades as of 2009.
Board of Directors6
Warren Batts, Adjunct Professor of Strategic Management at the University of Chicago Graduate School of Business
Former Chief Executive Officer of Tupperware Corporation
Former Director, Allstate, Sears, Roebuck and Co., Sprint, British Columbia Forest Products, Temple Inland and International Minerals and Chemicals
Bruce H. Braine, Vice President – Strategic Policy Analysis for American Electric Power
Director, International Emissions Trading Association (IETA)
Carole Brookins, Former United States Executive Director to The World Bank Group
Chairman and Chief Executive Officer, World Perspectives, Inc.
Former Member, North American Advisory Board, Rabobank International
Susan M. Cischke, Senior Vice President, Environment and Safety Engineering for Ford Motor Company
Senior Vice President of Regulatory Affairs and Passenger Operations, DaimerChrysler
Ambassador Stuart E. Eizenstat, Former U.S. Ambassador to the European Union
Head of international practice, Covington & Burling
Former Under Secretary of Commerce for International Trade (1996-97)
Former Under Secretary of State for Economic, Business and Agricultural Affairs (1997-99)
Les Rosenthal, Former Chairman, Chicago Board of Trade (CBOT)
Richard L. Sandor, Chairman and CEO, Chicago Climate Exchange
Research professor at the Kellogg Graduate School of Management at Northwestern University

Member, International Advisory Council of Guanghua School of Management at Peking University

Former, Vice President and chief economist of the Chicago Board of Trade
Maurice Strong, Former Secretary General of the 1992 United Nations Conference on Environment and Development (the Rio Earth Summit)
Former Under-Secretary General of the United Nations
Chairman, Earth Council Alliance
Former Senior Advisor to the President of the World Bank
Ambassador Clayton Yeutter, Former U.S. Trade Representative (USTR)
Negotiated the U.S.-Canada Free Trade Agreement, the precursor to the North American Free Trade Agreement
Former President and Chief Executive Officer, Chicago Mercantile Exchange
External Advisory Board7
Richard M. Daley, Mayor, City of Chicago
Ed Begley Jr.
Ernst Brugger, Founding Partner and Chairman of Brugger Hanser & Partner Ltd.
Professor at the University of Zurich
Lucien Bronicki,  Chairman of Ormat International
Executive Committee of the Weizmann Institute of Science
Member of the board, Ben Gurion University
Elizabeth Dowdeswell, Former Executive Director of the United Nations Environment Programme (UNEP)
Former Assistant Deputy Minister of Environment Canada
President & CEO of NWMO
Visiting Professor at the University of Toronto
Jeffrey E. Garten, Former dean of the Yale School of Management
Former managing director, Lehman Brothers
Former managing director, Blackstone Group
Donald P. Jacobs, Former Dean of the Kellogg Graduate School of Management at Northwestern University
Former Chairman of the Board of Amtrak
Joseph P. Kennedy II, Chairman and President,  Citizens Energy Group
Former Congressman, 8th Congressional District of Massachusetts in the U.S. House of Representatives
Israel Klabin, President, Brazilian Foundation for Sustainable Development
Former mayor, Rio de Janeiro
One of the main Brazilian organizers of the United Nations Conference on the Environment
Bill Kurtis
Thomas E. Lovejoy, Chief Biodiversity Advisor to the President of the World Bank
Lead Specialist for the Environment in Latin America, World Bank . From 1989 to 1992
Scientific adviser to the Executive Director of the United Nations Environment Programme
Dr. Rajendra K. Pachauri, Director-General of The Energy Research Institute (TERI)
Chairman, Intergovernmental Panel on Climate Change (IPCCC)
Director, Indian Oil Corporation Limited (a Fortune 500 company)
David Moran, Vice president of ventures for the Electronic Publishing group of Dow Jones & Company
President of Dow Jones Indexes
Chairman, Dow Jones Sustainability Group Index GmbH
Michael Polsky, President and CEO of Invenergy
Several positions, Bechtel Power Corporation
Rosemary L. Ripley, Founding Member of Circle Financial Group, LLC
Daniel Weiss, Co-founder and Managing Partner of Angeleno Group LLC ("AG"
Attorney, O'Melveny & Myers in Los Angeles
Robert K. Wilmouth, President and CEO of National Futures Association (NFA)
Former President and CEO, Chicago Board of Trade
Klaus Woltro, Vice President of the "Club of Vienna"
Chief Executive Officer, Simmering Graz Pauker (SGP)
Director, Sustainable Asset Management AG (SAM Global)
Michael Zammit Cutajar, Former Executive Secretary, United Nations Framework Convention on Climate Change
Several positions, United Nations Conference on Trade and Development (UNCTAD)
Part of the founding secretariat, United Nations Environment Programme (UNEP)
Affiliated Exchanges
Membership
Members

Aerospace & Equipment
Rolls-Royce
United Technologies Corporation

Automotive
Ford Motor Company

Beverage Manufacturing
New Belgium Brewing Company

Chemicals
Dow Corning*
DuPont
FMC Corporation
Potash Corporation
Rhodia Energy Brasil Ltda
U.S. Salt, LLC

Coal Mining
Jim Walter Resources, Inc.
PinnOak Resources LLC

Commercial Interiors
Knoll, Inc.
Steelcase Inc.

Counties
King County, Washington
Miami-Dade County, Florida
Sacramento County, California

Diversified Manufacturing
Eastman Kodak Company
Robert Bosch LLC

Electric Power Generation
AGL Hydro Partnership
Allegheny Energy Inc.
Alliant Energy Corporate Services
Inc.*
American Electric Power
American Municipal Power-Ohio
Associated Electric
Cooperative, Inc.
Avista Corporation
Central Vermont Public Service
CLECO Corporation
DTE Energy Inc
Duquesne Light Company*
Dynegy Holdings Inc.
Green Mountain Power
Hoosier Energy Rural Electric
Cooperative, Inc.
Manitoba Hydro
Mirant Corporation
NRG Power Marketing Inc.
Puget Sound Energy, Inc.*
PSEG Energy Resources & Trade LLC
Reliant Energy Services Inc.
TECO Energy, Inc.

Electronics
Motorola, Inc.
Sony Electronics Inc.
Square D/Schneider Electric N.A.*

Environmental Services
Atlantic County Utilities Authority
Lancaster County Solid Waste
Management Authority
Veolia Environmental Services
North America Corp.
Wasatch Integrated Waste
Management Authority
Waste Management,  Inc.

Ethanol Production
Corn Plus LLLP

Financial Institutions
Bank of America Corporation

Food and Agricultural Products & Services
Agrium U.S. Inc.*
Cargill, Incorporated
Monsanto Company

Food Processing
Premium Standard Farms*
Smithfield Foods, Inc.

Forest Products
Abitibi-Consolidated
Aracruz Celulose S.A.*
Arcelor Mittal Florestas Ltda
Boise Paper Holdings, LLC
Cenibra Nipo Brasiliera S.A.*
Domtar Corporation
International Paper
Klabin S.A.*
Masisa S.A.
MeadWestvaco Corp.
Neenah Paper Incorporated
NewPage Corporation
Plum Creek Timber Company, Inc.
Suzano Papel E Celulose SA
Tembec Industries Inc.
Temple-Inland Inc*

Healthcare
Baxter International Inc.
Hospira, Inc.

Manufacturing
Bayer Corporation
Duratex S.A.
Honeywell International Inc.
Interface, Inc.
Ozinga Bros., Inc.*
Smurfit-Stone

Municipalities
City of Aspen
City of Berkeley*
City of Boulder
City of Chicago
City of Fargo
City of Melbourne, Australia
City of Oakland*
City of Portland*

Petrochemicals
LANXESS Elastomeros do Brasil S.A.

Pharmaceuticals
Abbott

Real Estate Investment
JMB Realty Corporation

Recreation
Aspen Skiing Company

Retail
Safeway, Inc.

States
State of Illinois
State of New Mexico*

Steam Heat
Concord Steam Corporation

Steel
Roanoke Electric Steel Corp.*

Technology
Freescale Semiconductor
IBM
Intel Corporation
STMicroelectronics

Transportation
Amtrak
San Joaquin Regional Rail
Commission*

University
Michigan State University
University of California, San Diego
University of Idaho
University of Iowa
University of Minnesota
University of Oklahoma
Tufts University*

Participant Members

Offset Aggregators

33 Asset Management B.V.
3Degrees Group, Inc.
Ag Carbon Management, LLC (an
Environmental Credit Corp
subsidiary)
AgraGate Climate Credits
Corporation
Agrinergy Consultancy Pvt. Ltd.
Andhyodaya Green Energy
Technologies Pvt Ltd.
Bunge Emissions Fund Limited
CantorCO2e, L.P.
Carbon 360 Partners, LLC
Carbon Farmers LLC
Carbon Logic, LLC
Carbon Resource Management
Ltd.
Carbon-TF B.V.
CARBONyatra
Cargill – Green Hercules Trading
Cargill, Inc
C-Green Aggregator Ltd.
China Energy Conservation and
Environmental Protection
Technology Investment Ltd.
Climate Bridge, LTD
CMM Energy, LLC
Conservation Services Group
CP Holdings LLC
Dash Environmental LLC
Delta P2/E2 Center LLC
Ecology and Environment Inc.
ecolutions GmbH & Co. KGaA
Ecoreturn LLP
Ecosecurities Capital Ltd.
Element Markets LLC
Emergent Ventures India PVT, LTD
Environmental Carbon Credit
Pool LLC
Environmental Credit Corp.
F&W Forestry Services, Inc.
FC Stone, LLC
First Capitol Risk Management LLC
Flatlander Environmental
FORECON EcoMarket
Solutions LLC
Forest Carbon, Inc.
Foretell Business Solutions
Private Limited
Fundación Chile
Geosyntec Consultants Inc
GI Power Corporation Limited
Global Green Energy, LLC
Grasim Industries, Ltd.
Greenoxx Global
Environmental Program
Grey K Trading Limited
GT Environmental Finance
Guizhou Zhongshui Hengyuan
Project Management &
Consulting Co. Ltd.
Hudson Technologies Company
Indo Gulf Fertilizers
(a unit of Aditya Birla Nuvo Ltd.)
Indus Technical & Financial
Consultants, Ltd.
J. Aron & Company
Kentucky Corn Growers
Association
Korea Energy Management
Corporation
LandGas Technology LLC
Liaoning Negfa Weiye Pipe
Network Construction Operation
Co. Ltd.
Longyuan (Beijing) Carbon Asset
Management Technology Co.,
Ltd.
Madhya Pradesh Rural
Livelihoods Project
MF Global Market Services LLC
MGM International
Mickelson & Company LLC
Microgy, Inc.
Mission Climate
Mountain Association for
Community Economic
Development
National Carbon Offset Coalition
Natsource MAC 77 Ltd.
Natural Capital
North Dakota Farmers Union
Phase 3 Developments &
Investments, LLC
Polar Technology, LLC
ProLogis Logistics Services, Inc.
Rajasthan Renewable Energy
Corporation
Ramakrishna Mission Ashrama
Reclamation Technologies Inc
Reliance Energy Ltd.
Reliance Industries Limited
Rice Dairy LLC
Rolling Plains Crop Insurance
Agency,Inc.
R.S.J. Ozone Private Limited
Senergy Global Limited
SunOne Climate Solutions LLC
Tata Motors Limited
Tata Steel Limited
Tatanka Resources LLC
Tennessee Timber Consultants Inc
TerraCarbon LLC
TerraPass Inc.
The Verus Carbon Neutral
Partnership
U.S. Energy Services, Inc.
Valley Wood Inc.
Vayam Technologies Ltd
Vision CO2, S.A.
Xi'an Zhongyang Electric
Corporation

Offset Providers

Arreon Carbon UK Ltd
Bajaj Finserv Limited
Beijing Shenwu Thermal Energy
Trading Co. Ltd.
Burnett Ranches, LLC
Cape May County Municipal
Utilities Authority
City of Gardner, Massachusetts
CNX Gas Corporation
CO2 Australia
CommonWealth Resource
Management Corp.
Coolgas, Inc.
CPI Carbon Asset Management Co., Ltd.
Cumberland County Improvement
Authority
Dhariwal Industries Ltd.
East Central Solid Waste
Commission
Gazprom Marketing & Trading Ltd
Granger Holdings LLC
Greater Lebanon Refuse Authority
Hubei Sanhuan Development
Corporation
Lugar Stock Farm
Montgomery Regional Solid Waste
Authority
Precious Woods Holding, Ltd
Public Utility District No 1 of
Chelan County, WA
PureChem Separation LP
RCM International LLC
Rivanna Solid Waste Authority
Sexton Energy LLC
Tata Power Company Limited
TerraCarbon LLC
The Andhyodaya
Trading Emissions PLC
Vessels Coal Gas Inc.
Weber County

Liquidity Providers

Aeolus Fund II Master Fund, Ltd.
Akeida Environmental Master Fund
Ltd.
Ameresco, Inc.
Amerex Energy
Apache CR Company
Atrium Carbon Fund LP
B of A Commodities Inc.
Brane Strom LLP
C-Quest Capital, LLC
Carbon Green
Cargill Power Markets LLC
Chapel Street Environmental Fund,
LP
Digilog Global Environmental
Master Fund Ltd
Direct Energy Marketing Limited
DRW Holdings LLC
Engler Properties 1 Ltd
Evolution Markets LLC
EXO Investments
First Bank and Trust
First New York Securities LLC
Five Rings Capital LLC
Fortis Energy Marketing & Trading
GP
Galtere International Master
Fund LP
GDF SUEZ Energy Marketing NA
GLG Global Utilities Fund
Grand Slam Trading Inc.
Green Dragon Fund
Green Fund Partners LLC
Grey K Environmental Fund LP
Grey K Environmental
Offshore Fund Ltd.
Grey K Trading Limited
Haley Capital Management
Harbinger Capital Partners
ICAP Energy LLC
Infinium Capital Management  LLC
Integrys Energy Services Inc
Ironworks Partners LP
J. Aron & Company
Jane Street Global Trading  LLC
JP Morgan Ventures Energy
Corporation
Kellybrooke LLC
Koch Supply & Trading
Kottke Associates, LLC
Lehman Brother Commodity
Services Inc.
Marquette Partners, LP
Marsus Capital LLC
Matlock Research and
Investments
Millennium Environmental Trading
LLC
Natsource LLC
Newedge USA, LLC
Octavian Special Master Fund LP
Option Insight Partners
ORBEO
Penson GHCo
Peregrine Financial Group, Inc.
Rand Financial Services, Inc.
RBC Capital Markets Corporation
SA Recovery, Inc.
Serrino Trading Company
Spectron Energy Services  Limited
Stark Investments
Swiss Re Financial Products Corp.
Taconic Opportunity Fund LP
TEP Trading 2 Ltd.
The League Corporation
TradeLink LLC
Tradition Financial Services Ltd.
TransMarket Group LLC
Universal Carbon Fund LLC
U.S. Energy Savings Corp.
Vitol, Inc.

Associate Members

Architecture/Planning
Mithun, Inc.
Perkins + Will, Inc.

Consulting
Cemtrex, Inc.
DOMANI LLC
First Environment, Inc.
Global Change Associates*
Natural Capitalism Solutions
RenewSource Partners LLC*
Rocky Mountain Institute*

Consumer Products
Collective Wellbeing LLC

Documentary Production
Cloverland Inc.*

Educational Institutions
Presidio School of Management*
Sidwell Friends School

Embassy
Embassy of Denmark, Washington
D.C.
Embassy of Finland

Energy Broker
Amerex Energy*

Energy Services
Bell Independent Power Corp.
Orion Energy Systems Ltd.
Prenova, Inc.
Sieben Energy Associates
Thermal Energy International

Energy Supplier
BlueStar Energy Services Inc.
MXenergy Holdings Inc.

Engineering
Rumsey Engineers*
Vanasse Hangen Brustlin, Inc.

Environmental Services
Resource Recycling Systems

Financial Services
Access Industries, Inc.*
G.C. Anderson Partners LLC
MB Investments LLC*
Wood Creek Capital Management
LLC

Financing Agency
Ohio Air Quality Development
Authority*

Food Services
Big Bowl Asian, LLC

Foundation
Nathan Cummings Foundation

Green Power Marketer
Green Mountain Energy Company*

Information Technology
Open Finance LLC
Intercontinental Exchange*

Legal Services
Foley & Lardner LLP*
Levenfeld Pearlstein LLC
Sullivan & Cromwell LLP
Weil, Gotshal & Manges LLP

Non-Governmental Organization
ACORE*
American Coal Ash Association*
Chicago 2016
Delta Institute
Houston Advanced Research
Center*
Midwest Energy Efficiency
Alliance
Rainforest Alliance
World Resources Institute*

Professional Associations
Confederation of British Industry*
The Professional Risk Managers'
International Association*

Real Estate
ProLogis Logistics Services, Inc.
Telesis Holdings, LLC

Religious Organizations
Jesuit Community of Santa Clara
University

Renewable Energy
Airtricity Inc.*
American Renewable Energy*
Econergy International*
Reknewco Ltd.*

Retiring/Offsets
4Offsets, LLC
Carbonfund.org
Offset Collective, Inc.
TerraPass Inc.*

Social Investment
Generation Investment
Management LLP
KLD Research & Analytics*
Pax World*

Technology
Millennium Cell*
Polar Technology, LLC

Transportation Services
Valera Global Inc.
Share this:





Source notes: