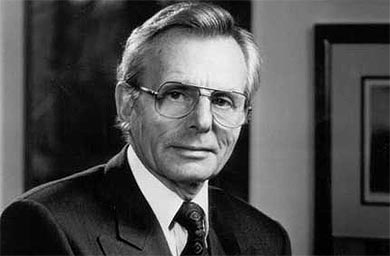 Biography
Frank Charles Carlucci III was born in Scranton, Pennsylvania, on October 18, 1930. After graduation from Princeton University in 1952, he served two years as a lieutenant in the U.S. Navy. In 1956 after study at the Harvard Graduate School of Business Administration and a short stint in private business, Carlucci joined the Department of State as a foreign service officer.
His State Department assignments took him to South Africa, the Congo, Zanzibar, and Brazil between 1957 and 1969. He left the State Department in 1969 to join the Office of Economic Opportunity as assistant director, and moved up to director late in 1970. He then became associate director and deputy director of the Office of Management and Budget from 1971 to 1972 and under secretary of the Department of Health, Education, and Welfare from 1972 to 1974. At both places he worked under Caspar Weinberger.7
In 1975 Carlucci returned to the State Department to serve as ambassador to Portugal until 1978, when he became Deputy Director of the Central Intelligence Agency, staying until January 1981. The next month he joined Weinberger at the Department of Defense, becoming Deputy Secretary. Strongly supported by Weinberger, Carlucci was selected for the post even though some of President Reagan's advisers opposed him because he had served in the Carter administration. As deputy secretary he worked closely with Weinberger, assuming responsibility for the day-to-day management of the Pentagon and overseeing the defense budget and procurement. He created the Defense Resources Board and proposed the "Carlucci initiatives" to bring more stability and order into the defense procurement process.8
Carlucci left the Pentagon in January 1983 to become president and later chairman and chief executive officer of Sears World Trade, Inc., in Washington. He stayed with Sears until 1986, when he moved to the White House as assistant to the president for national security affairs. In 1985-86, while still with Sears, he served on the President's Blue Ribbon Commission on Defense Management, chaired by David Packard. Carlucci worked particularly on the issues of long-range planning and the budgeting and programming process.9
Carlucci did not undertake extensive organizational changes in DoD, probably because he entered office toward the end of the Reagan administration. He retained William H. Taft IV, who had been deputy secretary since 1984, and established close relationships with Chairman Admiral William J. Crowe, Jr., and other members of the Joint Chiefs of Staff. He and Taft met weekly with the service secretaries. Although he had earlier been skeptical about the provisions of the Goldwater-Nichols Act giving the JCS chairman more power, he concluded eventually that the changes had worked out well.10
Support for the Strategic Defense Initiative
As a firm supporter of St, Carlucci opposed negotiations on arms control that might limit U.S. choices in developing, testing, and deploying SDI systems. State Department arms control negotiator Paul H. Nitze and Admiral Crowe, among others, thought that it might be possible, in the interests of securing a new arms control agreement, to negotiate with the Soviet Union some limits on SDI testing without compromising the SDI program. Carlucci consistently opposed any such agreement.11
After signature of the Intermediate-Range Nuclear Forces (INF) Treaty in 1987, the State Department hoped to move rapidly on a strategic arms reduction treaty (START). Carlucci again argued against negotiating limitations on SDI research and development, and Reagan made it clear that he would not trade SDI for a START agreement. Carlucci publicly defended SDI technological progress, observing that the major obstacle to securing the system was likely to be political rather than technical. He acknowledged the unlikelihood of achieving a perfect antimissile defense system, but argued that SDI would strengthen the U.S. deterrent at a time when the nation had no real defense against incoming missiles. He also portrayed SDI as a defense against rogue countries, such as Libya, that might be able to obtain nuclear-armed missiles capable of reaching the United States. Although he did not get as much money as he wanted for SDI in the FY 1989 budget, he secured enough to keep research and development work underway.12
His stand on SDI did not detract from Carlucci's support of the efforts of the Reagan administration to negotiate arms control agreements with the Soviet Union. Some arms control advocates saw his appointment as secretary of defense to succeed Weinberger in 1987 as a sign that the Pentagon would soften its hard line approach on the issue. Carlucci testified strongly in favor of the INF Treaty, which he saw as enhancing NATO security in several ways. The treaty would reduce the Soviet military threat to Western Europe by removing an entire class of missile systems from the area and demonstrate to the USSR that NATO nations had the political will to make and support decisions necessary to ensure their security. He also emphasized that the INF Treaty included stringent verification provisions. To implement the verification process of the INF Treaty, Carlucci created the On-Site Inspection Agency on 15 January 1988.13
Organizational Affiliations
Mr. Carlucci has been a Managing Director of the Carlyle Group since 1989, Chairman since 1993 and Chairman Emeritus since January 2003.14
Mr. Carlucci is Chairman Emeritus of Nortel Networks, the US-Taiwan Business Council and Neurogen Corporation Board of Directors. Mr. Carlucci serves as a member of the corporate boards for SunResorts, Ltd., N.V., Stewart & Stevenson, Bando de Caribe and ENNIA.  Carlucci has previously served on the boards of General Dynamics, Bell Atlantic, Quaker Oats, and Westinghouse.15 Additionally, Mr. Carlucci serves as a member of the not for profit boards of Population Services International (PSI), University of Maryland School of Medicine's Board of Visitors, and Citizens Network of Foreign Affairs.
Since 1995, Mr. Carlucci has been a member of the Council on Foreign Relations.16  Along with George H. W. Bush, he is also  a member of the Honorary Board of Directors for the Association of Former Intelligence Officers.17  Mr. Carlucci is one of two Trustee Emeriti of the RAND Corporation, serving as vice chair of the Center for Middle East Public Policy.18
Mr. Carlucci has three children, one son and two duaghters, with his first wife Jean Anthony.  He is now married to Marsha McMillan Myers.19
Share this:





Source notes: