Founded by former Vice-President Al Gore and former CEO of Goldman Sachs Asset Management David Blood
Integrates "sustainability" research into traditional investment methodologies
Several executives and partners are former employees of Goldman Sachs
Generation Investment Management LLP is a investment management firm with offices in London, Sydney, and Washington, D.C.  The company was founded in April 2004 by the former CEO of Goldman Sachs Asset Management David Blood and former Vice-President Al Gore. 1  The company claims that it incorporates research regarding "sustainability" with traditional investment strategies to create a form of "sustainable capitalism".  However, many of its investments listed in SEC filings are with companies that have a questionable record regarding environmental issues.
In November 8, 2008, Gore and Blood had an editorial published in the Wall Street Journal entitled "We Need Sustainable Capitalism".  The piece describes the need for a global economic transformation into "sustainable" energy solutions, noting that businesses are best positioned to help drive the coming "economic and industrial change" which will help to create a "sustainable capitalism".
The financial crisis has reinforced our view that sustainable development will be the primary driver of economic and industrial change over the next 25 years. As a result, old patterns and assumptions are now being re-examined in an effort to find new ways to use the strengths of capitalism to address this reality. Indeed, at the Harvard Business School Centennial Global Business Summit held earlier this month, the future of market capitalism was one of the principal themes discussed.

…

Today, the sustainability challenges the planet faces are extraordinary and completely unprecedented. Business and the capital markets are best positioned to address these issues. And there are clearly higher expectations for businesses, and more serious consequences for running afoul of the boundaries of corporate responsibility. We need to return to first principles. We need a more long-term and responsible form of capitalism. We must develop sustainable capitalism.2
Investment Strategy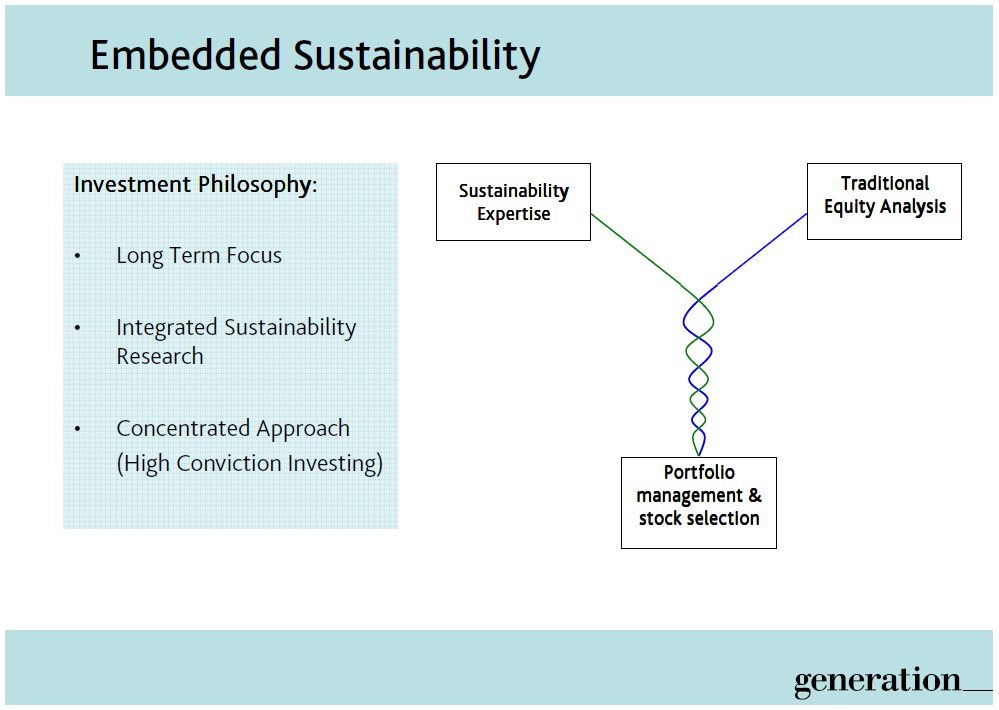 Green Investment Management LLP describes its investment philosophy as being aimed at integrating  "sustainable research" with the "traditional investment process":
Investment results for long-only equity strategies are maximized by taking a long-term investment horizon because a majority of a company's value is determined by its long-run performance. Sustainability issues can impact a company's ability to generate returns and therefore must be fully integrated with rigorous fundamental equity analysis to achieve optimal long-term investment results. We buy high quality businesses and management teams whose securities are sufficiently attractively priced to deliver excess returns over the long-term. A concentrated approach allows maximum leverage of an intense research effort as investments will be entered into only when very high levels of conviction exist.

Through this approach, we aim to achieve superior returns by developing a more complete view of a company's long-run potential than the market. By seeking companies focused on long-term value creation, we hope to invest in companies that are part of the solution to global challenges.3
The company's "sustainability research" focuses on long-term environmental, social and governance challenges that can materially impact a company's ability to sustain profitability and deliver returns to shareholders.  Climate change, pandemics/real needs, poverty, demographics, water, lobbying and corporate governance are examples of sustainability themes which have the potential to impact (both positively and negatively) the long-term operating context for business.
Goldman Sachs Involvement
A number of executives at Generation Investment Management are former high-level executives in the Asset Management division of Goldman Sachs, including Mark Ferguson, Peter Harris, and David Blood.  This connection is discussed in a 2008 report by the Capital Research Center called "Cashing in on Green":
In search of money-making ventures, former Goldman Sachs executives recently joined Generation Investment Management (GIM), a London-based "green" investment company founded by former Goldman Sachs executive David Blood and green guru Al Gore. GIM's founding members include Mark Ferguson, former co-head of pan-European research at Goldman Sachs Asset Management , and Peter Harris, former head of Goldman Sachs Assets Management international operations.

This year GIM formed a partnership with Kleiner Perkins Caufield & Byers, the highly-successful California venture capitalist firm that invests seed money into "green tech" start-up companies. When the startups go public or are bought out by a larger corporation, GIM and Kleiner Perkins expect to cash in.

The biggest area of money making potential is carbon trading. In September 2006, Goldman Sachs paid $23 million to buy a 10% interest in the Chicago Climate Exchange, the only U.S. exchange that conducts trading in so-called carbon offsets. If an individual or business creates high levels of carbon emissions, it can buy these "offsets," or credits, to fund renewable energy sources such as solar and wind power or to plant trees. According to its proponents, high energy users canconsider themselves "carbon neutral" if they compensate for the amount of carbon dioxide they produce by funding eco-friendly projects to balance out their own emissions.4
Along with Goldman Sachs, Generation Investment Management has a 10% stake in the Chicago Climate Exchange, the first environmental derivative exchange in the world.5
Leadership
Al Gore, Chairman
David Blood, Senior Partner,

Former CEO, Goldman Sachs Asset Management

Mark Ferguson, Managing Partner, Chief Investment Officer

Held various positions at Goldman Sachs Asset Management6

Peter Harris, Managing Partner, Chief Operating Officer

Held several high-level positions at Goldman Sachs Asset Management
Director, Schroders Mutual Fund and Hedge Fund

Peter S. Knight, Managing Partner; President, US Business
Colin le Duc, Managing Partner, Senior PM Climate Solutions
Miguel Nogales, Managing Partner, Senior PM Global Equity
Hans Mehn, Partner
Mark Mills, Partner
Corporate Partnerships
Memberships and Initiatives
Locations
Generation Investment Management LLP
One Vine Street
London W1J 0AHU
Main: +44 (0) 207 534 4700
Fax: +44 (0) 207 534 4701
Generation Investment Management U.S. LLP
One Bryant Park
48th Floor
New York, NY 10036
U.S.A.
Main: +1 212 584 3650
Fax: +1 212 584 3652
Generation Investment Management LLP
29 Chifley Tower
2 Chifley Square
Sydney, NSW 2000
Australia
Main: +61 2 9375 2243
Fax: +612 9375 2121

SEC Filings
FORM 13F INFORMATION TABLE
September 30, 2009




FORM 13F INFORMATION TABLE
June 30, 2009










FORM 13F INFORMATION TABLE
March 31, 2009





Share this:

Source notes: