'Stingray' Phone Tracker Fuels Constitutional Clash (Wall Street Journal):
For more than a year, federal authorities pursued a man they called simply "the Hacker." Only after using a little known cellphone-tracking device—a stingray—were they able to zero in on a California home and make the arrest.
Stingrays are designed to locate a mobile phone even when it's not being used to make a call. The Federal Bureau of Investigation considers the devices to be so critical that it has a policy of deleting the data gathered in their use, mainly to keep suspects in the dark about their capabilities, an FBI official told The Wall Street Journal in response to inquiries.

A stingray's role in nabbing the alleged "Hacker"—Daniel David Rigmaiden—is shaping up as a possible test of the legal standards for using these devices in investigations. The FBI says it obtains appropriate court approval to use the device.

Stingrays are one of several new technologies used by law enforcement to track people's locations, often without a search warrant. These techniques are driving a constitutional debate about whether the Fourth Amendment, which prohibits unreasonable searches and seizures, but which was written before the digital age, is keeping pace with the times.

On Nov. 8, the Supreme Court will hear arguments over whether or not police need a warrant before secretly installing a GPS device on a suspect's car and tracking him for an extended period. In both the Senate and House, new bills would require a warrant before tracking a cellphone's location.

And on Thursday in U.S. District Court of Arizona, Judge David G. Campbell is set to hear a request by Mr. Rigmaiden, who is facing fraud charges, to have information about the government's secret techniques disclosed to him so he can use it in his defense. Mr. Rigmaiden maintains his innocence and says that using stingrays to locate devices in homes without a valid warrant "disregards the United States Constitution" and is illegal.

His argument has caught the judge's attention. In a February hearing, according to a transcript, Judge Campbell asked the prosecutor, "Were there warrants obtained in connection with the use of this device?"

The prosecutor, Frederick A. Battista, said the government obtained a "court order that satisfied [the] language" in the federal law on warrants. The judge then asked how an order or warrant could have been obtained without telling the judge what technology was being used. Mr. Battista said: "It was a standard practice, your honor."

…

On Thursday the government will argue it should be able to withhold details about the tool used to locate Mr. Rigmaiden, according to documents filed by the prosecution. In a statement to the Journal, Sherry Sabol, Chief of the Science & Technology Office for the FBI's Office of General Counsel, says that information about stingrays and related technology is "considered Law Enforcement Sensitive, since its public release could harm law enforcement efforts by compromising future use of the equipment."

The prosecutor, Mr. Battista, told the judge that the government worries that disclosure would make the gear "subject to being defeated or avoided or detected."

A stingray works by mimicking a cellphone tower, getting a phone to connect to it and measuring signals from the phone. It lets the stingray operator "ping," or send a signal to, a phone and locate it as long as it is powered on, according to documents reviewed by the Journal. The device has various uses, including helping police locate suspects and aiding search-and-rescue teams in finding people lost in remote areas or buried in rubble after an accident.

The government says "stingray" is a generic term. In Mr. Rigmaiden's case it remains unclear which device or devices were actually used.

The best known stingray maker is Florida-based defense contractor Harris Corp. A spokesman for Harris declined to comment.

Harris holds trademarks registered between 2002 and 2008 on several devices, including the StingRay, StingRay II, AmberJack, KingFish, TriggerFish and LoggerHead. Similar devices are available from other manufacturers. According to a Harris document, its devices are sold only to law-enforcement and government agencies.

Some of the gadgets look surprisingly old-fashioned, with a smattering of switches and lights scattered across a panel roughly the size of a shoebox, according to photos of a Harris-made StingRay reviewed by the Journal. The devices can be carried by hand or mounted in cars, allowing investigators to move around quickly.
HARRIS Wireless Products Group Price List: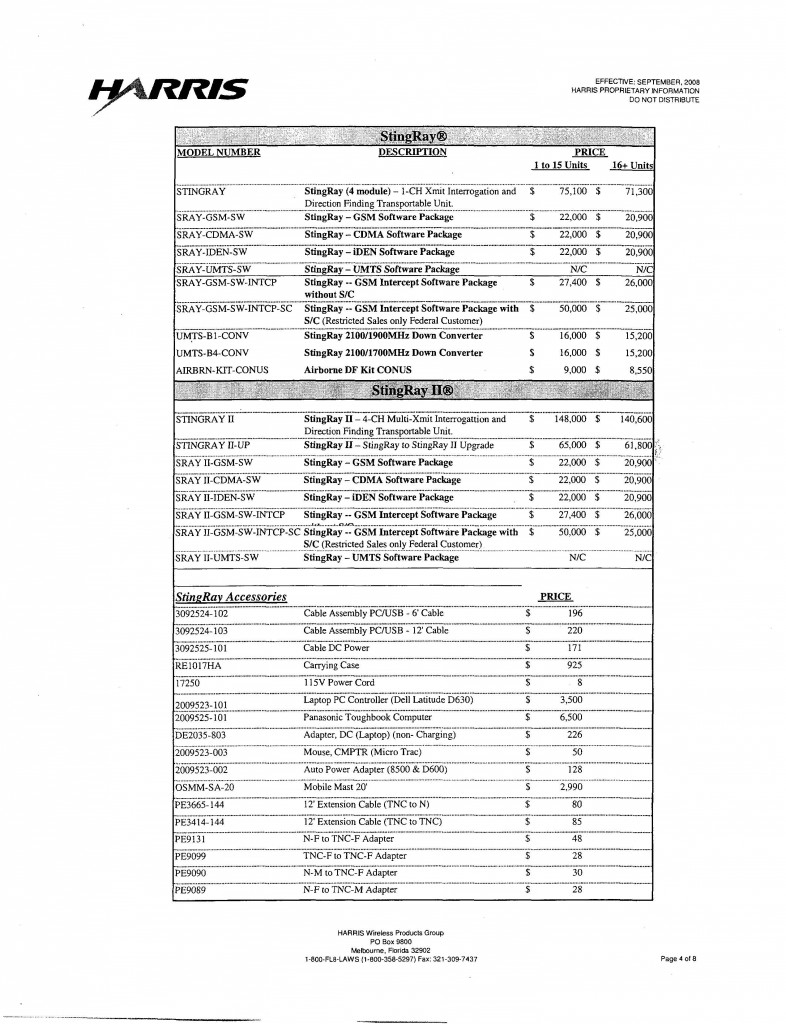 Share this: