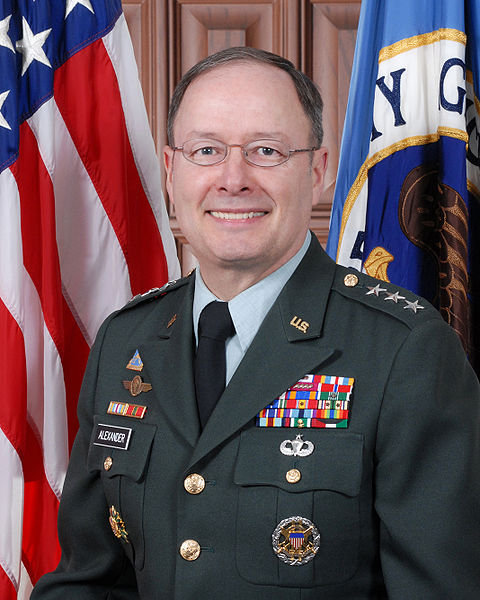 Proposed Director, U.S. Cyber Command1
Director, National Security Agency2
Attendee, Bilderberg Group3
Former Deputy Chief of Staff, Department of the Army4
Former Director of Intelligence, U.S. Central Command5
Former Commanding General, Army Intelligence and Security Command6
Biography
Keith B. Alexander was born in Syracuse, New York in 1952.78  He graduated from the U.S. Military Academy at Westpoint and went on to earn a Master's degree in both Systems Technology and Physics  from the Naval Postgraduate School.  Mr. Alexander also holds two other Master's degrees, one in Business Administration from Boston University's Graduate School of Management and the other in National Security Strategy from the National Defense University.  His military education has included the Armor Officer Basic Course, the Military Intelligence Officer Advanced Course, the U.S. Army Command and General Staff College, and the National War College.
Mr. Alexander's previous assignments include the Deputy Chief of Staff, Headquarters, Department of the Army; Commanding General of the U.S. Army Intelligence and Security Command at Fort Belvoir, VA; Director of Intelligence, United States Central Command; and Deputy Director for Requirements, Capabilities, Assessments and Doctrine, J-2, for the Joint Chiefs of Staff. Mr. Alexander has also served in a variety of command assignments in Germany and the United States. These include tours as Commander of Border Field Office, 511th MI Battalion, 66th MI Group; 336th Army Security Agency Company, 525th MI Group; 204th MI Battalion; and 525th MI Brigade.9
In addition to these positions, Mr. Alexander has also held a number of key staff assignments as Deputy Director and Operations Officer, Army Intelligence Master Plan, for the Deputy Chief of Staff for Intelligence; S-3 and Executive Officer, 522nd MI Battalion, 2nd Armored Division; G-2 for the 1st Armored Division both in Germany and Operation Desert Shield / Desert Storm in Saudi Arabia.10
Mr. Alexander has received a number of medals and awards throughout his military career, including a Bronze Star, five Legions of Merit, five Meritorious Service Medals, the Defense Distinguished Service Medal, Defense Superior Service Medal, the Air Medal, the Army Commendation Medal, and two Army Achievement Medals, as well as various campaign and unit awards.11 His badges include the Senior Parachutist Badge, the Army Staff Identification Badge, and the Joint Chief of Staff Identification Badge.
Director of the National Security Agency
On July 30, 2005, Lieutenant General Keith B. Alexander was selected to be the sixteenth director of the National Security Agency, replacing Lieutenant General Michael V. Hayden who left to become Director of Central Intelligence. 12 During his directorship, the NSA was directly embroiled in a number of scandals relating to warrantless wiretapping and unlawful surveillance of American citizens.  While most of the abuses were alleged to have occurred under the leadership of Lieutenant General Hayden, primarily in the immediate aftermath of 9/11, whistelblowers such as Russell Tice indicate that the warrantless wiretapping and surveillance program is part of a more encompassing NSA program that was continued under Alexander's leadership and has not been stopped. Tice's statements, along with those of other NSA whistleblowers, indicate that a warrantless wiretapping program that allows the NSA to monitor the communications of specific individuals and institutions is a continuing capability of NSA systems, which are said to be installed in telecommunications hubpoints around the country.131415
Director of U.S. Cyber Command
On June 23, 2009 Secretary of Defense Robert Gates announced the official creation of U.S. Cyber Command (USCYBERCOM) as a major combatant command.  The new Cyber Command will falling under the jurisdiction of U.S. Strategic Command (USSTRATCOM).  According to a Department of Defense press release, CYBERCOM will "be capable or synchronizing wartfighting effects across the global security environment as well as providing support to civil authorities and international partners."16
Describing the Cyber Command, Pentagon spokesman Bryan Whitman said, "Our defense networks are constantly probed. There are millions of scans every day . . . The power to disrupt and destroy, once the sole province of nations, now also rests with small groups and individuals, from terrorist groups to organized crime to industrial spies to hacker activists, to teenage hackers." Whitman added,  "We also know that foreign governments are trying to develop offensive cyber capabilities."17
Bilderberg Attendance
Mr. Alexander's name was listed on a leaked attendance list for the Bilderberg Group's 2009 Meeting in Athens, Greece.18  While acting as director of the National Security Agency, Lieutenant General Kieth B. Alexander attended the secret gathering with representatives of foreign governments, foreign business interests, as well as foreign militaries and intelligence services.  It is to be noted that such an action is illegal under the Logan Act of 1799.19  Though the Bilderberg Group maintains that matters of policy are not decided at their meetings, it is obvious that attendance to such a secret and unauthorized meeting can hardly be considered unreflective of American policy.  This is particularly true when the meeting in question is also attended by key members of other governments, including European royalty.
Mr. Alexander's proposed position as head of U.S. Cyber Command is likely reflective of his attendence to the Bilderberg meeting in 2009. His appointment comes approximately one month after his attendence and  follows up on his successful oversight of the National Security Agency during its continued implementation of systems for warrantless wiretapping and surveillance of American citizens.2021
Share this:





Source notes: