WARNING: WE ARE NOT HENRY KISSINGER. PLEASE CONSIDER THIS BEFORE CONTACTING US.

If you would like to know why you are seeing this message, please read this explanation.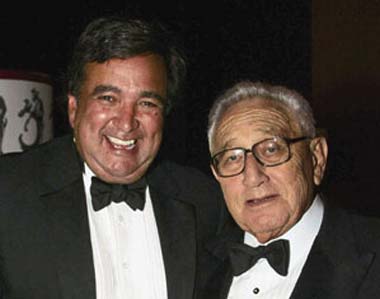 connected to several banks known for money laundering, especially in the facilitation of drug trafficking and weapon sales
helped to arm Saddam Hussein in the buildup to the Gulf War
employs high-level government officials
client base largely dependent upon the connections of Henry Kissinger
Kissinger Associates, Inc. is an international consultancy firm that is owned and run by Henry Kissinger.  The company was incorporated April 7, 1982 in the state of Delaware, though its primary offices are located in New York City.  The company is extremely secretive and it is difficult to uncover information about them.  Despite the fact that they have operated for more than twenty years, been involved in several multinational scandals resulting in congressional investigations, and are headed by one of the most notorious political figures in modern history, there is virtually no information available about them in traditional sources.  They do not seem to produce an annual report.  There is no record of SEC filings.  The only bits of information come from combing through old press releases, news articles, and brief biographies on event participant lists.  The company operated a website for five years with nothing but the firm's name and two phone numbers.
Connection to BCCI
Beginning in the fall of 1986 and continuing through 1989, Kissinger Associates began engaging in talks with the Bank of Credit and Commerce International (BCCI), a known front for international money laundering and drug trafficking operations with extensive ties to the Central Intelligence Agency.  The official U.S. Senate report which attempted to investigate BCCI's true nature reports that several members of Kissinger Assocates "seriously explored finding ways to link BCCI's global network of banks with the services being offered by Kissinger Associates. Discussions between representatives of BCCI and representatives of Kissinger Associates took place over an 18 month period concerning the possibility of merging the capabilities of BCCI and Kissinger Associates on various, mostly unspecified, projects. Following BCCI's indictment, discussions continued as to whether Kissinger Associates could help BCCI respond to the ramifications of that indictment. These discussions ended in early 1989 at Henry Kissinger's personal insistence."1
When the Senate Committee on Foreign Relations subpoenaed documents from Kissinger Associates relating to BCCI, the firm agreed to provide the documents on condition that the subpoena not be served.  Further, Kissinger Associates refused to provide the Committee with their client list, "arguing that the list was beyond the parameters of the investigation into BCCI by the Subcommittee, and advising the Subcommittee that if it pursued the list, Kissinger Associates would litigate the matter, if necessary, through an extensive appellate process to the Supreme Court."2
In fact, one of Kissinger Associates partners was Sergio Correa da Costa, the most senior member of the Brazilian diplomatic corps and a close associate of then Brazilian president Jose Sarney, as well as chief of BCCI's operations in Brazil.  Costa had worked for Kissinger since 1986, while simultaneously working for BCCI, during which time he had begun acting as a business agent for Kissinger Associates in Brazil.  Costa's actions include meeting with representatives of Banco Nationale del Lavaro, an Italian bank for whom Kissinger was a consultant, which would soon be under investigation by the House Committee on Banking, Finance and Urban Affairs for its role in the illegal arming of Iraq using U.S. commodity credits. 3
Throughout the process of legal inquiries into the BCCI Affair, Kissinger Associates maintained that it had never provided services to BCCI.  Towards the beginning of the investigation, Kissinger's attorney, Lloyd Cutler, preemptively stated: "At the outset, it should be made clear that Kissinger Associates, Kent Associates, and China Joint Ventures (collectively referred to hereinafter as "Kissinger Associates") have never represented or provided any services for BCCI, ICIC, or any BCCI shareholder. Neither BCCI or ICIC nor any person known to be a BCCI shareholder has ever been a client of Kissinger Associates." 4
Connections to BNL and Arming of Saddam Hussein
According to investigations by congressman Henry B. Gonzalez, Banco Nationale del Lavaro was a client of Kissinger Associates at the same time that the bank was issuing more than $4 billion in unreported loans to Iraqi interests.  These loans facilitated weapons sales and the transfer of export-controlled military technology to Iraqi interests as late as June 1990, only weeks before the invasion of Kuwait.  A number of other Kissinger Associates clients benefited from these loans and helped to facilitate the acquisition of export license for Iraq, including a number of major defense contractors.  The Financial Times reported April 26, 1991:
In a lengthy statement on the floor of the House of Representatives, Mr. Henry Gonzalez–chairman of the banking committee–described how Mr. Alan Stoga, a Kissinger Associates executive, met Mr. Saddam Hussein in Baghdad in June 1989.

At the meeting, Mr. Saddam apparently expressed interest in expanding commercial relations with the US. `Many Kissinger Associates clients received US export licenses for exports to Iraq. Several were also the beneficiaries of BNL loans to Iraq,' said Mr. Gonzalez.

In response, Mr. Kissinger said his firm `derived no income from Iraq'. To his knowledge, Mr. Stoga did not advise Iraq on any financial matters, but he recalled that Mr. Stoga told him that he was identified at the Saddam meeting `as an expert on debt and could advise.'

Mr. Kissinger, who has rarely spoken about his clients or his business, said his firm would not have interceded with the US government to secure export licenses for clients, but that `it is possible that somebody may have advised a client on how to get a license.'5
Some of the companies that profited from these loans by BNL are found in the stock holdings of Brent Scowcroft, who left Kissinger Associates, together with Lawrence Eagleburger, to take up high level positions in the administration of George H. W. Bush.  Scowcroft became National Security Advisor in 1989, a position which he had previously held in the 1970s following the departure of Henry Kissinger.  Eagleburger, who had previously served as Executive Assitant to Henry Kissinger from 1968-69, became Deputy Secretary of State in 1989 and then Secretary of State in 1992.  Both of these individuals have extensive connections to the very same defense contractors and banks that were involved in arming Iraq in the leadup to the invasion of Kuwait.  Some of the companies in which Mr. Scowcroft held stock include Halliburton Company, Lockheed Martin Corporation, Hewlet-Packard Corporation, ITT Corporation, General Motors, General Electric, ARMCO Inc., and Mobil Oil Company. 6
Following these revelations by Congressman Gonzalez, the Department of Justice began the "wholesale destruction" of documents pertaining to the illicit loans made to Saddam Hussein.  The shredding of massive amounts of documents "started immediately after the election and is more extensive than anything in anyone's memory" according to DOJ officials.  The Justice Management Division spent all day Wednesday, November 4, 1992 and part of Thursday, November 5, shredding documents on a sixth-floor shredder.  "There is no record left of the files or what they contained," one official explained. "The notion of being a historian and going back into these files just disappeared."7
Kissinger McLarty Associates and Other Partnerships
Kissinger Associates has formed strategic alliances with a number of companies, many of which have interlocking connections to one another.  In 1999, Kissinger Associates created a joint venture with Thomas "Mack" McLarty, opening up an office in downtown Washington, D.C. under the name Kissinger McLarty Associates.  Mr. McLarty is the former White House Chief of Staff under President Clinton, a senior adviser to to the Carlyle Group, and a member of the Council on Foreign Relations.8  On February 21 2000, Kissinger Associates announced a "strategic advisory venture" with the Blackstone Group and American International Group, Inc. 9  The Blackstone Group was founded by Peter G. Peterson and Stephen A. Schwarzman in 1985.  Both of these men are members of the Council on Foreign Relations, Peter G. Peterson was chairman of the CFR for many years, and Mr. Peterson has also attended Bilderberg Meetings.  Mr. Schwarzman was a member of the Skull and Bones fraternity while at Yale.10  The CEO of American International Group at the time of the merger was Maurice "Hank" Greenberg, who is a personal friend of Kissinger.  Mr. Greenberg is the Honorary Vice-Chairman of the Council on Foreign Relations, has attended Bilderberg Meertings, and was once offered the position of Deputy Director of the Central Intelligence Agency.11  Kissinger McLarty Associates is a member of the Council of the Americas, a Latin-American trade group founded by David Rockefeller, former Chairman and current Honorary Chairman of the Council on Foreign Relations.
Current and Former Employees
Brent Scowcroft12
Timothy Geithner13
Lawrence Eagleburger
L. Paul Bremer14
Thomas "Mack" McLarty III
William "Bill" Richardson
Alan Stoga15
T. Jefferson Cunningham III
William Rogers
Pehr Gyllenhammar16
Sergio Correa da Costa
Paul Speltz
Roy, J. Stapleton
Thomas E. Graham
Alan R. Batkin
Current and Former Clients
American Express17
Coca-Cola18
Daewoo

Ericsson

Fiat
J.P. Morgan Chase
Heinz
Hollinger, Inc.19
Revlon

Skandinaviska Enskilda Banken20
Volvo
Locations
Kissinger Associates, Inc.
350 Park Avenue, 26th Floor
New York, NY 10022
Kissinger Mclarty Associates
1775 Pennsylvania Ave NW
Washington, DC  20006-4605
New York: (212) 759-7919
Washington: (202) 419-1421

Prior address:
Kissinger Associates, Inc.
55 E. 52nd St.
Suite 1100
New York, NY, 10055
Share this:





Source notes: