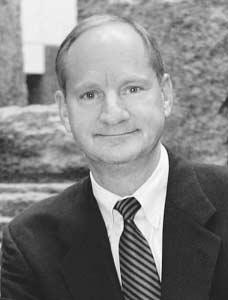 Former Chief Executive Officer and Current Chairman, WellPoint, Inc.
Director, Sprint Nextel Corporation
Director, Zimmer Holdings, Inc.
Ranked 41st on the 2007 Forbes List of the Highest Paid CEOs
Mr. Glasscock earned a bachelor's degree in business administration at Cleveland State University and later served as president of the CSU Alumni Association. He also completed the Commercial Bank Management Program at Columbia University. In addition, he studied at the School of International Banking and has participated in the American Bankers Association Conference of Executive Officers.
Larry C. Glasscock is chairman of the board for WellPoint, Inc. He was elected to that position on November 30, 2005. He served as president and chief executive officer of the company from November 2004 (following the merger between Anthem, Inc., and WellPoint Health Networks) until his retirement from day-to-day operations on June 1, 2007.
Mr. Glasscock joined the company in April 1998 as senior executive vice president and chief operating officer (COO) for Anthem, Inc. He was later named president and COO, managing the day-to-day operations of the company's core health care business. Since then, Mr. Glasscock has guided the company through a period of tremendous growth, including the merger of Anthem and WellPoint Health Networks, Inc., in 2004 and the acquisitions of Blue Cross and Blue Shield plans in New Hampshire, Maine, Colorado, Nevada, New York and Virginia. The company currently has Blue Cross or Blue Cross Blue Shield plans in 14 states.
Mr. Glasscock, the board of directors and senior management took Anthem public in 2001. At that time, the initial public offering (IPO) was the largest in the health insurance industry, the 23rd largest on Wall Street and the largest by an Indiana company for the New York Stock Exchange. Mr. Glasscock also has championed the company's efforts to improve quality and customer service, which have been recognized by accreditation organizations, regulatory and ratings agencies, and customers.
Before joining the company, Mr. Glasscock served as president and chief executive officer of Blue Cross and Blue Shield of the National Capital Area and, in 1998, oversaw its affiliation with Blue Cross and Blue Shield of Maryland. He became COO of the holding company (CareFirst, Inc.) and was responsible for operation and integration of the two companies.
Mr. Glasscock also has served as president and COO of First American Bank, N.A., where he played a major role in its financial turnaround. Prior to that, he was president and CEO of Essex Holdings, Inc., a Cleveland-based corporation formed to raise equity to invest in middle-market companies. Mr. Glasscock had a 20-year career with the Ameritrust Corporation, his last role as group executive vice president responsible for corporate banking activities.
Mr. Glasscock serves or has served as a director of Zimmer Holdings, Inc.; Blue Cross and Blue Shield Association; Council for Affordable Quality Healthcare (CAQH); National Institute for Health Care Management (NIHCM); and the Central Indiana Corporate Partnership (CICP). In addition, he serves on the board of directors of United Way of Central Indiana and the Greater Indianapolis Progress Committee (GIPC).1
During his seven years as CEO of WellPoint, Inc., Mr. Glasscock was consistently ranked on the Forbes List of the Highest Paid CEOs.  In 2007, Mr. Glasscock was ranked 41st on the list.2  In 2005, Mr. Glasscock was ranked 46th on the list. 3 In 2006, Mr. Glasscock was ranked 140th on the list.4
Share this:





Source notes: