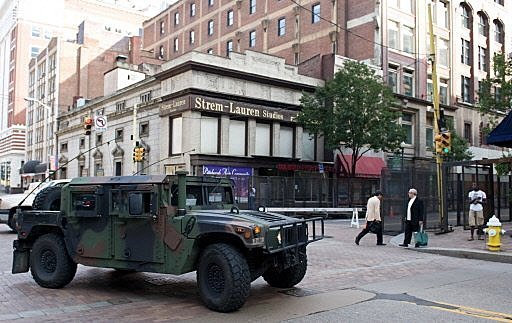 Fear of protesters is the talk of grocery and bank lines. At one point, local media was filled with reports of surreptitious foreigners training in a vacant building (they turned out to be a Swedish punk band on tour). For the duration of G-20, most locals are clearing out. School districts 10 miles away from Downtown have canceled classes. Even before the Secret Service announced its summit site security perimeters, businesses blocks away decided to shut down or arrange for workers to telecommute. Several storefronts have already been boarded up. And one downtown apartment-building owner advertised in Craigslist for ex-military personnel to man the fire hoses to guard against protest-related vandalism.

With so much public nervousness, the city hasn't hidden its preparations against the protests. Since Pittsburgh's May selection by the White House as the site for the summit, the city has proclaimed that it is readying up to 1,000 jail cells for protesters, importing 3,100 law enforcement officers from around the country to supplement its 900-member force, and mobilizing 2,000 National Guard troops. The City Council passed new laws (set to expire Sept. 30) targeting the possession of certain tools and "noxious substances" — items allegedly thrown or used to blockade space at protests elsewhere.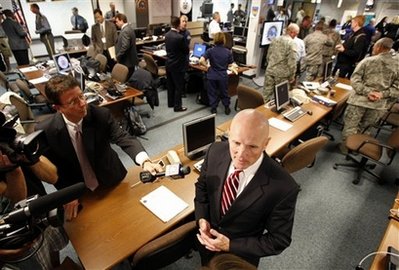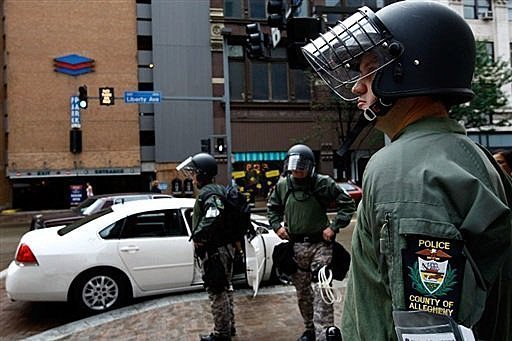 The New York Army National Guard is providing five helicopters to support the G20 Summit today and Friday in Pittsburgh.Four Blackhawks and a Chinook heavy lift helicopter are providing transportation support for Pennsylvania National Guard members and other security forces as leaders of the world's 20 largest economies meet.

The New York Army National Guard aircrew and helicopters are flying in support of the Pennsylvania National Guard's Joint Task Force G20, which involves 2,500 Guard soldiers and airmen working at the direction of the Secret Service.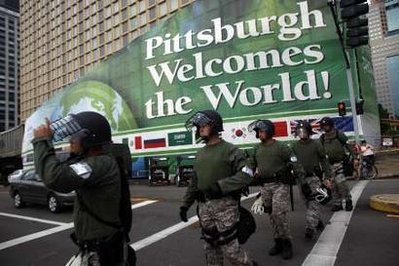 A massive police buildup is well underway in Pittsburgh, Pennsylvania, as thousands of police, National Guard, FBI, secret service and other law enforcement officials flood into the city in preparation for the G20 summit Thursday and Friday.

Sixty police departments from across Pennsylvania and the region have sent officers to the city. Pittsburgh officials have not revealed how many have actually come, but the city said it needed 4,000 police to provide security for the two-day event. Pittsburgh's 900 police officers have been put on 12-hour shifts, and all vacation and leave have been canceled.

In addition to local police, 1,200 Pennsylvania state police and 2,500 National Guard troops have been mobilized and brought into the city.

The White House has declared the summit a National Special Security Event (NSSE), placing security under the control of the US Secret Service. For months, Secret Service agents have been in Pittsburgh planning for the event. Closed circuit television cameras have been placed throughout the city.

A bunker-command center has been set up at an undisclosed location, manned 24 hours a day; agents from the various departments monitor the television screens and coordinate the activities of the law enforcement agencies.

In addition to police, several thousand private security guards have come to the city. Some are providing security for the numerous delegations, while others have been hired by hotels and businesses to provide security.

Pittsburgh has taken on something of the appearance of a city in a war zone. Four-foot-high concrete barriers have been placed in front of most office buildings and on street corners to block off traffic.

Caravans of large black SUVs with tinted windows and unmarked vans race through the city. Groups of 15 to 20 National Guard troops, state police or other agents can be seen getting into and out of vehicles and marching through downtown streets.

Police have set up checkpoints at all entrances into the city, monitoring all traffic coming and going. All kinds of special equipment including armored vehicles have been brought into the city to provide security for the event.

Pittsburgh police have obtained the use of 50 lightweight, high-tech bicycles, equipped with lights, radios and sirens, in what the department has described as "going green"!

The city's three rivers, two of which intersect at "The Point," have been closed to all river traffic and are being patrolled by the US Coast Guard, as well as state and local police.

The state police and National Guard have taken over the use of some city school buildings, and reopened several that had been closed due to budget cuts, to use for sleeping and meals and as a makeshift hospital; they are also using high school football fields for landing helicopters.

Three security zones

The US Secret Service and the city police have divided downtown Pittsburgh into three security zones.

For those unfamiliar with Pittsburgh's geography, the downtown area forms a triangle, with two rivers—the Allegheny and the Monongehela merging into the Ohio River at "The Point"—making up two sides and a series of highways and hills forming the third.

The green zone encompasses all of downtown and some neighboring communities. There will be only three entry points into downtown, one from each side of the triangle. Most cars and trucks will not be permitted into the green zone. Only buses and taxis, along with emergency vehicles, will be allowed into the downtown area. Trucks making deliveries to downtown businesses will only be permitted to enter from 5 to 7 a.m., and they must have at least two drivers so they are never left unattended. All parking lots will be closed, and cars parked on the streets are being towed.

People who live in the green zone are being urged not to drive, but they will be allowed in if their driver's licenses show they live in the area. Some expect delays entering the city to be as long as three or four hours.

Inside the green zone is the red zone. Here, all streets will be blocked off and only pedestrian traffic will be allowed.

Each day, about 200,000 people commute into downtown Pittsburgh to work and shop. Hundreds of businesses have decided to close down for the two days, and thousands of workers have been told to either take vacation time or not get paid. Other businesses have decided to remain open, but have moved workers to other locations outside the city. Still others have told workers that it is their responsibility to get to work, including telling some to bring sleeping bags and spend the night in their office.

Inside the green zone is the blue zone, which extends for about three blocks from the David Lawrence Convention Center, the site of the summit. The blue zone is completely fenced off with 10-foot high fences and concrete barriers. People seeking to enter the blue zone will have to pass through metal detectors and then walk down a narrow two-block stretch guarded by police and security agents.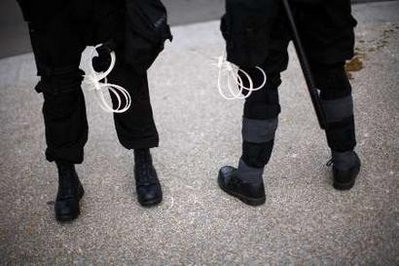 Channel 11 News reporter Alan Jennings confirmed that a contingent of 2,000 soldiers, mostly made up of the 2nd Brigade combat team of the Pennsylvania Army National Guard and the Pennsylvania Air National Guard, will hit the streets during G-20 to augment the 4,000-officer police force."

At this point we're looking at a battalion sized joint task force," said Lt. Col. Don Accamando, spokesman for the Pennsylvania National Guard.

The Guard will be providing assistance with crowd control, traffic, defensive terrorist tactics, and equipment to sense biological and chemical weapons."There are an array of skills that we do bring to the table … extraction capability if we got into consequence management, we'd be able to respond as well there," said Accamando.

The Guards told Channel 11 News that it will be in Pittsburgh at the beginning of the week of the G-20 in uniform.There was a similar contingent from the Pennsylvania Army and Air Guard that was called upon to protect President Barack Obama at his presidential inauguration.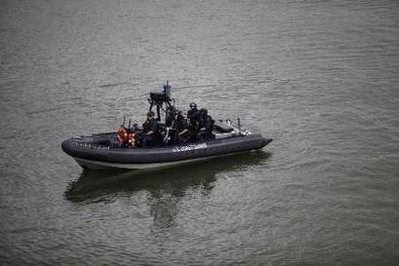 Officials overseeing security during this month's G-20 summit appear likely to tap the Pennsylvania National Guard as a major source of personnel — perhaps the biggest.

Lt. Col. Chris Cleaver, the National Guard's state public affairs officer, said the 19,000-member force is expecting word soon on just how many troops will be sought to supplement efforts by the U.S. Secret Service and Pittsburgh police.

National Guard representatives have been part of discussions throughout the summer, led by the Secret Service, on how other agencies could assist the city's 900-member force. Local officials have said about 4,000 security personnel are being sought to handle traffic, crowd control and other duties during the Sept. 24-25 gathering of world leaders at the David L. Lawrence Convention Center.

The Pennsylvania State Police is expected to bring in at least 1,000 officers from around the state. Lt. Col. Cleaver said the National Guard might supply as many as 2,000, primarily from its 2nd Brigade Combat Team in Washington, Pa., although nothing is official yet.

"We're not going to be in a lead role. We are in support of [other units of] law enforcement," the lieutenant colonel said, noting that the Washington, Pa., brigade also had a large role providing security on streets of the nation's capital for President Barack Obama's inauguration.

The brigade has more than 2,400 members, most of them civilians who would be activated, as they were in 2005 for a tour of duty in Iraq. The 171st Air Refueling Wing, based at Pittsburgh International Airport, would also be activated to assist if authorities confirm the National Guard is needed.

"Not only do we have a robust ability to bring a lot of people — we have unique aspects like helicopters, fixed-wing aircraft and specialized units for an event like this," Lt. Col. Cleaver said.

He said the federal government would pay any costs that occur from mobilizing the National Guardsmen.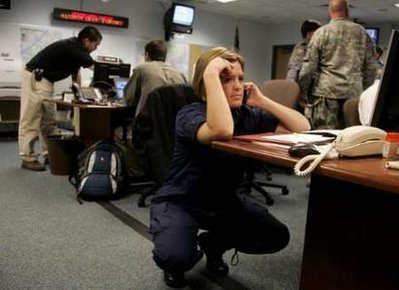 Share this: