Main intelligence component of Department of Homeland Security
Member of U.S. Intelligence Community
Integrates with local intelligence fusion centers
The Office of Intelligence and Analysis (I&A) is the main intelligence arm of the Department of Homeland Security Intelligence Enterprise.  It is a member of the national Intelligence Community (IC) that collects, analyzes, and disseminates information related to homeland security threats to state, local, and tribal levels, in the private sector, and in the IC.
The stated mission of I&A is to "ensure that information related to homeland security threats is collected, analyzed, and disseminated to the full spectrum of homeland security customers in the Department, at state, local, and tribal levels, in the private sector, and in the IC."1 The Under Secretary for I&A is the Chief Intelligence Officer for the Department of Homeland Security and is responsible for leading I&A and the entire DHSI enterprise. The Under Secretary is also the Department's chief information sharing officer and is responsible for implementing the objectives of the PM-ISE within DHS.2
I&A works closely with Department component intelligence organizations as well as state, local, tribal, and private-sector entities to "ensure that non-traditional streams of information are fused with traditional IC sources to provide a complete assessment of threats to the nation."  These entities are unified under local fusion centers, which provide state and local officials with intelligence products while simultaneously gathering information for federal sources.  As of July 2009, there were 72 designated fusion centers around the country with 36 field representatives deployed. The Department has provided more than $254 million from FY 2004-2007 to state and local governments to support the centers.3  The Homeland Security Data Network (HSDN), which allows the federal government to move information and intelligence to the states at the Secret level, is deployed at 27 fusion centers. Through HSDN, fusion center staff can access the National Counterterrorism Center (NCTC), a classified portal of the most current terrorism-related information.  I&A is the Executive Agent for the Department State and Local Fusion Center Program.  The Under Secretary for I&A leads several additional activities for the Department, such as information sharing, stewardship of National Security Systems, and management of classified information systems security.
Analytic Focus
The Department of Homeland Security states that I&A has five primary analytic "thrusts":
The first is threats related to border security. We look at all borders—air, land, sea, and virtual—and analyze a range of interlocking threats to include narcotics trafficking, alien and human smuggling, money laundering, and other illicit transnational threats. We also monitor foreign government initiatives that affect border security.

The second is the threat of radicalization and extremism. Our top priority is radicalized Islam (Sunni and Shia groups), but we also look at radicalized domestic groups. We do not monitor known extremists and their activities; instead, we are interested in the radicalization process—why and how people who are attracted to radical beliefs cross the line into violence.

The third is threats from particular groups entering the United States—groups that could be exploited by terrorists or criminals to enter the Homeland legally or to bring in harmful materials. We further focus on travel-related issues of interest to the Department, such as visa categories and the Visa Waiver Program.

The fourth is threats to the Homeland's critical infrastructure and key resources (CIKR). We integrate all source intelligence from the IC with information from critical infrastructure owners and operators, and, collaboratively with state and local fusion centers, provide a comprehensive tactical and strategic understanding of physical and cyber threats to the critical infrastructure, including threats from nation-states, international and domestic terrorism, and criminal enterprises. Our threat assessments are integrated with other assessments of infrastructure vulnerabilities and the consequences of an incident to define all hazard infrastructure risk for risk-based prioritization and decision making.

The fifth is weapons of mass destruction and health threats. We evaluate and establish a baseline of the actors, their claims, and their plans to conduct attacks involving chemical, biological, radiological, and nuclear materials against the Homeland. We also support homeland-focused analysis of global infectious disease, public health, and food, agricultural, and veterinary issues. We provide tailored analytical support on these threats to our state, local, and tribal partners as well as members of the public health, technical, scientific, medical, and response communities.4
Controversial Reports
Since 2003, the Department of Homeland Security Office of Intelligence and Analysis has released a number of reports, information bulletins, and homeland security notes, often in conjunction with the Federal Bureau of Investigation.  These reports can often follow significant terrorist incidents or threats and are ostensibly designed to inform recipients or "customers" of impending threats.  Most of the I&A reports that have been made public are marked "UNCLASSIFIED//FOR OFFICIAL USE ONLY" and are distributed throughout state and local government, as well as components of "critical infrastructure".  Despite the FOUO caveat, the wide distribution of I&A reports makes them almost inevitably become public, sometimes within a matter of days.  Some of these reports have been received with negative responses from the public and law enforcement.
When a report titled "Rightwing Extremism: Current Economic and Political Climate Fueling Resurgence in Radicalization and Recruitment" was made public in early 2009, there was widespread criticism from conservative sources which saw the report as a politically motivated attack upon certain ideological backgrounds.  The report identifies "disgruntled military veterans" and individuals who believe their national sovereignty is being destroyed by a "New World Order" as potential terrorists.  It also cites less than six incidents as being sufficient basis for declaring a rise in "domestic extremism".  Several of the incidents listed occurred in the late 1990s.
A number of other reports are available that involve  similar fallacious judgments.  "Leftwing Extremists Likely to Increase Use of Cyber Attacks over the Coming Decade" describes the concept of "hacktivism" as "using cyber technologies to achieve a political end".  The "Domestic Extremism Lexicon" includes the following definition:
(U) alternative media (U//FOUO) A term used to describe various information sources that provide a forum for interpretations of events and issues that differ radically from those presented in mass media products and outlets.
The lexicon also lists "racist skinheads" as being identifiable by their proclivity for wearing Doc Marten's.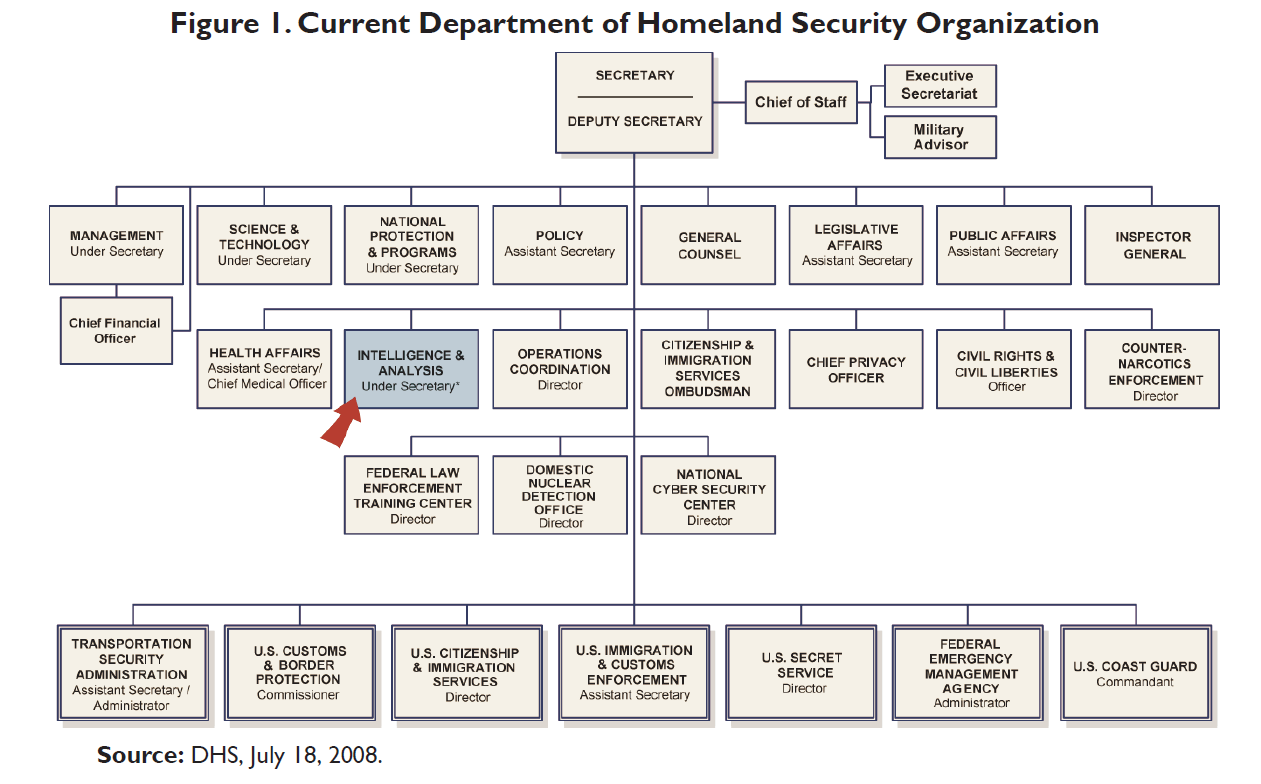 Share this:





Source notes: