'Zombies' Roam At Ohio Wesleyan Stadium (nbc4i.com):
The dead walked among the living in Delaware – for a day anyway.

Ohio Wesleyan University's Selby Stadium turned into zombieland for a mock drill by the Delaware County Emergency Management Agency and Homeland Security.

More than 200 volunteers in costumes participated in what's dubbed the "zombie exercise."

The concept was a ball game that turned into a stadium full of zombies by a hazardous chemical spill.

Firefighters and emergency personnel responded to the stadium and practiced a major catastrophe that's hard work, but fun for the zombies.

Some of the zombies contaminated by the chemical cloud grew impatient with the slow response.

The Delaware County EMA director said it's hard to find volunteers for a mock hazardous materials incident, but not so with a mock zombie incident.

"This is a glorified hazardous materials incident. The same thing you would do for a zombie incident is the same thing we would do for a hazardous materials incident," said Brian Gallagher, of the Delaware County EMA.

Zombie volunteers came from near and far in very realistic costumes so that more than ten different emergency departments could practice what to do in the event of a real mass decontamination.

"If anything ever happens, it's good we are prepared and we are actually thinking about it. I think a lot of people came out here because it's awesome," said Nicole Bond.
Delaware County Zombie Exercise (co.delaware.oh.us):
Delaware County Emergency Management Agency wants you to die this Halloween.

Ok, not really. But we would like you to come out and play one of the 250 "living dead" that we need for our Zombie Hazardous Materials Exercise.

There will be a contest for Best Make-Up, Best Costume, and even Best Zombie Walk.

So check out the info page and if you are interested, sign up online with the link provided above.

This is your opportunity to help our first responders be prepared. Being a Zombie this halloween may save a life in the future.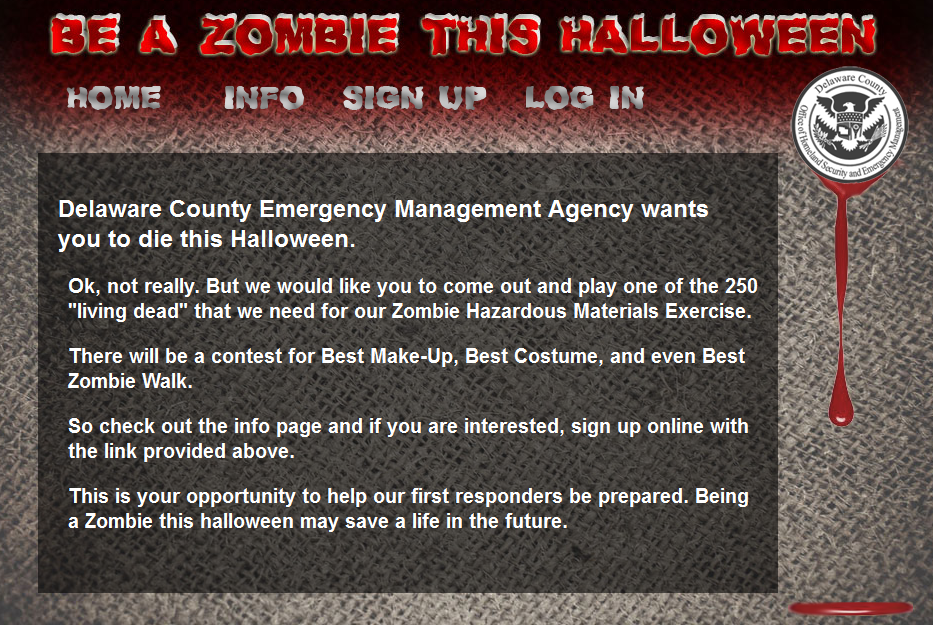 Share this: