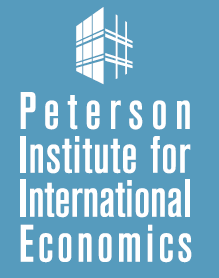 Globalist think-tank dedicated to affecting policy on issues related to international economics, including global warming, the global financial crisis, sovereign wealth funds, and job outsourcing
Has played key role in affecting many decisions in U.S. and around the world regarding globalization
In 2006, renamed after Blackstone Group co-founder Peter G. Peterson, a former director of the Council on Foreign Relations
Utilizes approximately half its annual budget for administrative costs
Board of Directors includes prominent figures in international banking and econmics, including many Bilderberg attendees, such as Maurice Greenberg, Paul O'Neill, David Rockefeller, Alan Greenspan, Paul Volcker, and George P. Shultz, among others
The Institute for International Economics is a private, nonprofit, nonpartisan research institution devoted to the study of international economic policy.  The Institute's annual budget is about $10 million. Support is provided by a wide range of charitable foundations, private corporations, and individuals and from earnings on the Institute's publications and capital fund.  The Institute has been directed by C. Fred Bergsten throughout its existence.
The Institute's website states that it "attempts to anticipate emerging issues and to be ready with practical ideas, presented in user-friendly formats, to inform and shape public debate. Its audience includes government officials and legislators, business and labor leaders, management and staff at international organizations, university-based scholars and their students, other research institutions and nongovernmental organizations, the media, and the public at large. It addresses these groups both in the United States and around the world."1
The Institute has a staff of about 50 that includes more than two dozen senior fellows. Its agenda emphasizes global macroeconomic topics, international money and finance, trade and related social issues, energy and the environment, investment, and domestic adjustment policies. Current priority is attached to the global financial and economic crisis, globalization (including its financial aspects) and the backlash against it, international trade imbalances and currency relationships, the creation of an international regime to address global warming and especially its trade dimension, the competitiveness of the United States and other major countries, reform of the international economic and financial architecture, sovereign wealth funds, and trade negotiations at the multilateral, regional, and bilateral levels. Institute staff and research cover all key regions—especially Asia, Europe, Latin America, and the Middle East, as well as the United States itself and with special reference to China, India, and Russia.2
The group brags that their studies "have helped provide the intellectual foundation for many of the major international financial initiatives of the past two decades".  The issues listed as having been affected by the Institute's efforts include:
reforms of the International Monetary Fund (IMF), including those initiated by the G-20 in 2009
adoption of international banking standards
broader financial regulatory reforms
exchange rate systems in the G-7 and emerging-market economies
policies toward the dollar, the euro, the Chinese renminbi, and other important currencies
responses to debt and currency crises (including the current crisis of 2008–09).
important contributions to key trade policy decisions including the Doha Round, the restoration and then the extension of trade promotion authority in the United States, the Uruguay Round and the
development of the World Trade Organization, the North American Free Trade Agreement (NAFTA) and other US free trade agreements (notably including Korea)
the Asia Pacific Economic Cooperation (APEC) Forum, and East Asian regionalism,
initiation of the Strategic Economic Dialogue between the United States and China
reform of sanctions policy
liberalization of US export controls and export credits
specific measures such as permanent normal trade relations (PNTR) for China in 2000
Buy American legislation in 2009.3
Other influential analyses have addressed economic reform in Europe, Japan, the former communist countries, and Latin America (including the Washington Consensus), the economic and social impact of globalization and policy responses to it, outsourcing, electronic commerce, corruption, foreign direct investment both into and out of the United States, global warming and international environmental policy, and key sectors such as agriculture, financial services, steel, telecommunications, and textiles.
History of the Institute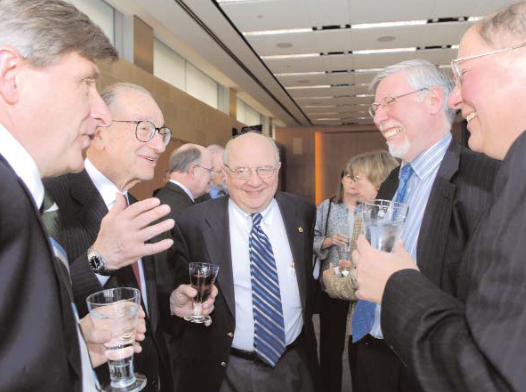 Citing the economic turmoil of the 1970s as evidence of America's "structural integration with the world economy", the Institute was first suggested to C. Fred Bergsten at the behest of the Ford Foundation.  According to the Institute's own history states that:
The concept of such an institute was first broached by the leadership of the Ford Foundation, McGeorge Bundy and David Bell, in the early 1970s. They asked me, just after I had left the White House, where I coordinated US foreign economic policy for two and a half years as Henry Kissinger's deputy at the National Security Council, to conduct a comprehensive review of the research agenda for international economics and its institutional implications. I proposed an ambitious research program, to which the foundation devoted considerable resources over the succeeding years, and advised that existing think tanks be encouraged to assume leadership on global economic topics.

The specific proposal for what became the Institute for International Economics emerged in the late 1970s. Leslie Gelb, later to become president of the Council on Foreign Relations but then serving as a consultant to the German Marshall Fund (GMF) of the United States, recommended that the GMF, in light of the growing importance of international economic issues to overall US foreign policy and the US economy and the absence of strong institutional capability to address the issues elsewhere, create such an institution.The GMF approached me with the idea in 1979–80, when I was serving as assistant secretary of the treasury for international affairs, and I developed an initial blueprint but no further action was taken at that time.4
The German Marshall Fund provided funds for the Institute of International Economics and it opened its doors in 1981.
In 2006, the Institute of International Economics was renamed the Peter G. Peterson Institute of International Economics.  The same year, the Institute also conducted a funding drive where it raised $50 million in honor of its 25th anniversary.5
Foundation Funding
The Institute is partially funded by the following organizations:6
Ford Foundation
Freeman Foundation
German Marshall Fund of the United States
William and Flora Hewlett Foundation
William M. Keck, Jr. Foundation
Korea Foundation
Andrew W. Mellon Foundation
Stavros S. Niarchos Foundation
Rockefeller Brothers Fund
Alfred P. Sloan Foundation
The Starr Foundation
United States–Japan Foundation
The following donors contributed significantly to the Institute's 25th anniversary capital campaign:7
C. Fred and Virginia W. Bergsten
George David
William M. Keck, Jr. Foundation
Stavros S. Niarchos Foundation
Frank Pearl
Peter G. Peterson
Joseph E. Robert, Jr.
David Rockefeller
Stephan Schmidheiny
Anthony M. Solomon
The Starr Foundation
United Technologies Corporation
Not Very Charitable
Charity Navigator rates the Peterson Institute for International Economics at 46.89 (out of 100) and only gives the charity two stars (out of four).  More than 45% of the Institute's income goes to administrative costs.  According to a 2007 financial statement the Institute takes in approximately $10 million a year and has nearly $65 million in total assets.8
FYE (12/2007)
| | |
| --- | --- |
| Revenue | |
| Primary Revenue | $7,824,007 |
| Other Revenue | $1,262,715 |
| Total Revenue | $9,086,722 |
| | |
| Expenses | |
| Program Expenses | $4,752,826 |
| Administrative Expenses | $4,115,545 |
| Fundraising Expenses | $187,066 |
| Total Functional Expenses | $9,055,437 |
| | |
| Payments to Affiliates | $0 |
| Excess (or Deficit) for the year | $31,285 |
| | |
| Net Assets | $65,845,762 |
Organizational Efficiency
Program Expenses
52.4%
Administrative Expenses
45.4%
Members of the Board
Peter G. Peterson (Chairman of the Board)
Founder and Chairman, Peter G. Peterson Foundation; former Senior Chairman, The Blackstone Group; former Secretary of Commerce and Assistant to the President for International Economic Policy.
George David (Vice Chairman of the Board)
Chairman, United Technologies Corporation.
Reynold Levy (Chairman of the Executive Committee)
President, Lincoln Center for the Performing Arts.
Former Deputy Prime Minister, Poland; former Chairman, Center for Social and Economic Research, Warsaw, Poland; former Minister of Finance of Poland; President, National Bank of Poland.
Chairman, Hang Lung Properties Limited.
Governor, China Development Bank; former Deputy Governor, Peoples Bank of China.
Director and co-President, Stavros Niarchos Foundation.
Dean, SAIS, Johns Hopkins University; former Visiting Fellow, International Monetary Fund; former Managing Director for Finance and Resource Mobilization, World Bank.
PIMCO, Co-CEO and Co-CIO; former President and CEO, Harvard Management Company, Inc.
Former governor of the Bank of Israel and former IMF economic counselor and director of research.
Chairman and CEO, C.V. Starr and Co., Inc.; former Chairman, American International Group.
Chairman and CEO, Nordic American Tanker Shipping Ltd.
Chairman, Hills & Company; former United States Trade Representative; former Secretary of Housing and Urban Development; former Assistant Attorney General of the United States.
Chief Corporate Advisor, Sony Corporation.
Senior Advisor, Essex Woodlands Health Ventures; former President, Pfizer Human Health; and former Vice Chairman, Pfizer Inc.
President, Coalinga Corporation.
Former Vice Chairman, Citigroup.
Vice Chairman, Deutsche Bank Group; former Deputy Minister of Finance for Germany; former Managing Director, Operations, World Bank
Chairman of the Board, Procter & Gamble.
Senior Minister and former Prime Minister of the Republic of Singapore.
University Research Professor of Diplomacy and International Affairs, Georgetown University; former US Ambassador to the United Nations.
President, Bocconi University.
Former Secretary of the Treasury.
Retired Chairman and Chief Executive Officer, ChevronTexaco Corporation.
President and CEO, Olayan America Corporation.
Chairman and CEO of Caterpillar.
Chairman of the Board, President and Chief Executive Officer, IBM Corporation
Chairman and CEO, Perseus LLC, and founder and chairman, Perseus Books/Perseus Publishing
Founder of Interpipe Corporation
Chairman and Chief Executive Officer, J. E. Robert Companies.
Former Chairman and Chief Executive Officer, Chase Manhattan.
CEO and President, E.L. Rothschild Limited.
Former Italian Foreign Minister; former Vice Chairman, Salomon Smith Barney International Ltd.; former Director-General, World Trade Organization; former Chairman, Fiat.
Managing Partner, East End Advisors, LLC.
Former Governor, Saudi Arabian Monetary Agency.
Chairman of the Board of the Center for Global Development, philanthropist, and cofounder of BEA Systems.
Chairman and CEO, FedEx Corporation.
President, European Central Bank; former Governor, Banque de France; former Director of the Treasury, government of France.
Dean, London Business School; former Dean, Haas School of Business, Professor of Economics and Class of 1939 Chair, University of California at Berkeley; former National Economic Adviser to the President; former Chair, Council of Economic Advisers.
Henry Kaufman Visiting Professor, New York University Stern School of Business; Frederick H. Schultz Professor (Emeritus) of International Economic Policy, Princeton University; former Chairman, Wolfensohn and Co, Inc.; former Chairman, Board of Governors of the Federal Reserve System, and President of the Federal Reserve Bank of New York and Under Secretary of the Treasury for Monetary Affairs
Chairman, Investor AB (Sweden)
Chairman and CEO, General Motors.
Professor of Business Administration and Public Policy, University of Michigan; former Vice President and Group Executive, General Motors Corporation; former Member of the Council of Economic Advisers.
Former President of Mexico.
Honorary Directors
Former Chairman, Board of Governors of the Federal Reserve System; former President and Chief Executive Officer, Townsend-Greenspan and Co.; former Chairman, Council of Economic Advisers.
Chairman, Board of Directors, Resources for the Future; Acting Chair, Board of Directors, Populations Services International; former Under Secretary of State for Global Affairs; former Chairman of the Board, League of Conservation Voters; former President, German Marshall Fund of the United States; former Deputy Assistant Secretary of State for Economic Affairs.
Honorary Fellow, Hoover Institution; former Secretary of State; President and Director of Bechtel Group, Inc.; Secretary of the Treasury; Director, Office of Management and Budget; and Secretary of Labor.
Ex Officio
Director, Peterson Institute for International Economics; former Assistant Secretary of the Treasury for International Affairs.
President, Center for Global Development, was Executive Vice-President of the Inter-American Development Bank from 1993 to 1998. Former Senior Associate and Director of the Economic Reform Project at the Carnegie Endowment for International Peace.
Chairman Emeritus, Advisory Committee, Peterson Institute for International Economics; Maurits C. Boas Professor of International Economics, Harvard University; former Chairman, National Intelligence Council, former Chairman of the Federal Reserve Bank of Boston, former Under Secretary of State for Economic Affairs, former Provost, Yale University.
University of California, Berkeley
Advisory Committee
Barry Eichengreen, Chairman
Richard Baldwin, Vice Chairman
Kristin Forbes, Vice Chairwoman
Isher Judge Ahluwalia
Robert E. Baldwin
Steve Beckman
Barry P. Bosworth
Menzie Chinn
Susan M. Collins
Wendy Dobson
Juergen B. Donges
Jeffrey A. Frankel
Daniel Gros
Stephan Haggard
David D. Hale
Gordon H. Hanson
Takatoshi Ito
John Jackson
Peter B. Kenen
Anne O. Krueger
Paul R. Krugman
Roger M. Kubarych
Justin Yifu Lin
Jessica T. Mathews
Rachel McCulloch
Thierry de Montbrial
Sylvia Ostry
Jean Pisani-Ferry
Eswar S. Prasad
Raghuram Rajan
Kenneth S. Rogoff
Andrew K. Rose
Fabrizio Saccomanni
Jeffrey D. Sachs
Nicholas H. Stern
Joseph E. Stiglitz
William White
Alan Wm. Wolff
Daniel Yergin
Richard N. Cooper, Chairman Emeritus
Location and Contact Information
Peterson Institute for International Economics
1750 Massachusetts Avenue, NW
Washington, DC 20036-1903
Phone 202.328.9000 | Fax 202.659.3225
Share this:





Source notes: