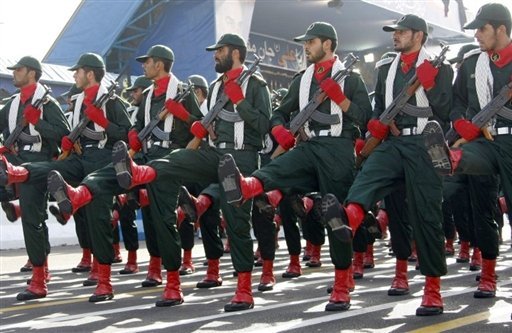 By Fredrik Dahl
Reuters
October 18, 2009
TEHRAN – A suicide bomber killed at least two senior commanders of Iran's Revolutionary Guards in the country's southeast on Sunday during an attack in which 60 people died or were wounded, Iranian media reported.
"Attacker detonated explosives strapped to his body during gathering of tribal heads," state Press TV said in a headline, adding that civilians and tribal leaders were also among the victims.
It was the most severe attack on the Guards in recent years and underlined deepening instability in the southeastern region bordering Pakistan and Afghanistan.
State broadcaster IRIB said the attack occurred in the morning at the gates of a conference hall in the city of Sarbaz in Sistan-Baluchestan. The province is the scene of frequent clashes between security forces, Sunni rebels and drug traffickers.
The two high-ranking commanders were the deputy head of the Guards' ground forces, General Nourali Shoushtari, and the Guards' commander in Sistan-Baluchestan province, General Mohammadzadeh, news agencies reported. Shoushtari was also a senior official of the Guard's elite Qods force, media said.
The Revolutionary Guards is an elite force seen as fiercely loyal to the values of the 1979 Islamic revolution. It handles security in sensitive border areas.
A Sunni insurgent group called Jundollah (God's soldiers), which claimed responsibility for a bomb attack on a Shi'ite mosque in May that killed 25 people, operates in Sistan-Baluchestan province.
Iran accuses the United States of backing Jundollah in order to create instability in the country. Washington denies the charge. Jundollah itself says it is fighting for the rights of the Islamic Republic's minority Sunnis.
Predominantly Shi'ite Muslim Iran has also linked Jundollah to the Sunni Islamist al Qaeda network. Most people in Sistan-Baluchestan are Sunni Muslims and ethnic Baluchis. Iran rejects allegations by Western rights groups that it discriminates against ethnic and religious minorities.
(Reporting by Fredrik Dahl and Reza Derakhshi; editing by David Stamp)
Share this: