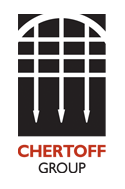 Co-founded by former Secretary of Homeland Security Michael Chertoff and Chad Sweet, former Director of Operations for the CIA
Leadership team includes General Michael V. Hayden, former Director of the CIA and NSA, as well as Charles E. Allen, a former Assistant Director at the CIA and architect of DHS intelligence structure
Advocates for the usage of body-scanners for airport security, while maintaining clients which include manufacturers of body-scanning systems
The Chertoff Group is a private consultancy company founded by former Secretary of Homeland Security Michael Chertoff.  The company's site describes its activities as advising "corporate and government clients on security and risk management issues". The Group is based in Washington and has offices in New York, however, it does not openly publish the location of these offices on its website.  The Chertoff Group's leadership team is mostly comprised of former high-level employees of the DHS, CIA, NSA, and FEMA.
Chertoff Group Formation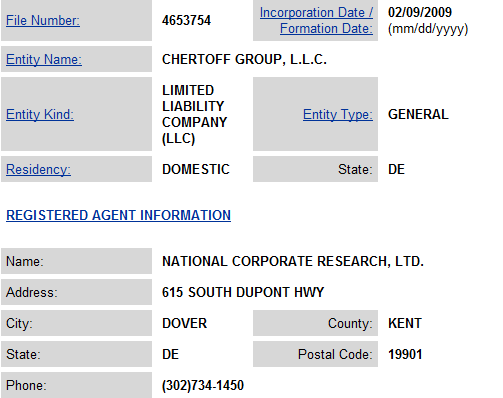 Chertoff Group, LLC is a registered corporation in the State of Delaware formed on February 2, 2009.  The firm is lead by Chertoff and Chad Sweet, who served as Chertoff's Chief of Staff during his tenure as Secretary of Homeland Security. Mr. Sweet worked in the CIA until the early 1990s, when he began a career in investment banking. He initially worked at Morgan Stanley and was later recruited by Goldman Sachs. Mr. Sweet spent six of his twelve years in finance in overseas assignments. He returned to public service after the terrorist attacks of 9/11, which he personally witnessed while working at Goldman Sachs in New York.1
In April 2009, it was announced that General Michael V. Hayden, former director of both the Central Intelligence Agency and the National Security Agency, was joining the Chertoff Group as a principal.  Along with him, former Deputy Secretary for Homeland Security Paul Schneider, as well as former Undersecretaries of Homeland Security Charles Allen and Admiral Jay Cohen joined the firm.    Charles Allen is a veteran senior CIA officer, who has served in government executive positions for over 25 years. Allen served as the Assistant Director of Central Intelligence for Collection, from 1998 -2005. Allen has held other senior intelligence positions, serving as the National Intelligence Officer for Warning and Director of the National Warning Staff. He also served as the National Intelligence Officer for Counterterrorism and as Deputy Chief for Intelligence of the DCI's Counterterrorism Center. Allen is the recipient of the intelligence community's Distinguished National Intelligence Service Medal, which he received twice and the CIA's Distinguished Intelligence Medal.2
Chertoff Group Activities
According to their website, the Chertoff Group assists clients with addressing threats related to terrorism, cyber security, fraud, border protection and supply chain security. The firm services include biometrics and identity management programs, information assurance, fraud prevention and investigations, border protection solutions, security engineering and infrastructure protection, crisis management, business continuity programs, and RFID-based supply chain protection. Within the security industry, the Chertoff Group will also provide mergers and acquisition advice, target identification and qualification, and due diligence support.3
The firm is said to focus on three main areas:
Risk Management & Security Services
Crisis Management
Mergers and Acquisitions Advisory Services
Advocacy for Body Scanners
After years of advocacy for so-called "body scanners", an emerging technology which allows for a complete image of a person's naked body, it was revealed in late 2009 that the Chertoff Group has clients that include manufacturers of the body-scanning systems.  Though no group has been specifically identified, the manufacturer Rapiscan Systems is considered by many to be the client in question.  A article from the Washington Post on January 2, 2010 states:
Chertoff's advocacy for the technology dates back to his time in the Bush administration. In 2005, Homeland Security ordered the government's first batch of the scanners — five from California-based Rapiscan Systems.

Today, 40 body scanners are in use at 19 U.S. airports. The number is expected to skyrocket at least in part because of the Christmas Day incident. The Transportation Security Administration this week said it will order 300 more machines.

In the summer, TSA purchased 150 machines from Rapiscan with $25 million in American Recovery and Reinvestment Act funds. Rapiscan was the only company that qualified for the contract because it had developed technology that performs the screening using a less-graphic body imaging system, which is also less controversial. (Since then, another company, L-3 Communications, has qualified for future contracts, but no new contracts have been awarded.)4
This revelation comes amid Chertoff's continuous media blitz following the December 25, 2009  bombing incident in which Umar Farouk Abdulmutallab, a 23-year-old Nigerian, carried onto the Detroit-bound aircraft.  This tour included an interview on Meet the Press, where he appeared with fellow principal of the Chertoff Group General Michael Hayden.  Michael Chertoff also published an editorial in the Washington Post on January 1, 2010 where he advocated the scanning systems.  Both the editorial and Meet the Press appearance involved brief and flippant disclosures of this connection between the Chertoff Group and a "manufacturer of body-imaging screening systems".
Contact Information
1110 VERMONT AVENUE NW, SUITE 1200
WASHINGTON, DC 20005
www.chertoffgroup.com
T. 202.649.4260 | F. 202.330.5505
Strategic Alliances
When the Chertoff Group was founded, the public relations firm Burson-Marsteller was named as having entered into a "strategic alliance" with the Group.5  Burson-Marsteller is a firm known to have represented several entities associated with activities conducted by the Central Intelligence Agency, including Blackwater USA and several governments which were known to have heavy CIA involvement at the time, such as the military dictatorship of Argentina in the late 1970s, Romania under Ceauşescu, Colombia, and Nigeria in the late 1960s, among other examples.
Leadership
Share this:





Source notes: