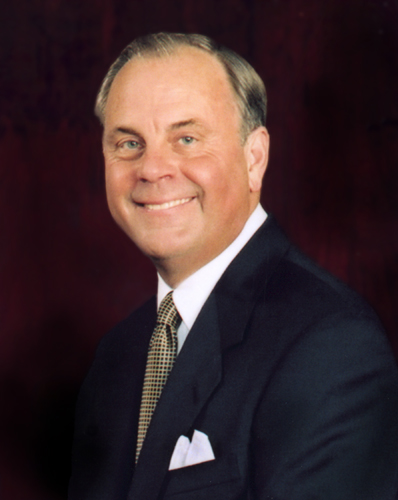 Former White House Chief of Staff, 1993-19941
President, McLarty Associates2
Director, Union-Pacific Railroad3
Senior Adviser, Carlyle Group4
Director, Council of the Americas5
Director, Axicom6
Senior Adviser, Covington & Burling7
Adviser, Diligence LLC8
Adviser, Leeds Equity Partners9
Member, Council on Foreign Relations10
Thomas F. "Mack" McLarty III was born in Hope, Arkansas on June 14, 1946.  He attended the University of Arkansas where he was a member of the Sigma Chi fraternity.  In 1969, Mr. McLarty received a Bachelor's Degree in Business Administration and was elected to the Arkansas State legislature at the age of 23.  Between 1974–1976, he would go on to serve as chairman of the Arkansas Democratic Party.  Following his chairmanship, Mr. McLarty became the youngest board member of Arkla, Inc., a prominent natural gas company.
Mr. McLarty served in advisory roles to several presidents, including Jimmy Carter, George H.W. Bush, and Bill Clinton.  During Carter's presidency, McClarty was appointed to the National Petroleum Council and the Council on Environmental Qualtity.
Mr McLarty also runs the Asbury Automotive Group, Inc./McLarty Companies, a series of auto dealerships in Georgia.  According to the Woodrow Wilson International Center for Scholars:
The Asbury Automotive Group, Inc. was recently described by Forbes as a "national automotive retailer, operating 93 new and used car dealerships and 23 collision repair centers." At the end of FY 2002, the corporation's revenues had increased by 7% to $4.49B. In part, the increase in revenues was attributed to the company's change in status from an LLC to a corporation.

The McLarty Companies is comprised of 11 automotive dealerships located in two states that generate in excess of $600 million. Mr. McLarty began his career building the company his grandfather founded, McLarty Leasing Systems, into one of the nation's largest transportation companies."11
Chief of Staff
In 1993, Mr. McLarty was named Chief of Staff in the new Clinton administration.  However, he was removed within one year and replaced with Leon Panetta, who was said to have the more hard-line approach to discipline.12
Following his replacement as White House Chief of Staff, Mr. McLarty was moved to the position of Special Envoy to the Americas where he would come to play important roles in the passage of the North American Free Trade Act (NAFTA) and the Free Trade Area of the Americas (FTAA).  These initiatives were both supported by the Council of the Americas, a trade group founded by David Rockefeller whose  membership includes Kissinger McLarty Associates.13  Mr. McLarty would later serve  on the Board of Directors of the Council. 14
Kissinger McLarty Associates
In 1999, Mr. McLarty reportedly formed a joint-venture with Henry Kissinger.  Kissinger McLarty Associates, L.P. was registered as a corporation in the state of Delaware on April 18, 2001.  Though the company claims to have separated from Kissinger Associates, Inc. as of 2008 and currently operates under the name McLarty Associates, Kissinger Mclarty Associates is officially a separate legal entity Kissinger Associates and remains active under that business name. 15
Share this:





Source notes: