D.C. police roll out new crime-reporting tool (Washington Times):
A new online reporting tool will allow people to submit reports of suspicious activity around the District and photos or videos of the activities directly to the Metropolitan Police Department, officials announced Wednesday.

The iWatch DC program provides another way for police to gather tips about suspicious activities in the area and analyze the reports for potential trends or suspected terrorist activity, MPD Chief Cathy L. Lanier said.

"It's appropriate for us to launch it this week because of 9/11," Chief Lanier said. "We just want to raise people's awareness that you can report suspicious activity to us."

Through the reporting program, which can be accessed through MPD's website, tipsters can provide descriptions of abnormal behavior, suspects, location and time of the observed activity, as well as upload photos or videos.

"The way the program is set up, it alleviates fear of profiling people because it's all about behavior," Chief Lanier said.

The website for the program, which began in Los Angeles in 2009, lists examples of reportable behaviors like leaving baggage unattended or photographing security checkpoints or equipment.

Through other currently active suspicious-activity reporting programs, which allow people to provide information via telephone, MPD already receives an average of four tips a day, Chief Lanier said. She expects the volume of reporting to increase as the department promotes the iWatch program.
iWatch Suspicious Activity Reporting Website (iwatchdc.dc.gov):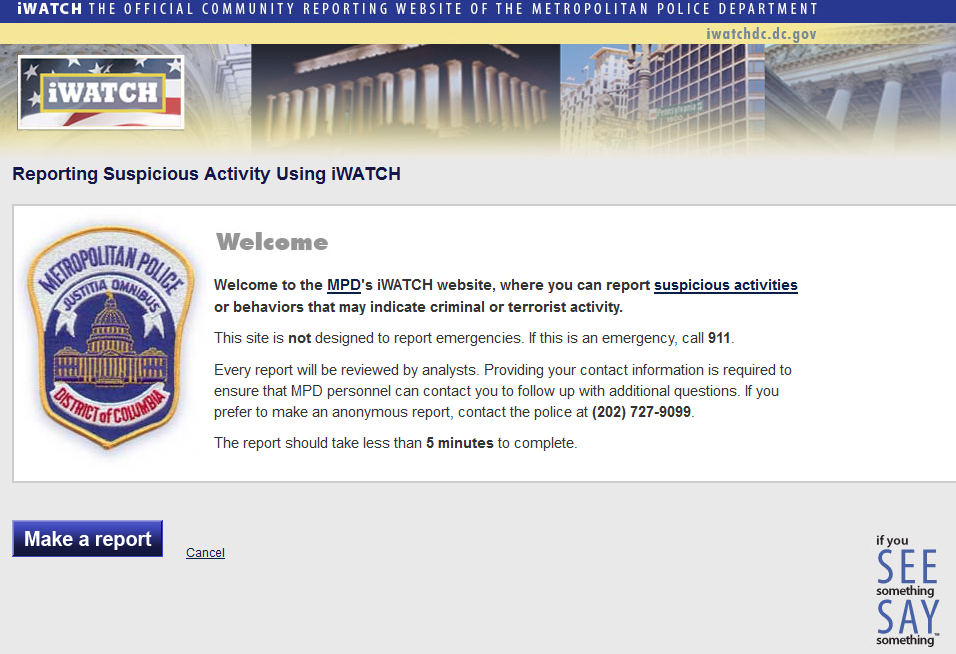 iWATCH and Operation TIPP: How To Describe or Report Suspicious Behavior (mpdc.dc.gov):
Following are some general tips and guidelines on what to look for and how to describe suspicious behavior:

Person

Sex
Race
Height
Weight
Build (medium, heavy)
Hair (color, length, include facial hair)
Complexion (light, dark, olive)
Peculiarities (scars, tattoos, missing limbs)
Clothing (from head to toe, style, etc.)
Weapons (if any)
Method of transportation (direction, vehicle, etc.)

Vehicle

License plate and state (most important)
Year, make, model and color
Body type (2-door, 4-door, van, SUV)
Number of passengers
Damage or anything unusual (logos, etc.)

Report Suspicious Activity

To report immediate threats or emergencies, call 911
To report suspicious activity or behavior, call (202) 727-9099
Make a report using iWATCH (What is this?)
Share this: