See also:

(U//FOUO) DHS Bulletin: "Anonymous" and Associated Hacker Groups Deploying New Cyber Attack Tools
DHS Bulletin: Anonymous/LulzSec Has Continued Success Using Rudimentary Hacking Methods
(U//FOUO) DHS LulzSec Bulletin: Hacktivist Groups Target U.S. and Foreign Networks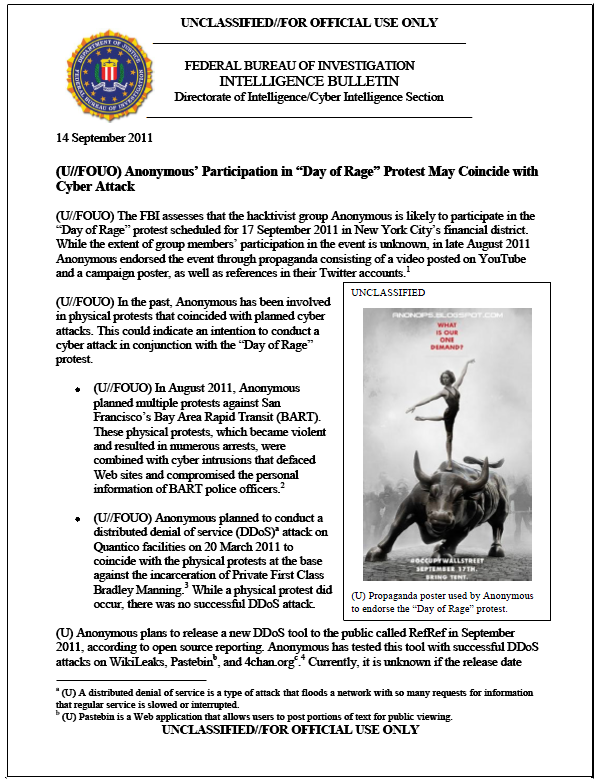 Anonymous' Participation in "Day of Rage" Protest May Coincide with Cyber Attack
5 pages
For Official Use Only
September 14, 2011

(U//FOUO) The FBI assesses that the hacktivist group Anonymous is likely to participate in the "Day of Rage" protest scheduled for 17 September 2011 in New York City"s financial district. While the extent of group members" participation in the event is unknown, in late August 2011 Anonymous endorsed the event through propaganda consisting of a video posted on YouTube and a campaign poster, as well as references in their Twitter accounts.

(U//FOUO) In the past, Anonymous has been involved in physical protests that coincided with planned cyber attacks. This could indicate an intention to conduct a cyber attack in conjunction with the "Day of Rage" protest.

(U//FOUO) In August 2011, Anonymous planned multiple protests against San Francisco's Bay Area Rapid Transit (BART). These physical protests, which became violent and resulted in numerous arrests, were combined with cyber intrusions that defaced Web sites and compromised the personal information of BART police officers.

(U//FOUO) Anonymous planned to conduct a distributed denial of service (DDoS)a attack on Quantico facilities on 20 March 2011 to coincide with the physical protests at the base against the incarceration of Private First Class Bradley Manning. While a physical protest did occur, there was no successful DDoS attack.

(U) Anonymous plans to release a new DDoS tool to the public called RefRef in September 2011, according to open source reporting. Anonymous has tested this tool with successful DDoS
attacks on WikiLeaks, Pastebin, and 4chan.org. Currently, it is unknown if the release date will correspond with the "Day of Rage" protest.

(U) "Day of Rage" Protest

(U) The "Day of Rage" is a physical protest against US capitalism that is being organized by several activist groups. Open source reporting claims that "non-violent civil disobedience" will occur during this event on 17 September 2011 in New York City's financial district. Similar protests may take place in cities around the world, such as Tokyo, London, Frankfurt, Madrid, Sydney, and Toronto to coincide with the Manhattan protest.

(U) Outlook and Implications

(U//FOUO) The FBI judges—based on the outcomes of other physical protests that Anonymous has been involved in, such as BART—the group's endorsement of the "Day of Rage" protest could increase media attention and attendance for this event. The reported release of RefRef on 17 September 2011 may lead to cyber attacks, such as DDoS attacks, in addition to the physical protests scheduled for this date. The potential for cyber attacks could lead to a disruption of service or a release of sensitive information. Since these protests are focused on financial services, if a cyber attack were to occur, financial institutions could be targeted.

(U//FOUO) This intelligence bulletin addresses the FBI Intelligence Collection Requirements for Cyber Intrusions: Hacktivists, WW-CYBR-CYD-SR-0057-11.
Share this: