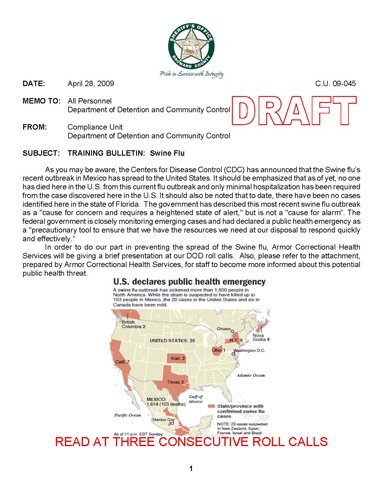 Compliance Unit Department of Detention and Community Control
Armor Correctional Health Services, Inc.
Training Bulletin: Swine Flu
Draft
6 pages
April 28, 2009

As you may be aware, the Centers for Disease Control (CDC) has announced that the Swine flu's recent outbreak in Mexico has spread to the United States. It should be emphasized that as of yet, no one has died here in the U.S. from this current flu outbreak and only minimal hospitalization has been required from the case discovered here in the U.S. It should also be noted that to date, there have been no cases
identified here in the state of Florida. The government has described this most recent swine flu outbreak as a "cause for concern and requires a heightened state of alert," but is not a "cause for alarm". The
federal government is closely monitoring emerging cases and had declared a public health emergency as a "precautionary tool to ensure that we have the resources we need at our disposal to respond quickly
and effectively."

In order to do our part in preventing the spread of the Swine flu, Armor Correctional Health Services will be giving a brief presentation at our DOD roll calls. Also, please refer to the attachment, prepared by Armor Correctional Health Services, for staff to become more informed about this potential public health threat.

…

U.S. Public Health Emergency:

Swine Flu in USA

April 26, 2009

MEMO: SWINE FLU PREVENTION AND SURVIELLANCE IN CORRECTIONS

Dear Armor Correctional Health Services Correctional Staff:

As a result of the declared U.S. Public Health Emergency, all health care staff is asked to be especially vigilant for any signs, symptoms, or complaints that could be Swine Flu.

Until further notice, all health care staff is asked to adhere to the following:

For any patient with a fever of 101.6°F or greater:
1) Report the situation immediately to your facility Medical Director.
2) Consider isolation of the patient.
3) Report the occurrence to your facility's Infection Control nurse.
4) Also report this to corporate office by email to Peggy Rodriguez, RN
(prodriguez@armorcorrectional.com) or via facsimile (305-662-8039).

In addition to early detection and close monitoring, good hygiene practices including frequent hand washing are essential during this early stage of what will hopefully be a limited epidemic.

…

Swine Influenza and You

What is swine flu?

Swine Influenza (swine flu) is a respiratory disease of pigs caused by type A influenza viruses that causes regular outbreaks in pigs. People do not normally get swine flu, but human infections can and do happen.
Swine flu viruses have been reported to spread from person-to-person, but in the past, this transmission was limited and not sustained beyond three people.

Are there human infections with swine flu in the U.S.?

In late March and early April 2009, cases of human infection with swine influenza A (H1N1) viruses were first reported in Southern California and near San Antonio, Texas. Other U.S. states have reported
cases of swine flu infection in humans and cases have been reported internationally as well. An updated case count of confirmed swine flu infections in the United States is kept at http://www.cdc.gov/swineflu/investigation.htm CDC and local and state health agencies are working together to investigate this situation.

Is this swine flu virus contagious?

CDC has determined that this swine influenza A (H1N1) virus is contagious and is spreading from human to human. However, at this time, it not known how easily the virus spreads between people.

What are the signs and symptoms of swine flu in people?

The symptoms of swine flu in people are similar to the symptoms of regular human flu and include fever, cough, sore throat, body aches, headache, chills and fatigue. Some people have reported diarrhea and vomiting associated with swine flu. In the past, severe illness (pneumonia and respiratory failure) and deaths have been reported with swine flu infection in people. Like seasonal flu, swine flu may cause a worsening of underlying chronic medical conditions.

How does swine flu spread?

Spread of this swine influenza A (H1N1) virus is thought to be happening in the same way that seasonal flu spreads. Flu viruses are spread mainly from person to person through coughing or sneezing of people
with influenza. Sometimes people may become infected by touching something with flu viruses on it and then touching their mouth or nose.

How can someone with the flu infect someone else?

Infected people may be able to infect others beginning 1 day before symptoms develop and up to 7 or more days after becoming sick. That means that you may be able to pass on the flu to someone else before
you know you are sick, as well as while you are sick.

What should I do to keep from getting the flu?

First and most important: wash your hands. Try to stay in good general health. Get plenty of sleep, be physically active, manage your stress, drink plenty of fluids, and eat nutritious food. Try not touch
surfaces that may be contaminated with the flu virus. Avoid close contact with people who are sick.
Share this: