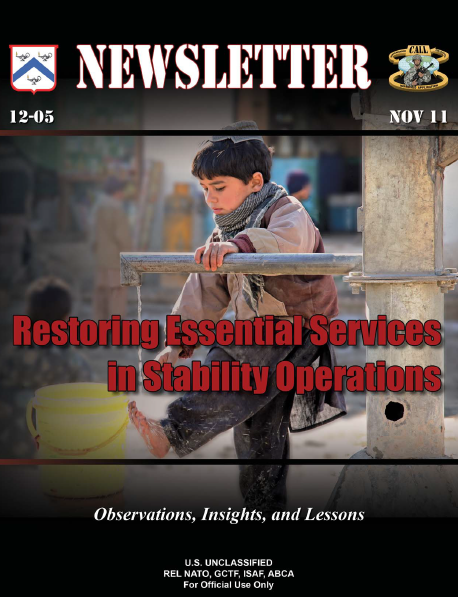 Center for Army Lessons Learned
142 pages
For Official Use Only
November 2011
3.76 MB

When the Secretary of Defense signed Department of Defense Directive (DODD) 3000.05 in November 2005, he understood that U.S. forces would someday find themselves having to establish or re-establish essential services to a needy population. The directive was very insightful, because the reality is that in many cases, the military is the only significant presence in a post-conflict environment with the planning and execution ability to begin this restoration.

The chapters in this publication are in response to the secretary's mandate that the military must be prepared to restore essential services in the absence of other competent agencies. In many cases and dangerous locations, contractors have accompanied the force and provided the expertise necessary to fulfill these roles. However, abdicating these tasks to contractors is not what the secretary intended when he said the military must be prepared to conduct these tasks.

The primary intent of this Center for Army Lessons Learned publication is to provide a reference to assist commanders and planners in understanding how these complex systems are organized, managed, and operated — from a civilian perspective. It will not make the reader an expert. Each chapter was developed by students attending the Command and General Staff College during an elective course titled "Restoring Essential Services in Stability Operations." With one exception, each topic was presented or augmented by presentations from civilian subject matter experts who offered extensive experience and background in each topic area. They also assisted the student-authors as needed. This elective also required the students to provide at least two additional articles related to their topic area.

This work represents an important start to a better understanding of how to plan for and manage the complexities of restoring essential services. Recent operations have shown that during the transition to Phase IV operations, the "golden hour" of effective response cannot be wasted. As noted, the Secretary of Defense intuitively understood the challenges facing military commanders and planners when he signed DODD 3000.05 into policy. This book is a first, small step toward addressing that challenge.

I would like to thank the students who attended the inaugural course in restoring essential services for their dedication in writing these chapters. It would not be possible without their interest in furthering the professional body of knowledge. I must also thank the many guest speakers who selflessly volunteered their time and energy to make the restoring essential services course and this publication a reality. I would also like to thank our department editor, whose assistance was instrumental in this process. Finally, I also owe an enormous debt of gratitude to my mentor and friend MG Ed Cardon and his colleague Deputy Ambassador Bodde for their belief in the importance of this work.
Share this: