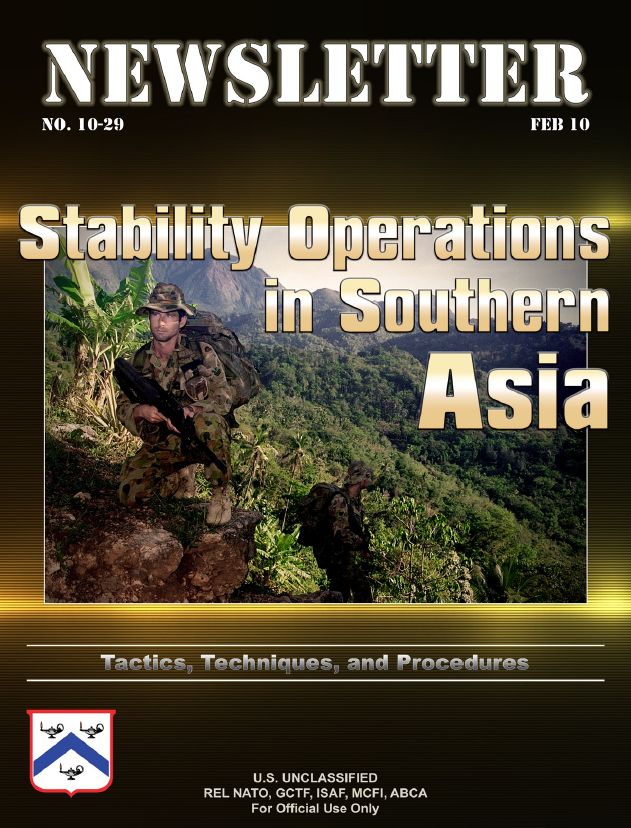 STABILITY OPERATIONS IN SOUTHERN ASIA: TACTICS, TECHNIQUES, AND PROCEDURES
132 pages
For Official Use Only
February 2010

The Army is currently engaged in two fights in southwest Asia. However, future conflicts could possibly be brewing throughout all of south and southeast Asia. The largest Islamic country in the world is not in the Middle East but is in Asia: Indonesia with approximately 197 million Muslims. And throughout southern Asia, insurgency and radicalization is on the rise. At a recent conference in Bangladesh, Major General (Retired) A.N.M. Muniruzzaman of the Bangladesh Institute of Peace and Security Studies announced south Asia is now the "epicenter for global terrorism." Not one of the attendees from Bangladesh, India, Pakistan, Sri Lanka, Nepal, the United States, Canada, Germany, Norway, Spain, Australia, New Zealand, and Singapore disagreed with him.

The inevitability of an insurgent success is far from fact. Throughout southern Asia, states are responding with critical success against both religious and political insurgencies and providing security for their citizens. In Sri Lanka, the long-running war between the government and the "Tamil Tigers" ended with a government victory in May 2009. Indonesia has taken steps to both run insurgents to ground (including the death of Noordin Top, the Bali bomber) and then turn some away from radicalization and use them to reach out to other insurgents. Thailand's southern provinces of Pattani, Yala, and Narathiwat have been wracked by Muslim extremism and have been met with a combination of military strength and government outreach, keeping the conflict local. The long-running war in the Philippines has seen recent dramatic success against the Abu Sayyaf Group and political agreements with the Moro National Liberation Front. And in Timor Leste, the Australian Defense Force proved that well-trained, disciplined soldiers can bring success even when operating under restrictive rules of engagement.

The 21st century is said to be the Asian century. While that remains to be seen, each of these success stories from south and southeast Asia provide invaluable stability and counterinsurgency observations, insights, and lessons for the American Army.
Share this: