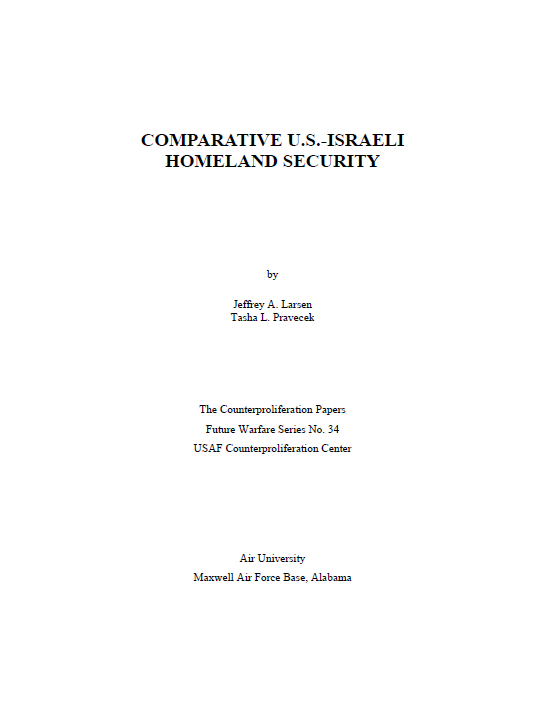 USAF Counterproliferation Center
Jeffrey A. Larsen, Tasha L. Pravecek
130 pages
June 2006

Foreword

This report compares United States and Israeli homeland security practices. Its purpose is to determine whether there are lessons from Israeli experience that might enhance U.S. homeland security efforts.  The research for this study included a literature review as well as field interviews with American and Israeli elites in Washington, D.C., and Israel during the summer of 2005. The principle investigator met with key Israeli homeland security and counterterrorism experts in Jerusalem, Tel Aviv, Ramla, and Hertzilya.

This report sets the stage for a comparison of United States and Israeli homeland security issues and policies by addressing the common and unique threats facing each state. It then looks at how each state has organized its governmental response to those threats, its policies for preventing terrorist attacks, and its response capabilities should an attack occur. In the final section it lists lessons from Israeli experience that might be considered by the United States, along with a discussion of the reasons the United States will likely be unable or unwilling to implement those lessons.

Unless otherwise noted, all photographs in this report were taken by Jeffrey Larsen in Israel, June 2005. The manuscript was completed in June 2006, prior to Israel's military incursion into Lebanon.
…

The United States was protected throughout most of its history by two great oceans, far from the great powers that could threaten its existence. This situation changed during the Cold War with the threat of nuclear weapons, strategic long-range bombers, and intercontinental ballistic missile (ICBM) delivery systems. While ICBM attacks from a few countries remain a concern today, other more immediate issues plague the United States. Today, the United States is concerned with protecting itself from international terrorist attacks and the threat from a small number of rogue states, including North Korea, Iran, and Syria. Additionally, illegal drug transport across U.S. borders remains a significant worry. However, the threat to the United States is still less, day to day, than it is in Israel. Israel is a nation at arms, a situation reflected in its robust military forces, its emphasis on homeland defense, and its willingness to give up some civil liberties for the sake of security. Israel's Home Front Command describes four primary threats to Israeli territory: ballistic missile attack, mass disaster, air attack, and terrorist actions. Israel is plagued almost daily by Palestinian
terror attacks, and lives under the threat of medium-range ballistic missiles from neighbors such as Egypt, Syria, Iran, and Saudi Arabia.

Responding to the Threat: Comparative Organizational Structures

The global events of the past two decades have shaped the security strategies found in U.S. and Israel homeland security programs. Israel undertook significant organizational changes in response to the SCUD missile attacks of the 1991 Gulf War. The United States progressively began to reshape its national homeland security strategy in response to terror attacks after the bombings at the World Trade Center (1993), Khobar Towers (1996), the U.S. Embassies in East Africa (1998), and the USS Cole (2000). However, it did not adopt truly sweeping policy changes until the devastating September 11, 2001, attacks.

The United States and Israel have developed organizations designed to protect their respective homelands from attack and to aid recovery after an incident occurs. In the United States, the primary agencies addressed are the Department of Homeland Security and U.S. Northern Command. In Israel, the Israeli Defense Forces and Home Front Command serve complementary roles in protecting their homeland. Additionally, the United States and Israel have developed policies and strategies directing homeland security. The primary document that guides the United States' homeland security is the National Strategy for Homeland Security. This report instituted revolutionary changes to emergency response, including the National Response Plan and the National Incident Management System. In Israel, the Home Front Command directs its civilian population through a comprehensive
brochure: "In the Event of a Genuine Alert, Information on Civil Defense for the Family." The brochure provides precise instructions for actions to take before, during, and after a conventional or unconventional attack.

Preventing Terrorist Attacks

Organizational initiatives are not the only approach to preventing terrorist attacks. Both countries have developed parallel approaches to preventing, or at least reducing, the possibility of terrorist attack on their homelands. In the United States, the plans and programs designed to prevent terrorist attacks are derived from the 2003 National Strategy for Combating Terrorism, the 2002 National Security Strategy, and the 2002 National Strategy for Homeland Security. Domestic counterterrorism initiatives are undertaken by the Department of Homeland Security, U.S. Northern Command, the Department of Defense, and other federal agencies. Some specific initiatives undertaken by the Department of Homeland Security are focused on:
• Intelligence and Warning
• Border and Transportation Security
• Critical Infrastructure Protection

Much of the U.S. effort focuses on improved intelligence capabilities to identify threats, and preemptive military measures to intervene when possible to stop an attack. Israeli efforts are headed by the Israeli Defense Forces and the Home Front Command. Israel's security initiatives include a focus on borders and transportation security and international cooperation. These programs
are further enhanced by inputs from the Israeli Armament Development Authority, which is engaged in the fields of border defense, defense of public transport on land, sea and air, combating domestic crime and terrorism, preparing for a state of emergency, and dealing with national disasters. Other specific Israeli homeland security initiatives are focused on borders and transportation security.

Responding to an Attack

Very little, if any, anti-terrorism training is conducted in U.S. schools or the population at large. In Israel, on the other hand, there is a much greater focus on the citizen's responsibility to prepare for, and respond, should a terror attack or natural disaster occur. Specific areas of focus in the United States include the National Incident Management System, National Disaster Medical System, Strategic National Stockpile, Citizen Corps, Emergency Alert System, sheltering in place, and the Ready Campaign. The complementary Israeli programs include Israel's layered response, Magen David Adom, volunteer opportunities, Home Front Command's emergency notification system, protected spaces, personal protection, and readiness education.
Share this: