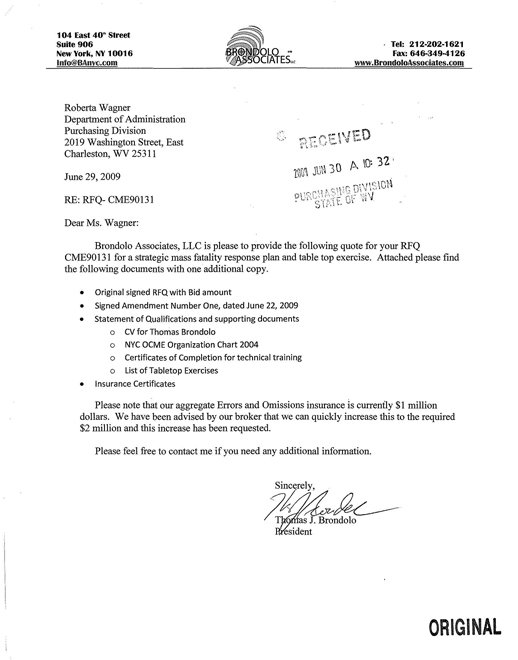 Brondolo Associates LLC

Roberta Wagner
Department of Administration
Purchasing Division
2019 Washington Street, East
Charleston, WV 25311
Tel: 212·202·1621
Fax: 646·349·4126
June 29, 2009

RE: RFQ- CME90131
Dear Ms. Wagner:

Brondolo Associates, LLC is please to provide the following quote for your RFQ CME90131 for a strategic mass fatality response plan and table top exercise. Attached please find the following documents with one additional copy.
• Original signed RFQ with Bid amount
• Signed Amendment Number One, dated June 22, 2009
• Statement of Qualifications and supporting documents
o CV for Thomas Brondolo
o NYC OCME Organization Chart 2004
o Certificates of Completion for technical training
o List of Tabletop Exercises
• Insurance Certificates

Please note that our aggregate Errors and Omissions insurance is currently $1 million dollars. We have been advised by our broker that we can quickly increase this to the required $2 million and this increase has been requested.

Please feel free to contact me if you need any additional information.
Share this: