The following privacy impact assessment was released by the Department of Homeland Security on March 19, 2015.  The privacy assessment and accompanying solicitation come nearly a year after a previous announcement that DHS was seeking to build a national license plate tracking system was met with widespread criticism.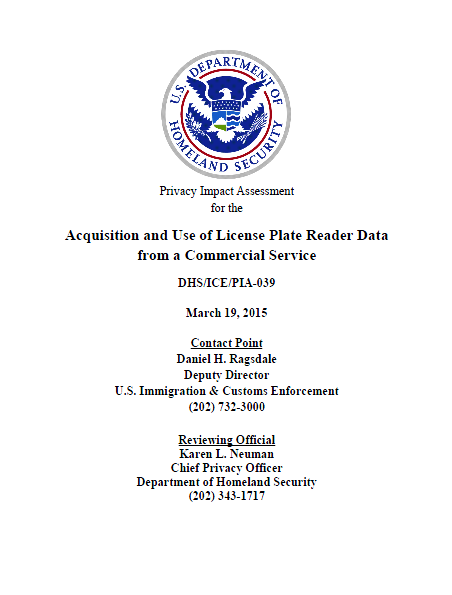 Acquisition and Use of License Plate Reader Data from a Commercial Service

U.S. Immigration and Customs Enforcement (ICE) uses information obtained from license plate readers (LPR) as one investigatory tool in support of its criminal investigations and civil immigration enforcement actions. Because LPR information can be combined with other data to identify individuals and therefore meets the definition of personally identifiable information (PII), ICE is conducting this Privacy Impact Assessment (PIA) to describe how it intends to procure the services of a commercial vendor of LPR information in order to expand the availability of this information to its law enforcement personnel. ICE is neither seeking to build nor contribute to a national public or private LPR database. In addition, through this PIA, ICE is assessing the potential impact of the use of information obtained from LPRs on the civil liberties of the public and explaining the measures to be put in place to mitigate such concerns. ICE will publish an updated PIA before the commercial solution described here becomes operational.

…

As part of its criminal and civil enforcement missions, U.S. Immigration and Customs Enforcement (ICE) relies on a variety of law enforcement tools and techniques to ensure public safety and national security. One of these tools is the collection, use, and retention of data that is collected using license plate reader technology.

A license plate reader (LPR) is a system consisting of a high-speed camera, or cameras, and related equipment, mounted on vehicles or in fixed locations (e.g., bridges, toll booths, parking garages) that automatically and without direct human control locates, focuses on, and photographs license plates and vehicles that come into range of the device. Then, the system automatically converts the digital photographic images of license plates and associated data into a computer-readable format. This computer-readable format, also known as "a read," contains some or all of the following information: (1) license plate number; (2) digital image of the license plate as well as the vehicle's make and model; (3) state of registration; (4) camera identification (i.e., camera owner and type); (5) Global Positioning System (GPS) coordinates1 or other location information taken at the time the information was captured; and (6) date and time of observation. Some LPR systems also capture within the image the environment surrounding a vehicle, which may include drivers and passengers. Information can be collected from all vehicles that pass the camera.

A number of commercial enterprises collect LPR data from both private and public contributors, including law enforcement agencies, parking garages, and repossession companies, and make it available on a fee-for-service basis to various entities, both public and private. LPR data is stored for immediate or future queries, which may be manual or automatic. It is important to note that to query a commercial LPR database, the investigator must enter the license plate number of the vehicle he or she wants to locate.

Historically, ICE has had limited access to LPR data–both from its own cameras and from commercial sources. Its primary investigative offices, Enforcement and Removal Operations (ERO) and Homeland Security Investigations (HSI) have each used commercial LPR information, when available, as a source of data (among other data sources) to assist in the execution of their law enforcement missions. ERO and HSI use the information to identify, arrest, and remove aliens who are immigration enforcement priorities, which at the present time include at-large aliens who have a criminal record (criminal aliens), fugitive aliens, illegal re-entrants, and those individuals posing a public safety or national security risk. HSI also uses the information in support of its criminal investigations into national security threats, illegal arms exports, financial crimes, commercial fraud, human trafficking, narcotics smuggling, child pornography or exploitation, and immigration fraud.

ICE has identified a number of benefits from the use of LPR data in its mission activities. This data can help resolve cases that might otherwise be closed for lack of viable leads, enhance both officer and public safety by enabling enforcement actions to occur in locations that minimize the inherent dangers associated with these encounters, and reduce the hours required to conduct in-person physical surveillance. Consequently, ICE is seeking to procure the services of a third-party vendor that offers a query-based LPR service to provide HSI and ERO offices with uniform access to commercial LPR data. ICE is neither seeking to build nor contribute to a national public or private LPR database. Rather, ICE is seeking an enterprise-wide commercial solution to help it more efficiently develop leads based on the location of vehicles that are associated with ICE criminal investigations and civil enforcement actions.

…

This PIA is intended to establish the parameters of ICE's use of LPR data acquired from a commercial source. ICE recognizes that there are potential privacy risks and impacts on individual rights associated with the collection, use, and retention of LPR data. These include:

(1) LPR data in the aggregate may detail an individual's travel over time, leading to concerns about unwarranted surveillance.
(2) LPR data in the aggregate may provide details about an individual's private life, such as frequenting a place of worship or participating in protests and meetings, thereby implicating constitutionally-protected freedoms.
(3) A license plate image or read may be incomplete or inaccurate, because the license plate is bent, dirty, or damaged, or because the software or individual reading the numbers makes an error. This can result in the misidentification of a vehicle and its occupants.
(4) LPR data may accurately identify the location of a vehicle, but it may not accurately identify the whereabouts of the person that ICE is seeking.
(5) LPR data may be accessed routinely, even when it is not needed.
(6) LPR data may be retained for periods longer than necessary for operational purposes.
(7) LPR data may be inappropriately shared with other agencies or private entities.
(8) New privacy risks and impacts on individual rights may arise as technological advances create additional capabilities for LPR data collection and analysis.
Share this: