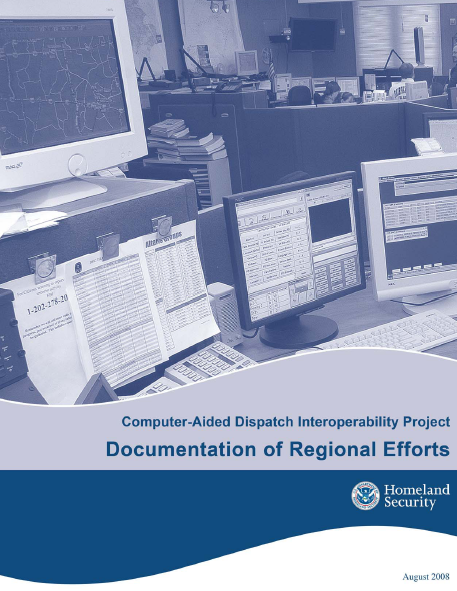 Computer-Aided Dispatch Interoperability Project

The Department of Homeland Security's Office for Interoperability and Compatibility (OIC) launched the Computer‐Aided Dispatch (CAD) Interoperability Project (CADIP) in May 2007. CAD systems, which dispatch emergency services and assist 9‐1‐1 operators and dispatchers in handling and prioritizing requests for resources, serve as a major component in responding to critical incidents. CADIP addresses an issue that today's emergency  response agencies may face: CAD systems that are not linked across jurisdictions and, as a result, have difficultly responding to multi‐jurisdictional emergencies. The intended audience for this document is emergency response practitioners who have experience with CAD systems and are interested in learning more about CAD system interoperability. Those that want basic information on CAD should review the CAD Business Case video, located at www.safecomprogram.gov, which highlights the benefits of CAD interoperability.

Documenting the Need for CAD Interoperability

Problem:

The main challenge is that many dispatchers do not have access to personnel and resource information in neighboring jurisdictions. Currently, jurisdictions with unconnected CAD systems are faced with logistical problems when events occur on the border between two jurisdictions and require a multijurisdictional response. In these situations, dispatchers often engage in time‐consuming phone calls to locate and dispatch the closest resources.

Solution:

Connected CAD systems eliminate the need to make time‐consuming phone calls to determine where the closest resources are because dispatchers automatically know which resource is closest to the incident.

The major benefits to CAD interoperability include:
• Reduction in response time
• Increased personnel efficiency
• Increased vehicle efficiency

The reduction in response time can potentially equate to lives saved while the increase in personnel and vehicle efficiency can prove valuable to agencies with constrained funding.

The CADIP team examined different approaches to solving CAD system‐specific interoperability issues. As part of the CADIP initiative, efforts were made to research different CAD system interoperability solutions developed and/or piloted by regions in the United States. This document provides an overview of each region's approach to CAD interoperability and presents practitioner‐identified best practices in highlighted boxes throughout the document.

During the study, the following three regions were researched:
• Santa Clara County (Silicon Valley), California
• Portland Metropolitan Area, Oregon
• Phoenix‐Mesa Metropolitan Area, Arizona

The three regions were selected to be part of the study based on recommendations from CAD experts in
the field. After conducting additional research, OIC confirmed that these regions were the closest to
implementing multi‐jurisdictional CAD interoperability solutions in a real‐world environment.
Share this: