The following bulletin was obtained from the website of the Downtown D.C. Business Improvement District.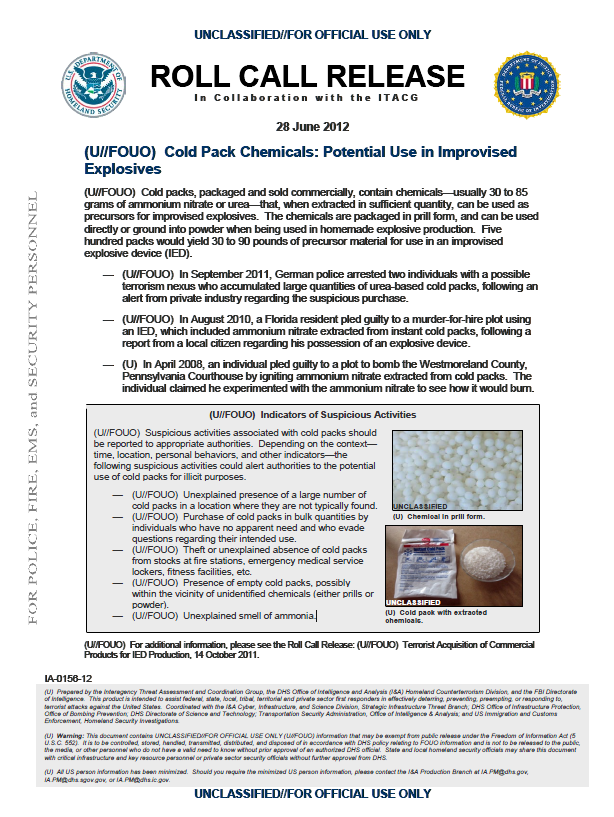 Cold Pack Chemicals: Potential Use in Improvised Explosives
2 pages
For Official Use Only
June 28, 2012

(U//FOUO) Cold packs, packaged and sold commercially, contain chemicals—usually 30 to 85 grams of ammonium nitrate or urea—that, when extracted in sufficient quantity, can be used as precursors for improvised explosives. The chemicals are packaged in prill form, and can be used directly or ground into powder when being used in homemade explosive production. Five hundred packs would yield 30 to 90 pounds of precursor material for use in an improvised explosive device (IED).

— (U//FOUO) In September 2011, German police arrested two individuals with a possible terrorism nexus who accumulated large quantities of urea-based cold packs, following an alert from private industry regarding the suspicious purchase.

— (U//FOUO) In August 2010, a Florida resident pled guilty to a murder-for-hire plot using an IED, which included ammonium nitrate extracted from instant cold packs, following a report from a local citizen regarding his possession of an explosive device.

— (U) In April 2008, an individual pled guilty to a plot to bomb the Westmoreland County, Pennsylvania Courthouse by igniting ammonium nitrate extracted from cold packs. The individual claimed he experimented with the ammonium nitrate to see how it would burn.

(U//FOUO) Indicators of Suspicious Activities

(U//FOUO) Suspicious activities associated with cold packs should be reported to appropriate authorities. Depending on the context—time, location, personal behaviors, and other indicators—the following suspicious activities could alert authorities to the potential use of cold packs for illicit purposes.

— (U//FOUO) Unexplained presence of a large number of cold packs in a location where they are not typically found.

— (U//FOUO) Purchase of cold packs in bulk quantities by individuals who have no apparent need and who evade questions regarding their intended use.

— (U//FOUO) Theft or unexplained absence of cold packs from stocks at fire stations, emergency medical service lockers, fitness facilities, etc.

— (U//FOUO) Presence of empty cold packs, possibly within the vicinity of unidentified chemicals (either prills or powder).

— (U//FOUO) Unexplained smell of ammonia.
Share this: