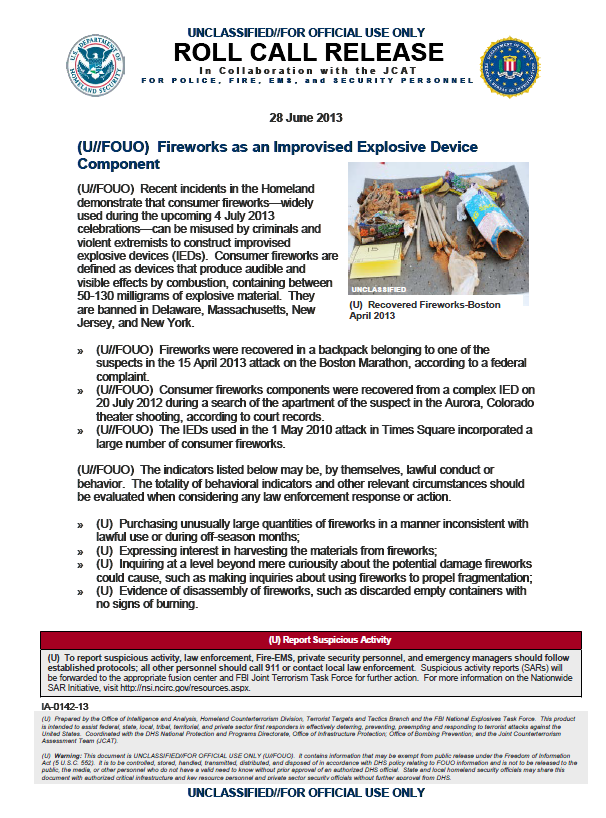 Roll Call Release: Fireworks as an Improvised Explosive Device Component
1 page
For Official Use Only
June 28, 2013

(U//FOUO) Recent incidents in the Homeland demonstrate that consumer fireworks—widely used during the upcoming 4 July 2013 celebrations—can be misused by criminals and violent extremists to construct improvised explosive devices (IEDs). Consumer fireworks are defined as devices that produce audible and visible effects by combustion, containing between 50-130 milligrams of explosive material. They are banned in Delaware, Massachusetts, New Jersey, and New York.

» (U//FOUO) Fireworks were recovered in a backpack belonging to one of the suspects in the 15 April 2013 attack on the Boston Marathon, according to a federal complaint.

» (U//FOUO) Consumer fireworks components were recovered from a complex IED on 20 July 2012 during a search of the apartment of the suspect in the Aurora, Colorado theater shooting, according to court records.

» (U//FOUO) The IEDs used in the 1 May 2010 attack in Times Square incorporated a large number of consumer fireworks.

(U//FOUO) The indicators listed below may be, by themselves, lawful conduct or behavior. The totality of behavioral indicators and other relevant circumstances should be evaluated when considering any law enforcement response or action.

» (U) Purchasing unusually large quantities of fireworks in a manner inconsistent with lawful use or during off-season months;

» (U) Expressing interest in harvesting the materials from fireworks;

» (U) Inquiring at a level beyond mere curiousity about the potential damage fireworks could cause, such as making inquiries about using fireworks to propel fragmentation;

» (U) Evidence of disassembly of fireworks, such as discarded empty containers with no signs of burning.
Share this: