The following document was originally posted on the website of the Alabama Association of Fire Chiefs.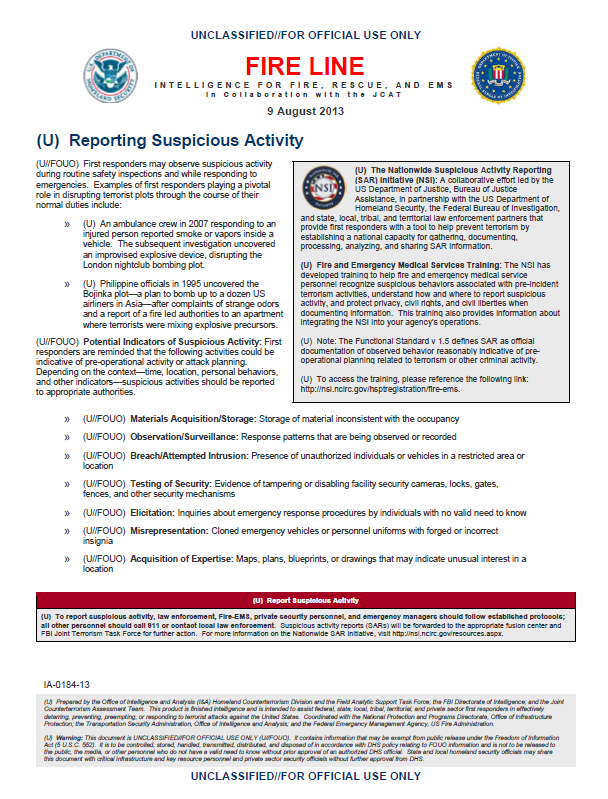 Reporting Suspicious Activity
1 page
For Official Use Only
August 9, 2013

(U//FOUO) First responders may observe suspicious activity during routine safety inspections and while responding to emergencies. Examples of first responders playing a pivotal role in disrupting terrorist plots through the course of their normal duties include:

» (U) An ambulance crew in 2007 responding to an injured person reported smoke or vapors inside a vehicle. The subsequent investigation uncovered an improvised explosive device, disrupting the London nightclub bombing plot.
» (U) Philippine officials in 1995 uncovered the Bojinka plot—a plan to bomb up to a dozen US airliners in Asia—after complaints of strange odors and a report of a fire led authorities to an apartment where terrorists were mixing explosive precursors.

(U//FOUO) Potential Indicators of Suspicious Activity: First responders are reminded that the following activities could be indicative of pre-operational activity or attack planning. Depending on the context—time, location, personal behaviors, and other indicators—suspicious activities should be reported to appropriate authorities.

» (U//FOUO) Materials Acquisition/Storage: Storage of material inconsistent with the occupancy
» (U//FOUO) Observation/Surveillance: Response patterns that are being observed or recorded
» (U//FOUO) Breach/Attempted Intrusion: Presence of unauthorized individuals or vehicles in a restricted area or location
» (U//FOUO) Testing of Security: Evidence of tampering or disabling facility security cameras, locks, gates, fences, and other security mechanisms
» (U//FOUO) Elicitation: Inquiries about emergency response procedures by individuals with no valid need to know
» (U//FOUO) Misrepresentation: Cloned emergency vehicles or personnel uniforms with forged or incorrect insignia
» (U//FOUO) Acquisition of Expertise: Maps, plans, blueprints, or drawings that may indicate unusual interest in a location

(U) The Nationwide Suspicious Activity Reporting (SAR) Initiative (NSI): A collaborative effort led by the US Department of Justice, Bureau of Justice Assistance, in partnership with the US Department of Homeland Security, the Federal Bureau of Investigation, and state, local, tribal, and territorial law enforcement partners that provide first responders with a tool to help prevent terrorism by establishing a national capacity for gathering, documenting, processing, analyzing, and sharing SAR information.

(U) Fire and Emergency Medical Services Training: The NSI has developed training to help fire and emergency medical service personnel recognize suspicious behaviors associated with pre-incident terrorism activities, understand how and where to report suspicious activity, and protect privacy, civil rights, and civil liberties when documenting information. This training also provides information about integrating the NSI into your agency's operations.

(U) Note: The Functional Standard v 1.5 defines SAR as official documentation of observed behavior reasonably indicative of preoperational planning related to terrorism or other criminal activity.

(U) To access the training, please reference the following link:

http://nsi.ncirc.gov/hsptregistration/fire-ems.
Share this: