(U//FOUO) Russia's invasion of Ukraine has spurred Western governments, social media companies, and individuals to limit or disengage from Russian state media outlets, likely degrading many outlets' ability to directly message to Western audiences through 2022. This Western response impedes the ability of critical elements of Russia's influence ecosystem to recruit and retain culturally adept media talent, shape in-country reporting, maintain a perception of media independence, and generate revenue. These setbacks affect multiple facets of RT's and Sputnik's operations, hampering the prospects for a speedy reconstitution of their Western-facing efforts. These actions, and others being considered by Western countries, go well beyond previous efforts to counter Moscow's use of its state media outlets to spread mis-, dis-, and malinformation (MDM), such as deplatforming, foreign agent registration, and social media labeling of content.
• (U) BANS, CLOSURES: On 1 March, the European Union (EU) banned RT and Sputnik—Russia's principal state media outlets—preventing broadcasts and content hosting in the Union, according to EU legislation. Two days later, RT America announced it would cease production and close its US offices; and on 18 March, the UK revoked RT's broadcasting license, according to Western media reporting.
• (U) DEPLATFORMING, BLOCKING ADS: Many US-based companies and online services have removed Russian state media outlets from their platforms, application stores, or news feeds, at least partially in response to the EU ban, according to technology and business news reporting (see Appendix). They also sought to de-rank Russian state media content in search results, block the ability for Russian state media to advertise on their platforms, and increase efforts to label this content as false or affiliated with Moscow.
• (U) RESIGNATIONS, SEVERED TIES: Some US- and Europe-based journalists and editors associated with these pro-Russian outlets have resigned over disagreements with their employers' messaging slant on the Russia-Ukraine crisis, according to a UK trade magazine. As of 28 Feb1uaiy, at least three senior editors of RT' s video news subsidiary, Ruptly, have quit, including the chief marketing officer, according to an international news agency. In late February, a California-based affiliate of Ruptly cancelled its service agreement and severed all contact with RT, according to a senior manager's Twitter account.
…
..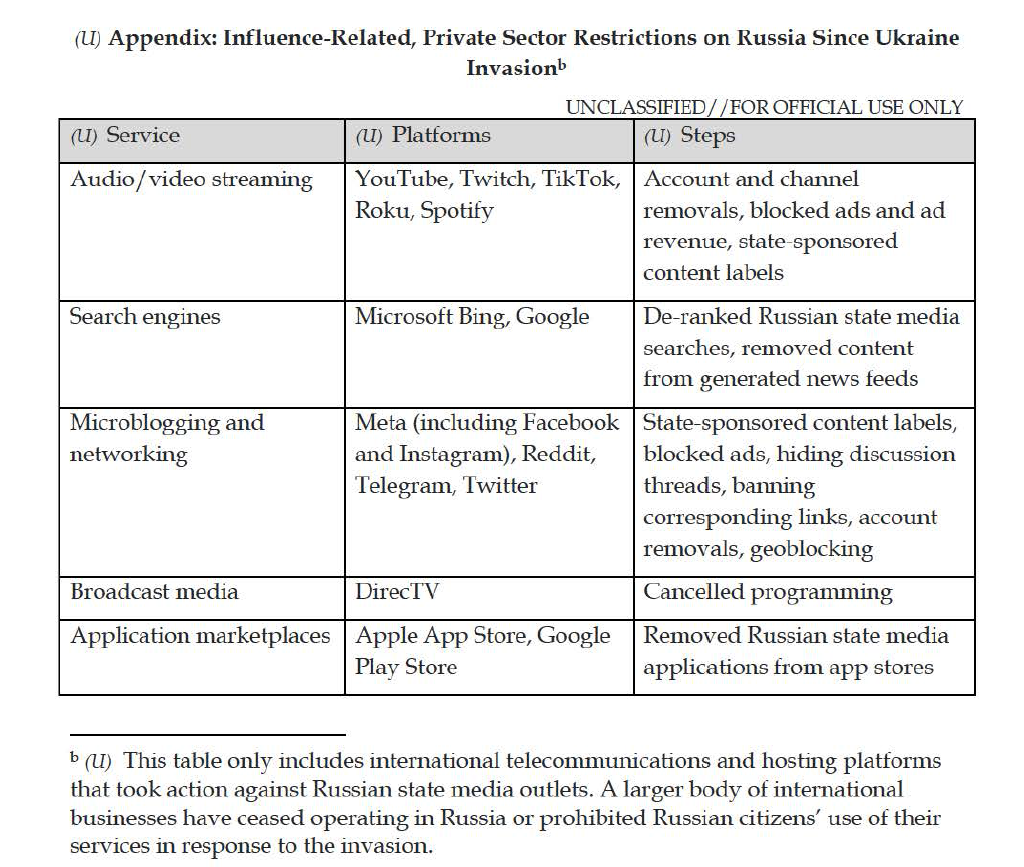 …
(U) Chinese State Media Echoing Many Russian Narratives
(U//FOUO) Chinese English-language state media has provided an alternative avenue for Russian MDM to reach Western audiences, circumventing Western punitive actions. Following the Russian invasion of Ukraine, Chinese state media outlets began amplifying Russian allegations of US-funded bioweapon labs in Ukraine, portrayals of NATO as the aggressor through decades of US-led eastward expansion, and assertions that Weste1n sanctions are unlikely to be effective. However, Chinese-state media did not amplify some other Russian-backed narratives, such as the claim that Nazis ran Ukraine.
Share this: