The following privacy impact assessment was released in late July by the Department of Homeland Security.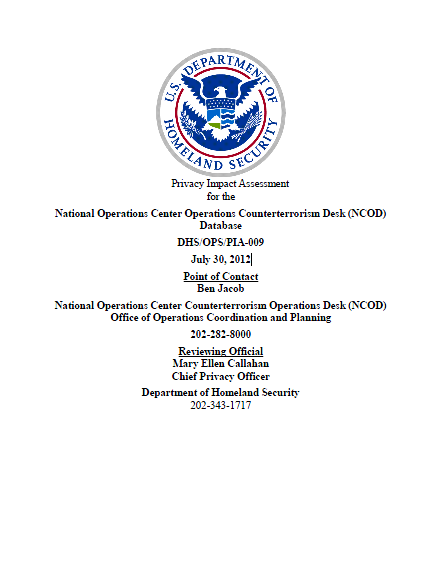 National Operations Center Operations Counterterrorism Desk (NCOD) Database

The National Operations Center (NOC), within the Office of Operations Coordination and Planning (OPS), operates the NOC Counterterrorism Operations Desk (NCOD) and serves as the primary DHS point of contact to streamline counterterrorism Requests for Information (RFIs). The NCOD Database is a tracking tool used by NCOD Officers to track all counterterrorism related incoming and outgoing inquiries. OPS has conducted this Privacy Impact Assessment (PIA) because the NCOD Database contains personally identifiable information (PII).

Overview

OPS fulfills a unique response and facilitation role within the Department by serving as the bridge for sharing critical information between DHS Components, across the interagency community, and among homeland security partners. OPS planning activities provide a means of integrating government-wide activities in preparation for future incidents. Finally, OPS continuity activities allow for the continuation of essential government functions in the event of a catastrophic crisis.

In 2006, the National Operations Center (NOC) was created, and in its current capacity serves as the primary national-level hub for domestic situational awareness by fusing law enforcement, intelligence, emergency response, private sector, and open-source reporting. The unique mission of the NOC includes not only domestic situational awareness, but also the establishment and maintenance of a common operational picture, information fusion, information sharing, communications, and coordination pertaining to the prevention of terrorist attacks and domestic incident management. The NOC is the primary conduit for the White House Situation Room and DHS Leadership for all domestic situational awareness and facilitates information sharing and operational coordination with other federal, state, local, tribal, non-governmental operation centers, and the private sector.

National Counterterrorism Operations Desk (NCOD)

In fulfillment of the NOC's mission to fuse law enforcement, intelligence, emergency response, private sector, and open-source reporting, the NCOD was established within the NOC to serve as a single point of contact for all RFIs concerning counterterrorism from partner agencies. The NCOD serves as a single DHS point of contact, allows desk officers to provide unique reporting capabilities, and quickly responds to the requesting agency with results, and tracks the incoming and outgoing RFIs in the NCOD Database.

The NCOD allows the Department to provide twenty-four hour, 365 days a year support to DHS counterterrorism mission partners across the federal government. Counterterrorism RFIs are time sensitive and require an immediate response from NCOD Officers. The primary purposes of the NCOD are to:

• Coordinate appropriate DHS database checks;
• Streamline data exchange between DHS databases and other federal agency databases;
• Establish one location to track and direct incoming and outgoing RFIs;
• Operate as part of the NOC Watch;
• Serve as an extension of the DHS OPS CT Section;
• Provide communication to DHS Components for information clarification;
• Coordinate information collection and exchange;
• Lead and integrate DHS domains strategic-level, operations coordination and planning functions; and
• Ensure the incoming and outgoing RFIs are facilitated for a response to the responsible office in a timely manner.

…

NCOD Database

The NCOD database will maintain the agency contact information for the RFI, the RFI, and the response to the RFI. The response will include the relevant information from the government systems and indicating of source of the systems.

Categories of information contained in the NCOD database may include, but are not limited to, the following: name(s), date of birth, immigration status, gender, place of birth, country of citizenship, alien registration number, passport number, Social Security number, driver's license number, any additional numbering system used by governments to identify individuals, warrant number, I-94 number, Student and Exchange Visitor Information System (SEVIS) number, visa number, cédula number (foreign government issued national identification card), Canadian social insurance number, Federal Aviation Administration (FAA) license number, mariner's document, birth certificate number, naturalization certificate number, work permit number, residency permit number, immigration history, military identification number, license plate information, vehicle information, physical descriptions such as scars, marks and tattoos, occupation(s), employer(s), addresses, telephone numbers, email addresses, FBI Number, DHS Fingerprint Identification Number (DHS FIN), facial photographs, fingerprints, iris images, financial information, criminal history, NOC tracking number, requesting agency name, and travel information.
Share this: