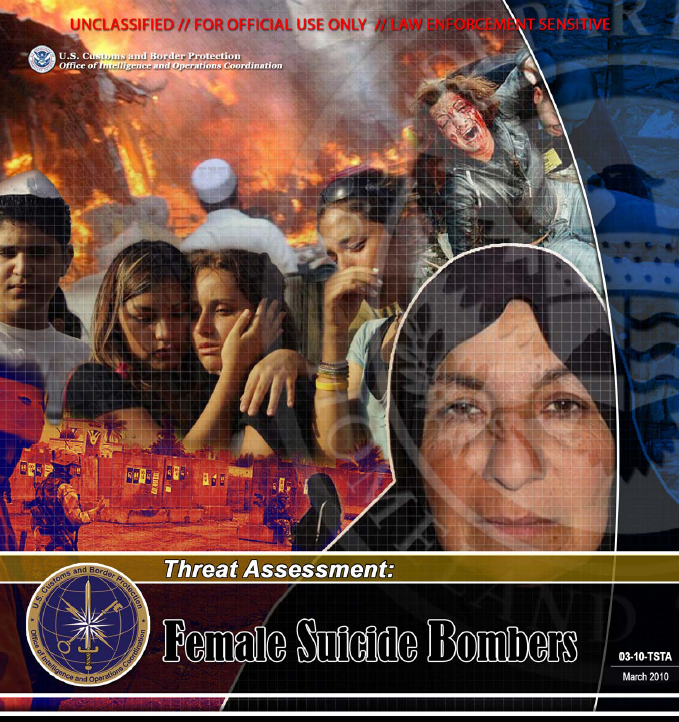 Public Intelligence
Approximately two weeks prior to the deadly Moscow subway suicide bombings, the U.S. Department of Homeland Security released a special "threat assessment" which outlined the threats posed by female suicide bombers.  The 15-page Law Enforcement Sensitive/For Official Use Only report "Threat Assessment: Female Suicide Bombers" which was obtained by Public Intelligence gives details regarding past examples of suicide bombings conducted by women, including the potential for using breast implants as a  means of concealing explosives.  A brief excerpt from the document's introduction explains the importance in studying female suicide bombers as a means of circumventing security measures:
(U/FOUO) In the aftermath of the Christmas Day suicide bombing attempt over Detroit, it has become apparent that terrorist organizations continue to scrutinize and attempt to circumvent border security procedures by using a variety of methods. One such method that has not been fully analyzed is the possible use of female operatives. The media has recently reported information suggesting that al-Qa'ida will expand the scope of the female suicide bomber outside of Iraq to include western airliners.

(U/FOUO) The main focus of this assessment is to explore possible operational means and methods that could be utilized by female suicide bombers. A female suicide bomber is knowingly and readily willing to blow herself up using explosives attached to her body for a terrorist purpose or cause. She usually requires significant psychological preparation, yet relatively little operational training.
The document's internal metadata indicates that it was created on March 12, 2010, approximately two weeks prior to the March 29 bombings in Moscow.  Citing an attack which occurred in early February 2010, when a female suicide bomber detonated her vest in a crowd of women and children in Northern Baghdad killing 54 Iraqis, the report argues that while "female suicide bombers have previously struck in Iraq and Israel, security sources regard the use of women for al-Qa'ida attacks on Western targets outside the Middle East as 'inevitable'. Additionally, open source reporting states that British Intelligence is warning of new methods of developing explosives that can be surgically implanted inside a woman's body in an attempt to avoid detection by security personnel."
The threat assessment goes on to discuss breast implants as a means of concealing explosives, describing how the implants could be detonated by a liquid-filled syringe that would replicate diabetics injecting insulin:
(U/FOUO) According to open source reporting, one of the possible new methods of hiding explosives will be to surgically implant the explosive inside the body cavity of the individual carrying out the attack. Open source reporting states that Britain's MI5 intelligence service discovered that doctors have trained at Britain's leading hospitals and have returned to their own countries to fit individuals with surgical implants filled with explosives. Reportedly, al-Qa'ida has already experimented with placing PETN in plastic bags and surgically implanting them in female's breasts to give the impression they have undergone breast augmentation. Other tactics include surgically implanting plastic bags of explosives in the stomach, upper thighs, or buttocks. (Note: Surgical implants have been used in the past by drug trafficking organizations as a means to smuggle cocaine). The bag of explosive would be subsequently detonated with a liquid filled syringe replicating diabetic injections of insulin. Reportedly, surgeons at Britain's National Health Service confirmed the feasibility of the explosive implant. To date, there are no regulations against diabetics carrying supplies (insulin and/or syringes) onboard an airliner.
The report concludes by citing the "effectiveness of body scanning on surgical implants" as a potential intelligence gap.
Share this: