The following document containing standards for the construction of DHS sensitive compartmented information facilities (SCIFs) was obtained from the public FTP server of a prominent architectural firm and was indexed by Google.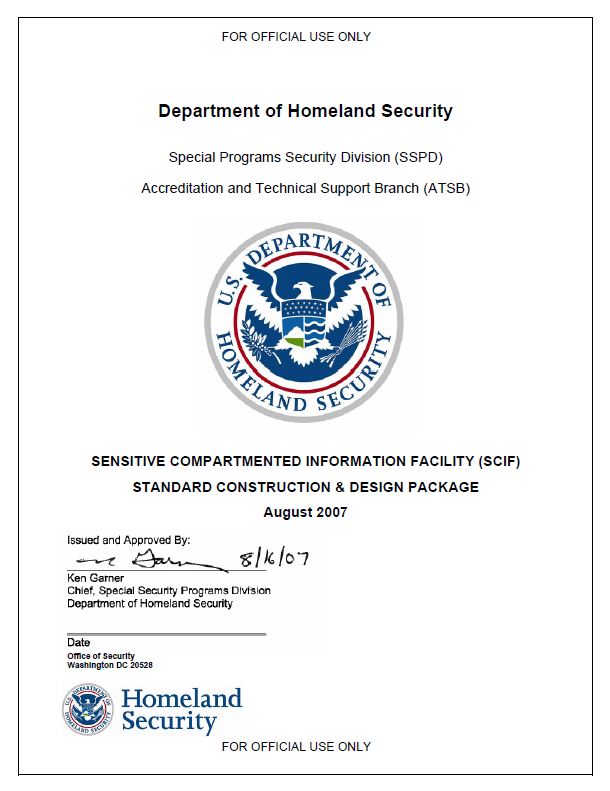 Special Programs Security Division (SSPD) Accreditation and Technical Support Branch (ATSB)
59 pages
For Official Use Only
August 16, 2007

This handbook is issued under the authority of the Director Central Intelligence Directive (DCID) 6/9, "Physical Security Standards for Sensitive Compartmented Information Facilities" and The Department of Homeland Security, Management Directive 11043, "Sensitive Compartmented Information Program Management".

This handbook applies to the Department of Homeland Security (DHS), its Components (excluding the United States Coast Guard), Directorates, Offices, and Field Activities. References made in this handbook to DHS will be considered to include all Components (excluding the United States Coast Guard), Directorates, Offices, and Field Activities, and entities encompassed under the jurisdiction of the Homeland Security Act and amendments thereto. The United States Coast Guard maintains their designated membership in the Intelligence Community and will continue to manage and operate its own intelligence program.

This handbook also applies to contractors in SCI Facilities (SCIFs) accredited by the DHS and to DHS SCI contract efforts conducted within facilities accredited by other agencies and approved for joint use by co-utilization agreement.

Heads of DHS Intelligence Components may issue supplementary instructions when necessary, to address unique situations to meet mission requirements within their respective components. All supplementary instructions must be approved by the Cognizant Security Authority (CSA) prior to implementation. Provisions outlined in this handbook take precedence over previously issued legacy manuals, instructions, guidance and other publications.

…

This handbook contains standard security designs and procedures common to Sensitive Compartmented Facilities (SCIF) and physical security construction standard and established by the Director National Intelligence (DNI) for protection of classified intelligence information. Users should refer to Director of Central Intelligence Directives (DCIDS) and other documents cited under Authorities for guidance on specific security functions.

…

TELEPHONE SECURITY

To prevent telephone lines and telephone instruments that service a SCIF from being used as clandestine listening devices, the following controls will be required:

1. All incoming telephone cables and wires which penetrate a facility's perimeter will enter the facility through one opening and be placed under control at the interior face of the perimeter by the following:

a. All active incoming lines will be accounted for by the number of pairs in use, by telephone and extension number, and the number of excess/unused pairs in existence. The accounting will be updated whenever the status of a pair of wires is changed.

b. All excess/unused incoming wires will be either removed or disconnected and grounded in a manner which prevents their unauthorized use.

2. The number of telephone instruments servicing a SCIF will be limited to those operationally necessary. All telephone instruments will be equipped with a non-resonating ringer, a positive disconnect either automatic or manual plug and jack, and, in certain installations a line filter. Specially designed, for U.S. Government use, telephone instruments and associated security devices are available from telephone companies. When planning the telephone system for a SCIF, advance consultation with SSPD is encouraged to obtain advice regarding recommended telephone instruments, associated security devices, installation design, and the required "certification of need" to obtain specially designed instruments and devices.

COMPUTERIZED TELEPHONE SYSTEMS (CTS)

Computerized telephone systems (CTS) or Voice Over Internet Protocol (VoIP) systems within the SCIF must meet Telephone Security Group (TSG) TSG-2 standards or utilize approved TSG type 6 equipment.
If the room is a "discussion area", all telephones installed in the space must be TSG-6 approved telephones, as an alternative, a TSG-2 configuration may be approved and utilized.

1. Administrative telephone systems are a potential source for fortuitous conduction of Compromising Emanations (CE) due to their proximity to building maintenance areas and their signal line distribution outside the facility. Additional protection is recommended when commercial telephones are located in a RED electromagnetic environment. The most effective protection is provided by line disconnection switches and telephone line optical isolators that use waveguide below cutoff. The use of these devices or telephone filters must be approved by the CTTA. These devices should be considered only when installing. replacing or retrofitting telephone systems.

2. Remember that the administrative telephone system and its associated wiring are BLACK. The telephone system cabling should be routed in a separate distribution system. If filters or isolators are required and approved by the CTTA, the lines should be filtered/isolated where they egress the inspectable space or facility. Locating the filters/isolators at the controlled space is not recommended because the equipment TEMPEST zone may extend beyond the controlled space. In addition, fewer filters/, isolators will be necessary if the trunk lines rather than the individual phone lines are filtered/isolated.

3. CATV: Cable Television service into the SCIF must be electrically isolated at the point of entry. SSPD recommends the use of Fiber Plex Incorporated Uni-Directional (Simplex) Composite Video Optical Transmitter and Optical Receiver models (FOI-2170) and (FOI-2172) or similar isolation device also PCT International's 1310 nm Rackmount Transmitter (PCT-FTX3R) suitable for NTSC or PAL television signal transmission. Analog bandwidth to 870 MHz allows for advanced services such as HDTV, VOD, PPV, and high speed data as well as traditional cable TV.

4. Fire alarm horn strobes and horn enunciators installed inside of the SCIF will have a self amplified speaker configuration. Wheelock models SA-70 and SA-70s or similar device(s) are recommended.

RF ATTENUATION & TEMPEST MITIGATION

Based upon a threat determination and analysis of the proposed SCIF site, location and mission, RF Attenuation may be required. A determination will be made by SSPD prior to construction of the facility in accordance with CNSS 7000 and NSTISSI 7000, TEMPEST countermeasures for facilities, date May 2004. If a determination is made that TEMPEST countermeasures are required the following information is provided:

1. On the interior (secure side), on top of the metal mesh, install two layers of 5/8 inch foil back drywall, with staggered seams, horizontally and vertically.

2. The preferred method of RF mitigation is to install to two layers of drywall: Install one layer of 5/8 inch drywall. Install a layer of TVM Ultra NT Radiant barrier foil (part # 1800 48 125s) or equivalent approved product. Seams must be overlapped and taped with metallic tape, or folded appropriately. Install a second layer of regular 5/8 inch drywall on top of the foil barrier.

RF WINDOW FILM SPECIFICATIONS

The following are the technical recommendations for all clear window film installed as an after market item. The preferred method is the film to be installed between the glazing as part of the window construction process prior to being placed in the window frame.

1. Radio Frequency attenuation greater than or equal to: 30dB from 30MHz to 1.5 GHz.

2. Infrared attenuation greater than or equal to: 80% at 800 nm (nanometer) 90% at 900 nm 94% at 1000 nm 98% at 1550 nm – 2300 nm

3. Ultra Violet attenuation greater than or equal to: 70% at wavelengths less than 400 nm 90% at 375 nm 90% at 350 nm

4. Total visible (400nm – 780 nm ) transmission greater Than or equal to 60%

5. Glazing system blast rated to GSA Glass Fragment Hazard Ranking 2. Can also be put within the PVB of the glass, (preferred and much cheaper).

The DHS only aware of two manufacturers that provide a window glazing product that meet or exceed these requirements, 3M and Signals Defense. DHS SSPD is available to review any other product that may be used in lieu of these suggested vendors.
Share this: