Social Network – Do's and Don'ts
• Only establish and maintain connections with people you know and trust. Review your connections often.
• Assume that ANYONE can see any information about your activities, personal life, or professional life that you post and share.
• Ensure that your family takes similar precautions with their accounts; their privacy and sharing settings can expose your personal data.
• Avoid posting or tagging images of you or your family that clearly show your face. Select pictures taken at a distance, at an angle, or otherwise concealed. Never post Smartphone photos and don't use your face as a profile photo, instead, use cartoons or avatars.
• Use secure browser settings when possible and monitor your browsing history to ensure that you recognize all access points.
Facebook Mobile Overview
As of January 2015, Facebook Mobile hosts 745 million daily mobile active users who accounts for over 60% of all mobile posts published to any online social networking service. Though privacy can still be achieved, mobile users place their personal identity data at a greater risk when compared to users logging in via desktop computer. This is in large part due to the fact that mobile devices provide Facebook with a means to access additional location information, contact lists, photos, and other forms of personal data. Use the following recommendations to best protect yourself against oversharing.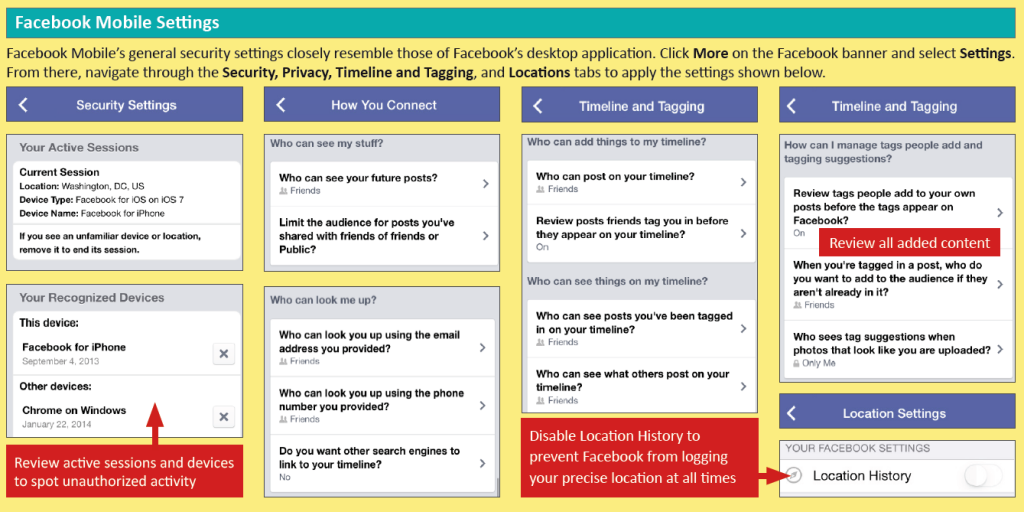 Share this: