The following set of photos and names has been publicly posted to other sites, including Cryptome. However, with the recent confirmation that Flickr removed and censored these photos, we wish to ensure that this information reaches as many people as possible. We are also aware that this site is visited frequently by members of the Egyptian government and the International Criminal Court.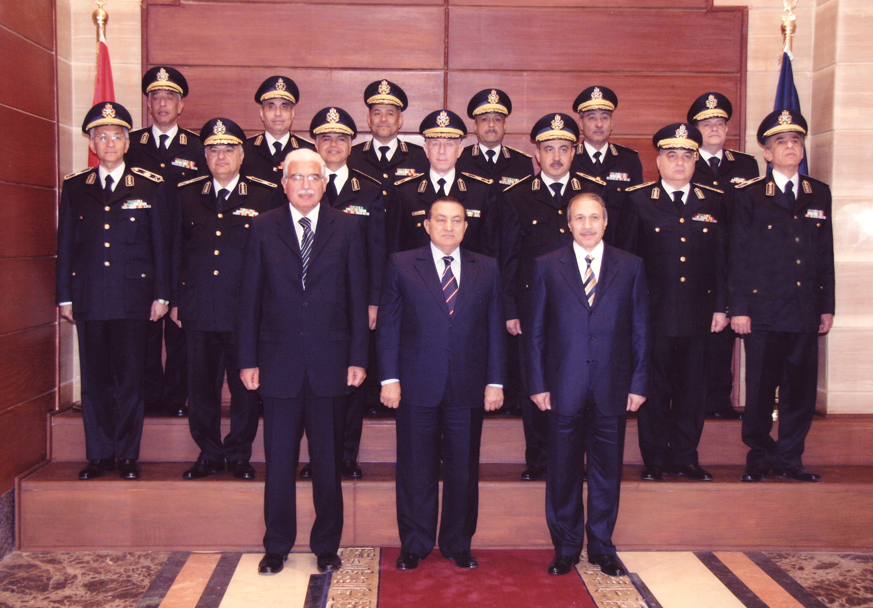 Description from Hossam el-Hamalawy, Egyptian Socialist Journalist and Blogger:
When we stormed State Security Police headquarters in Nasr City, which hosted one of Mubarak's largest torture facilities, on Saturday I found two DVDs in one of the offices, both titled "أرشيف السادة ضباط الجهاز" The Agency Officers' Archive. The DVDs included profile pictures of State Security officers, organized in folders. Each folder had the officers' name. Some however did not have the names. There were also sub folders that included pictures of those officers in social events like weddings.

I don't know what was the purpose of these two DVDs, but I sincerely thank the State Security officials who gave us this present on a golden plate. I initially uploaded the profile pictures to this flickr set and added them to the Piggipedia. But unfortunately, flickr censored the pictures on grounds of "copyrights infringement"!

With the help of ANONYMOUS and other bloggers in Egypt and abroad, I re-uploaded the pictures to the cyberspace, and they are now hosted on several sites.

I urge you all to circulate them. And if you have any more information about those officers please come forward.

Each member of SS has to be brought to justice. This was an agency devoted to spying, surveillance, torture and murder. Every member of this organization from the informer all the way up to the generals should be prosecuted. SS has to be dissolved. It cannot be "restructured" like what the current PM is calling for.

Although those torturers violated our private lives on a daily basis, bugging our phones, offices, and even our bedrooms, I will respect the privacy of their families and will not publish the photos of their social events that included family members.
Names of Officers Whose Photos are Contained in the File
Ahmad Fathi
Ahmad Raafat
Ahmad Raoof
Ahmed Atef
Ahmed el-Azzazi
Ali Allam
Amgad Ezz Eddin
Amr Abdel Moula
Amr L'Assar
Assem Esmat
Ayman el-Banna
Ayman el-Rashidi
Ehab el-Gheryani
Fahd Abul Kheir
Hani Talaat
Hassan Abdel Rahman
Hassan Tantawi
Hisham Abu Gheida
Hisham el-Baradei
Hisham el-Dafrawi
Hossam Wahdan
Kamal el-Sayyed
Khaled el-Taweel
Khaled Moussa
Khaled Shaker
Magdi el-Masri
Maged Mostafa
Mahmoud el-Rashidi
Mahmoud el-Zeini
Mohamed Abdel Kareem
Mohamed Abul Wafa
Mohamed el-Morshedi
Mohamed el-Samanoudi
Mohamed el-Zamak
Mohamed Hanafi
Mohamed Mahmoud Barghash
Mohamed Safwat
Mohamed Taher
Mohamed Yehia
Mortada Ibrahim
Motassem Ghoneim
Rashad Ghoneim
Rushdi el-Qamari
Salah Hegazi
Salah Salama
Sherif el-Bahei
Sherif Shabana
Shoman
Tarek el-Bahnassawi
Tarek el-Mouggi
Tarek el-Rakaybi
Photos of 168 officers whose names are not known are also contained in the file.
Share this: