The FBI's Minneapolis Division, in coordination with the Office of Private Sector (OPS), Criminal Investigative Division (CID), and 3M, prepared this LIR to make the Healthcare and Public Health Sectors aware of indicators related to fraudulent sales solicitation of 3M Personal Protective Equipment (PPE), or indicators of counterfeit 3M PPE, including N95 respirators. References in this LIR to any specific commercial product, process or service or the use of any corporate name herein is for informational purposes only and does not constitute an endorsement or recommendation of that product, process, service or corporation on behalf of the FBI. Since December 2019, an increasing number of businesses and consumers have been affected by fraudulent sales of PPE. The FBI has received at least 45 consumer complaints of fraud and counterfeiting involving 3M PPE, involving over $642,000 in losses.
3M Recommends Only Purchasing 3M Respirators from US-based 3M Authorized Distributors
While some N95 respirators are manufactured by 3M overseas, 3M recommends 3M-made N95 respirators should only be purchased by customers in the United States from 3M's authorized channel partners located inside the United States.
Products that use 3M's name and trademarks as well as 3M's National Institute of Occupational Health and Safety (NIOSH) approval numbers should only be sourced directly from 3M or 3M's authorized channel partners in the United States.
Products that bear 3M's NIOSH approval numbers [such as TC 84A-007 (see graphic 1) or TC 84A-0427 (see graphic 2)] but not 3M's name or logos are not authorized and should be considered fraudulent.
…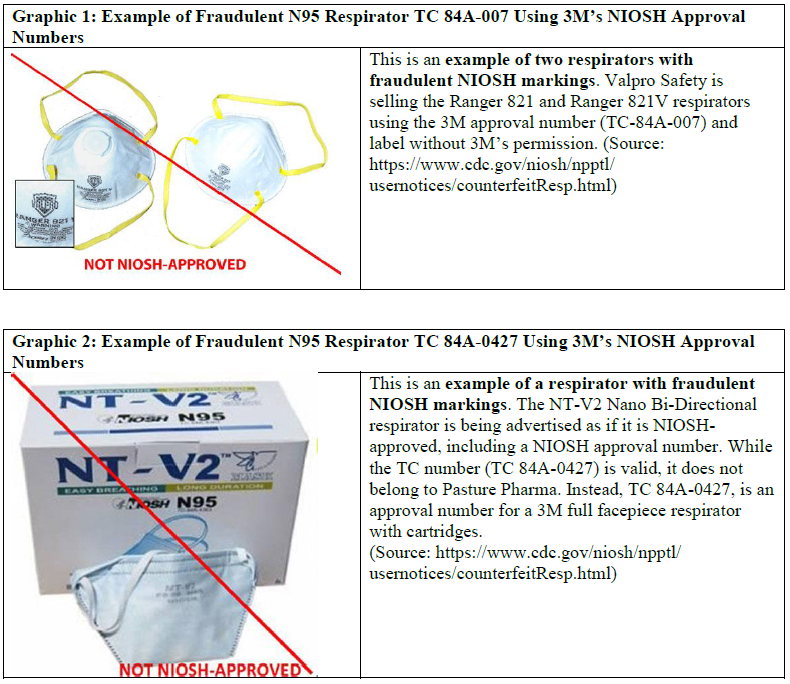 Share this: