The following alert related to "Middle-Eastern males" approaching military family members was obtained from the website of a veterans advocacy organization.  A force protection advisory that was released by the Washington National Guard & Military Department days later describes a similar incident that occurred in Washington.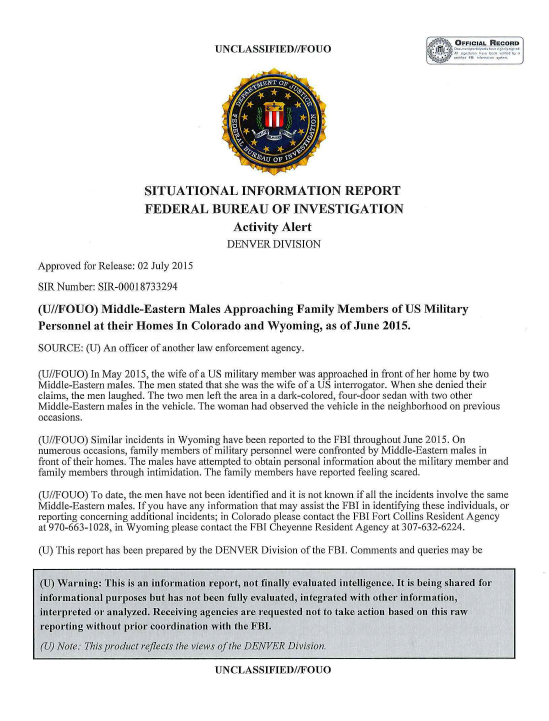 Middle-Eastern Males Approaching Family Members of US Military Personnel at their Homes In Colorado and Wyoming, as of June 2015
5 pages
For Official Use Only
July 2, 2015

(U//FOUO) In May 2015, the wife of a US military member was approached in front of her home by two Middle-Eastern males. The men stated that she was the wife of a US interrogator. When she denied their claims, the men laughed. The two men left the area in a dark-colored, four-door sedan with two other Middle-Eastern males in the vehicle. The woman had observed the vehicle in the neighborhood on previous occasions.

(U//FOUO) Similar incidents in Wyoming have been reported to the FBI throughout June 2015. On numerous occasions, family members of military personnel were confronted by Middle-Eastern males in front of their homes. The males have attempted to obtain personal information about the military member and family members through intimidation. The family members have reported feeling scared.

(U//FOUO) To date, the men have not been identified and it is not known if all the incidents involve the same Middle-Eastern males. If you have any information that may assist the FBI in identifying these individuals, or reporting concerning additional incidents; in Colorado please contact the FBI Fort Collins Resident Agency at 970-663-1028, in Wyoming please contact the FBI Cheyenne Resident Agency at 307-632-6224.

(U) This report has been prepared by the DENVER Division of the FBI. Comments and queries may be addressed to the DENVER Division at 303-629-7171.
Share this: