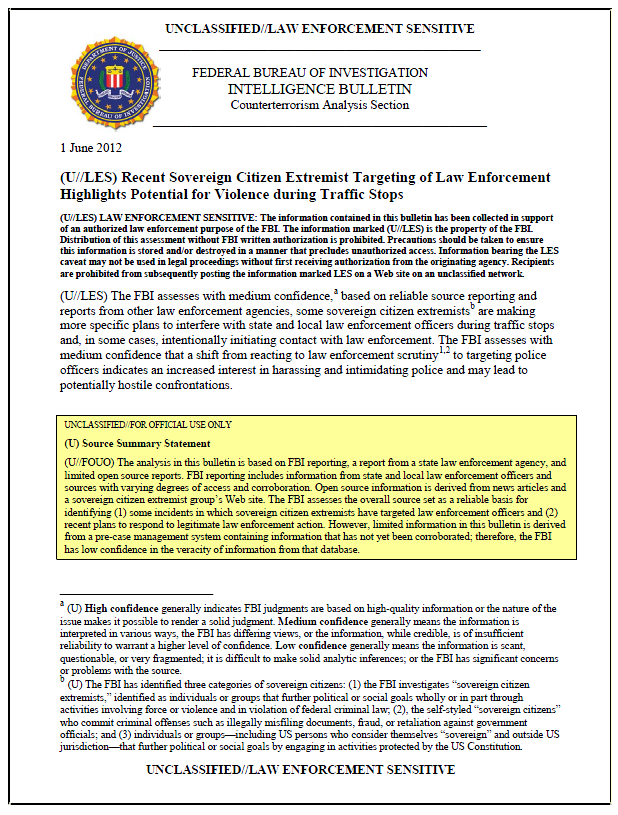 Recent Sovereign Citizen Extremist Targeting of Law Enforcement Highlights Potential for Violence during Traffic Stops
5 pages
Law Enforcement Sensitive
June 1, 2012

(U//LES) The FBI assesses with medium confidence, based on reliable source reporting and reports from other law enforcement agencies, some sovereign citizen extremistsb are making more specific plans to interfere with state and local law enforcement officers during traffic stops and, in some cases, intentionally initiating contact with law enforcement. The FBI assesses with medium confidence that a shift from reacting to law enforcement scrutiny1,2 to targeting police officers indicates an increased interest in harassing and intimidating police and may lead to potentially hostile confrontations.

…

(U) Targeting Law Enforcement

(U//LES) Some sovereign citizen extremists have recently initiated contact with police officers, which the FBI assesses are attempts to harass officers. This assessment is based on sovereign citizen extremists' past attempts to intimidate law enforcement and ideologically based distrust of government officials. If correct, this suggests a heightened interest among extremists in attempting to harass and intimidate law enforcement.

• (U) In April 2012, Arkansas law enforcement officers pulled over a self-proclaimed sovereign citizen. According to a news report, the man's wife drove to the scene, told officers they had no right to arrest her husband, and said officers were committing "treason." A struggle began and an officer used a Taser to subdue the man.

• (U//LES) In March 2012, self-described sovereign citizens in California demanded that law enforcement officers fill out a "Public Servant's Questionnaire" during a traffic stop, with space for officers' personal information. According to an officer of another law enforcement agency, sovereign citizens used the questionnaire to buy time and call others to the scene, who recorded the incident and made unreasonable demands.

• (U//LES) During a February 2012 traffic stop in Oregon involving a Republic for the united States of America (RuSA) [sic] member, the driver of a second vehicle traveled backward on a highway, parked, and became confrontational with the officers conducting the traffic stop, according to an officer of another law enforcement agency. The man, also a RuSA member, continued to approach even after officers ordered him to stop, but the incident ended peacefully.

• (U//LES) In December 2011, a self-described sovereign citizen followed an Arkansas state trooper and made a series of violations to deliberately initiate a traffic stop. The individual was hostile, and used a Bluetooth headset to speak to an unknown person during the stop. An unidentified driver of a second vehicle arrived at the scene, but the driver did not interact with the officer conducting the traffic stop.

(U) Plans to Target Law Enforcement Officers or Provide Armed Response to "Emergencies"

(U//LES) Some sovereign citizen extremist groups aspire to implement Ranger programs and other plans to respond to perceived law enforcement abuses. Given limited assets, the FBI assesses with high confidence complete implementation is unlikely. But the nature of these plans and beliefs that sovereign citizen extremists are legitimate law enforcement officers suggests even small or poorly funded versions of these plans have the potential for violence.

• (U) In March and April 2012, the RuSA released an American Ranger Plan to stand up full-time, armed Rangers authorized to use deadly force during official duty. Part of the plan details scenarios in which Rangers are authorized to act. Scenarios included negotiating with law enforcement for release of incarcerated RuSA members and using "all force necessary" to extract members from jail if negotiations fail, and responding to traffic stops, evictions, and "roadside piracy." RuSA members determined these "scenarios" would not be released to the public, according to a source who has reported reliably in the past.

• (U//LES) As of late 2011, sovereign citizen extremists bought out-of-service police vehicles and trained to target police, according to officers of another law enforcement agency.

• (U//FOUO) Over the past several years, sovereign citizen extremist groups in Montana and Alaska sought to establish the Liberty Bell Network, a communications system designed to summon numerous armed group members to "emergencies," according to reliable sources. In February 2012, a RuSA member in Arizona recommended the group implement a similar system because it worked well in Alaska.
Share this: