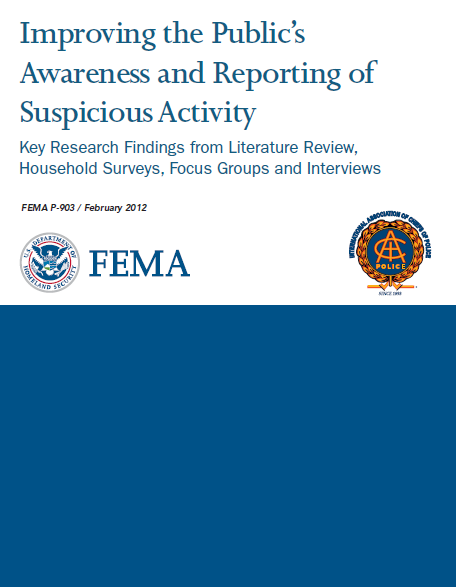 Improving the Public's Awareness and Reporting of Suspicious Activity: Key Research Findings from Literature Review, Household Surveys, Focus Groups and Interviews

The Federal Emergency Management Agency's (FEMA) Individual and Community Preparedness Division partnered with the International Association of Chiefs of Police (IACP) on a project to research and develop a strategy to improve the public's awareness and reporting of suspicious activity. In early 2010, IACP conducted research of contemporary and historical practices intended to improve the public's reporting of suspicious activity. The literature review showed that little research existed on the motivations and barriers that affect whether or not individuals report information to law enforcement. To close this gap in data, IACP developed a three phase primary research strategy. This report provides an overview of key research findings and provides insights and recommendations that support national and local campaigns.

This research effort complements other national efforts like the Nationwide Suspicious Activity Reporting (SAR) Initiative (NSI) and the U.S. Department of Homeland Security's "If You See Something, Say Something™" public awareness campaign. The "If You See Something, Say Something™" campaign was originally used by New York's Metropolitan Transportation Authority (MTA), which has licensed the use of the slogan to DHS for anti-terrorism and anti-crime efforts. As part of the campaign, DHS has partnered with multiple private sector partners, sporting teams, transportation agencies, states, cities, colleges and universities. Great strides have been made within the last few years to improve information sharing amongst law enforcement agencies and fusion centers via initiatives like the NSI; yet, more can be done to improve the quantity and quality of information that law enforcement receives from the public.

Residents know their communities best and are often the first to notice when something out of the ordinary occurs. With the onset of decreased resources and increased responsibilities, law enforcement is more reliant than ever on community members to provide accurate, reliable, and timely information regarding suspicious activities that may be indicators of terrorism.

…

Focus group participants identified several barriers that may prevent community members from reporting suspicious activity. The most frequently cited reason was fear of retaliation. One participant noted a concern that whenever police are called, "they respond with flashing lights and sirens blaring and everyone in the neighborhood would know [who reported the activity]." Women were more likely than men to list fear of retaliation as a barrier. When it came to suspicious activity that may not necessarily be classified as criminal activity, some participants reported not knowing exactly what qualified as "important enough" to report. They wanted to avoid being wrong or appearing "foolish" in the eyes of local law enforcement.

When telephone survey participants were presented with a list of circumstances that could prevent respondents from reporting suspicious activity, the majority said they would not be deterred from reporting. However, there were circumstances that would at least make people more hesitant to report suspicious activity (See Figure 1). Concern over getting an innocent person in trouble (43 percent) was mentioned as the circumstance that was most likely to cause respondents to reconsider reporting the suspicious activity. According to more than one in three (36 percent) respondents, fear of retaliation would make them reconsider reporting. Nearly a third of respondents (31 percent) felt that if they were not sure the information would be a worthwhile use of police resources, they might not report it. Being uncomfortable judging others and assuming someone else would report the activity were the next most frequently mentioned circumstances that would affect reporting of suspicious activity (31 percent and 29 percent).

…

Communities should leverage new technologies to promote anonymous and easily accessible methods of reporting. Many community members fear retaliation and value anonymity when contacting law enforcement. Website portals, text messaging, and mobile phone applications can be used to allow for convenient, anonymous reporting.

Forty-one percent of females and 30 percent of males listed fear of retaliation as a barrier when deciding whether or not to report an observation of suspicious behavior. Many agencies are turning to text messages and web-based reporting programs that allow residents to remain anonymous while submitting reports, reducing concerns over intimidation and negative consequences.

Across age groups, research participants were receptive to the use of these new technologies in the reporting of suspicious activity. Thirty-four percent stated they were likely to report by phone mobile application, 30 percent by cell phone text message, and 25 percent on a government approved website. However, it is important to provide a variety of reporting options, as some community members may not have access to these forms of technology.

Public education should explain the dispatch process, so community members better understand when, how, and if an officer will respond. For individuals such as the focus group member who worried about police "responding with flashing lights and sirens," this may help relieve some of the anxiety about remaining anonymous when calling law enforcement.
Share this: