One of the more interesting aspects of Inspire magazine is its use of a public key encryption system for communication based upon a program called Asrar al-Mujahideen. The fundamentals of using this program are explained in the first issue of Inspire magazine. Throughout the first six issues of the magazine the same four email addresses are listed alongside a public key for use with the Asrar al-Mujahideen program. In the September 2011 issue there is a different public key listed, though the email addresses remain the same. All four email addresses used are associated with free email providers located in the United States. All of the providers log IP information for users of their services and the suggested program used for encryption does not take any steps to hide the sender's identifying information. Though the guide to using Asrar al-Mujahideen in the first issue of Inspire does recommend sending messages with the program from a neutral location, such as a coffee shop, subsequent issues do not reinforce this concept. In fact, some issues of the magazine only "recommend" using encryption. Thus, the authors of Inspire magazine appear to be delivering their supposed supporters and potential aspirants directly into the hands of a carefully logged and easily subpoenaed evidence trail.

Thanks to Mikko Hypponen for first noting the change in public keys.

Update May 3, 2012: Issue 9 of Inspire magazine again changes the public encryption key.

Update March 1, 2013: Issue 10 of Inspire magazine again changes the public encryption key and email addresses.
Issue 10
Email addresses:

inscont@yahoo.com
pirezine@yahoo.com

Public key:

#---Begin Al-Ekhlaas Network ASRAR El Moujahedeen V2.0 Public Key 2048 bit---
pyHAv2KZ9gRLgLtwb4spOh0Xb1cFjsZ3tcbo6CnuUT+wOy74p7
uZnEbshDmLZFXVSe5RntWOI5m86+rdl2HRcC401JZIgxsmMI5I
KaSLmepn6dElNoWTbVAjtsFERXcjtEOYkZvhQN3JCIAlNTs6Xk
I8zxI4U7VU2LoZzJw4QEdRcWutnZ3yCS5VxLnTOUtIawwZKd3C
HFLrkzmhEr5G1Nxe6+OlU6ZI8aomCOfwFkYLao28RLDL8vGag7
JFbxSXy7f6LOBrCCO8Mu4lfUpUGOZCGP4RXJfRLTEEmH9sFf/C
ZEwJEeWm9o2fo2yU/4nXMZIxN441iVzvlGTPbuPxy2f0+p/NMV
X+orew/pvkoofnw0lxFhVxYU99eixHBEgEQCAusw7FVGHbpRJg
gULtulLCd9VLAZRFvhyUk+lHPpsoedrQLvSoHlVC/Ga7ZIMJYX
2PNuYqbafJpUZAqU1Ghq/YKIICeClbLuWSaDErp+K3kMz0m6Ay
qCFcrv6gcxMqzHPIj9VJ3ZS97vMqgux3VeZKRG1TCV+Jm1whg8
/32OnzZILNtYBWLvWavpum
#---End Al-Ekhlaas Network ASRAR El Moujahedeen V2.0 Public Key 2048 bit---
Issue 9
Email addresses:

inspire11malahem@gmail.com
inspire2magazine@yahoo.com
inspire22malahem@fastmail.net

Public key:

#---Begin Al-Ekhlaas Network ASRAR El Moujahedeen V2.0 Public Key 2048 bit---
pyHAvqTp3Mxye8vscUGr+92wvuhK6eyL9QBseQ4gsX3Fcnr2xO
ERLLpA5w+rjkZENPNR61Xf0fYNPSRyUpDXamNXzfDVF4upScX8
ufGGgxZeTaz6m3kwS6A87nayVakI83NK7eXp+Ugc1Jm1Nxq3lq
8suJvXA/ft3KgsHyeumaORsbM382mJ3PTXt3Z88La49Kw3hYL5
6lYP7G4/FS9lAxn2mzKfPKay2tcKKpdfDK+RSNgDhbWaCdbjw5
5kVMcoR5knEN3lqD/cd8WM7XvmkbF4+gmuqKC5NPtz5/bNPIMS
QncdyFQlHU7IKILJiNbvpx/XZYzrRFRFHqi+kOX8edDthD5+cW
dCv0WQw3lMbn3iKCJKasLe9e9IARPGBKqz9ubkwcSZntmB+9gr
c5hRRb+/SembIh6RBNucNYd22oGnenmBenM2O/sRzkHhg0R7Oi
1zdR5Qn8CcUxKzO2OebPaTOxpFtdizzvBciLjyE9mV45M4Qspf
56QSWTDFinhNZGDW3WWkRp4fCsV2Mr8M9wvNHan+2QISsdBj
#---End Al-Ekhlaas Network ASRAR El Moujahedeen V2.0 Public Key 2048 bit---
Issues 7-8
Email addresses:

inspire11malahem@gmail.com
inspire2magazine@yahoo.com
inspire22malahem@fastmail.net

Public key:

#---Begin Al-Ekhlaas Network ASRAR El Moujahedeen V2.0 Public Key 2048 bit---
pyHY2q3DSBasVBCwh13bFtgFu+t4ioqKkBmXxYOy96mp5RKO7C
u2zLT87G7jzSw3X5UZg87ew9Z60a4X/XShrNuqE6dLioT3c84d
PMDOyPiA4wSNN/btukSvnw6gdjygH+lm0SxJmnOH+Sxjd9piZZ
VTxSsj20/KQbhzPCj/QacCZDW9sCY2iybKnfOp0lU2WNr+O264
Sr36krjbxZ8Oj8+G7QJUMq0w0m/e9d/uNIFRJSQccWhHErUBO+
xDBCm4g1zoFr3Rc4d9hRoFOwUdGEyxIX95L8V3A8LCA1F+HJ+4
cLPeujgzgqyhqPNrO+FS2nqUV11QRJl/1Ljfa/FTYZQydwDVSI
VoXKxaKIjK4eqdI+9MJNjQzax/gbrw2wsuVukEooY1htj2b5eX
esM46n5+ugixB18AM6DMDtbyLhciiGyw685/MYfiwYZXowfvdV
Dkrj/ybql8bQgzq//QzXkrbVqCwn9d4J2wTktbiWoOu+zdg07B
jbWCJr+nfStEo/Qo+Hx3BDu3VhIptj/aAXxPVhgLg9q3Hur8ln
XJKIvi4fUF0A==
#---End Al-Ekhlaas Network ASRAR El Moujahedeen V2.0 Public Key 2048 bit---
Issues 1-6
Email addresses:

inspire1magazine@hotmail.com
inspire11malahem@gmail.com
inspire22malahem@fastmail.net
inspire2magazine@yahoo.com

Public key:

#---Begin Al-Ekhlaas Network ASRAR El Moujahedeen V2.0 Public Key 2048 bit---
pyHAvNeRKLqFHJG+LA5hZfEYlSJCYB6zeKc5Bq1F5EwjBuJyt0
9cMJHoSdEv98hVymwhLsOgLzigJHPTfxA0Ani7EWNaZx1hLaRm
/hBmHErTQ6hZFuBiqnZ1WCEf5NbM7r8iKc0JEkryxlT8jehgIo
C2e0/uG35q1cmRudP4eanVKfikQnojeEz3D1bD3iKWZNx7HBhL
2z6YOtfG8sFb8AyjXv8SEHaRHGO37uwlD8UNguxIRwanb5yEYP
bD1bc4XFfy8JJgRNY8xWqAOwDZAciQ9MykgLZDoxxk/fBxm+Ni
x+VRQsxDk9BDg6OYw4hcgqhu1yWItz6858NA9rl7Y2ki78bMZP
J9HXAD3J6OiW9dKXYLE4mhwpe0C9iqfsDNhwepvawL0K8R8sZj
3MnlUAwm8hLjEX794qGPD2cPonp3lxICMddtQRSR3sN23bJOLF
/OOZhU9Shqv3k0rA4YfT3XoqLoeprXucHzXFRX0CCQOdrnFQzG
+49YV1YeTPpv7TtHvLoYxbsI31ieOPogM7/rKXvQRRzZFstkxA
==
#---End Al-Ekhlaas Network ASRAR El Moujahedeen V2.0 Public Key 2048 bit---
Explanation of Asrar al-Mujahideen software from first Issue of Inspire magazine: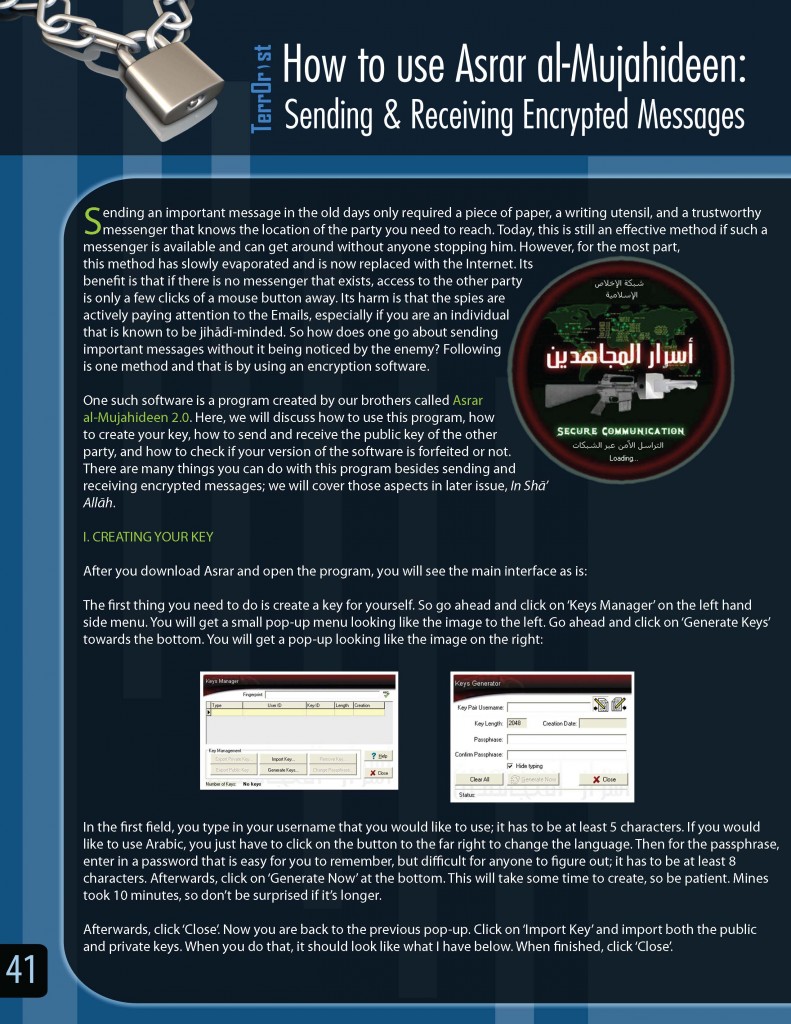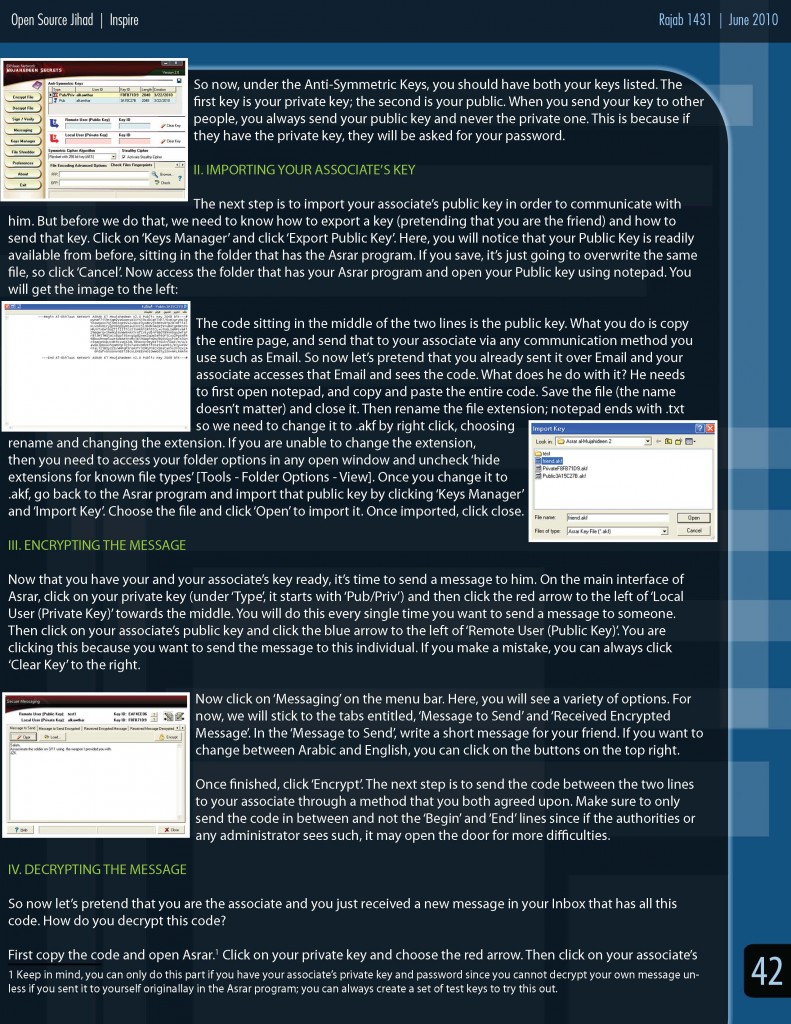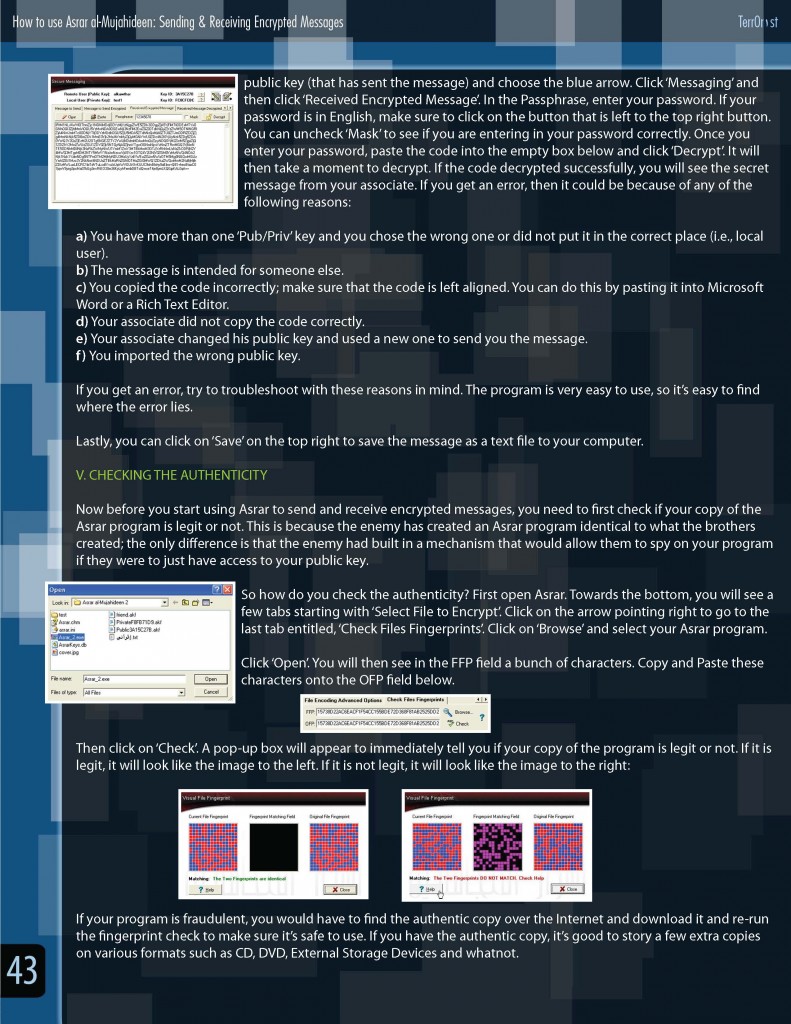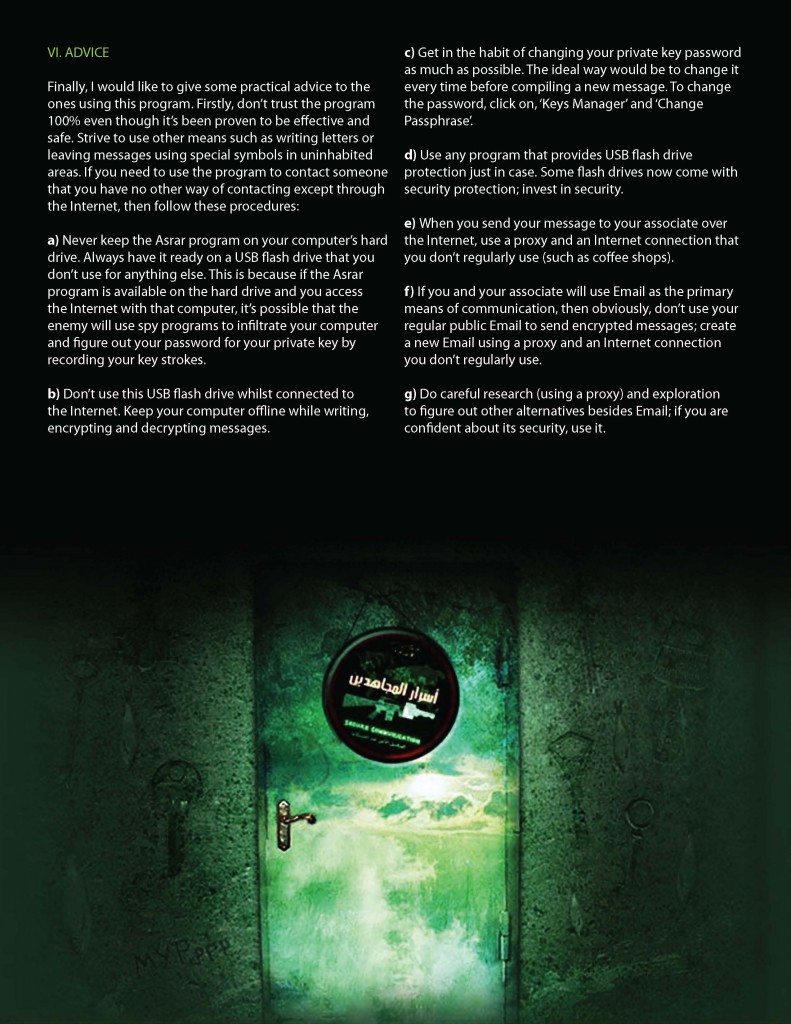 Share this: