In 2015 INTERPOL will introduce a facial recognition system to further enhance its forensics capabilities to its members countries. In this context the images used to populate the facial database as well as to submit for facial query be of a high quality in order to ensure consistent match performance.
The purpose of this document is to recommend a simple set up for taking frontal face (mugshot) images.
Different cameras will obviously produce different results but there are other important factors to take into consideration which can have a big impact on the effectiveness of facial recognition software.
…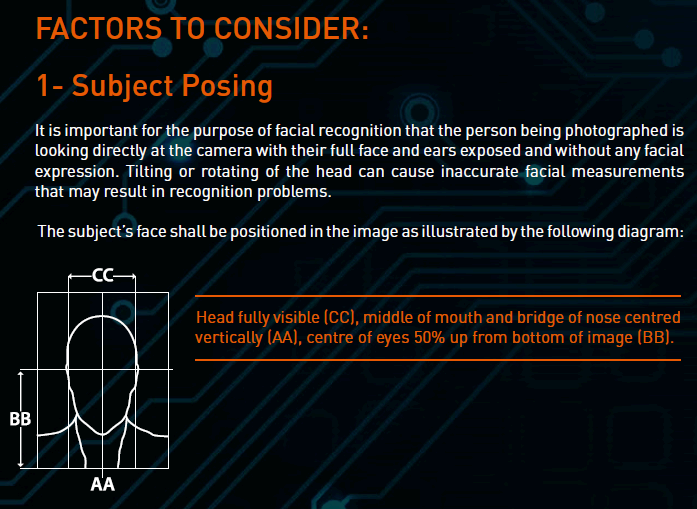 …
The subject's face shall:
ƒƒ
Be in focus and stationary
ƒƒBe shown clearly in a full frontal profile
ƒƒNot be covered
ƒƒNot be tilted up, down, left or right
ƒƒNot be 'rolled' (i.e. tilted from a 90° angle)
ƒƒInclude the subject's full head with hair, as well as neck and top of shoulders
The subject should not be wearing head covering(s).
The subject's eyes should be clearly visible and not obscured, meaning glasses should always be removed.
The subject's ears should also be clearly visible (hair pulled or tied back).
The subject must not be:
ƒƒ
Smiling/frowning
ƒƒRaising eyebrows
ƒƒClosing eyes
ƒƒOpening mouth
ƒƒLooking away from the camera
The subject should be at least 2m from the camera.
Share this: