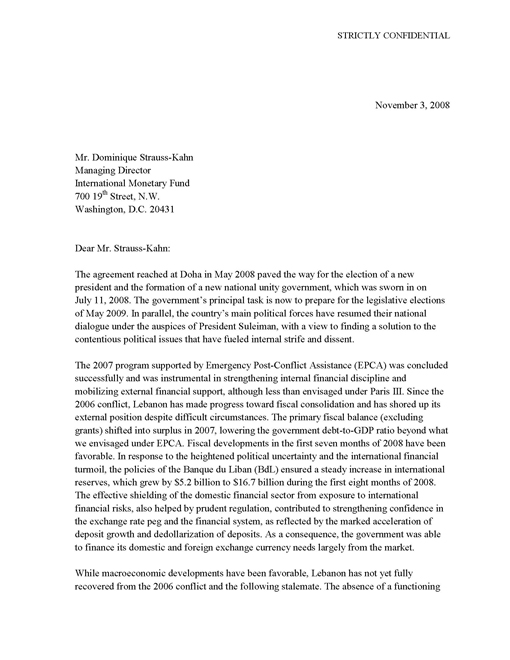 Post-Conflict Assistance
Strictly Confidential
12 pages
November 3, 2008

Mr. Dominique Strauss-Kahn
Managing Director
International Monetary Fund
700 19th Street, N.W.
Washington, D.C. 20431

Dear Mr. Strauss-Kahn:

The agreement reached at Doha in May 2008 paved the way for the election of a new president and the formation of a new national unity government, which was sworn in on July 11, 2008. The government's principal task is now to prepare for the legislative elections of May 2009. In parallel, the country's main political forces have resumed their national dialogue under the auspices of President Suleiman, with a view to finding a solution to the contentious political issues that have fueled internal strife and dissent.

The 2007 program supported by Emergency Post-Conflict Assistance (EPCA) was concluded successfully and was instrumental in strengthening internal financial discipline and mobilizing external financial support, although less than envisaged under Paris III. Since the 2006 conflict, Lebanon has made progress toward fiscal consolidation and has shored up its external position despite difficult circumstances. The primary fiscal balance (excluding grants) shifted into surplus in 2007, lowering the government debt-to-GDP ratio beyond what we envisaged under EPCA. Fiscal developments in the first seven months of 2008 have been favorable. In response to the heightened political uncertainty and the international financial turmoil, the policies of the Banque du Liban (BdL) ensured a steady increase in international reserves, which grew by $5.2 billion to $16.7 billion during the first eight months of 2008. The effective shielding of the domestic financial sector from exposure to international financial risks, also helped by prudent regulation, contributed to strengthening confidence in the exchange rate peg and the financial system, as reflected by the marked acceleration of deposit growth and dedollarization of deposits. As a consequence, the government was able to finance its domestic and foreign exchange currency needs largely from the market.

While macroeconomic developments have been favorable, Lebanon has not yet fully recovered from the 2006 conflict and the following stalemate. The absence of a functioning parliament and vacancies in key ministries created a substantial legislative backlog and the reconstruction and reform efforts did not progress as envisaged, also because of security issues. Finally, Lebanon will need considerable external support in 2008–09 to reinforce our balance of payments position––which has been adversely affected by the conflict and by the rise in food and energy prices––and to finance the reconstruction effort.
Share this: