(U//FOUO) Intelligence in this assessment is based on data from 125 local, state, tribal, and federal law enforcement agencies through statewide intelligence meetings, adjudicated cases, and open source information. Specific gang data was collected from 71 law enforcement agencies through questionnaires disseminated at the statewide intelligence meetings and the 2017 Mississippi Association of Gang Investigators (MAGI) Conference. The intelligence meetings, sponsored by the MSAIC, occurred in the nine Mississippi Highway Patrol (MHP) districts. Law enforcement agencies provided current trends within their jurisdictions. These trends were analyzed based on the MHP Northern, Central, and Southern regions (see Exhibit A).
(U//FOUO) Each agency surveyed submitted the four major gangs involved in criminal activity within their jurisdiction. From this survey, the data collection identified the 46 most prevalent gangs operating within Mississippi and linked members of these gangs to illegal activities such as violent crime, drug sales, and human trafficking. The violent crimes included: homicide, rape, armed robbery, aggravated assault, kidnapping, domestic violence, and drive-by shootings. Other illegal activities involved firearms, extortion, credit card fraud, burglaries, and threats to law enforcement and critical infrastructure.
(U) Key Findings
(U//FOUO) The Gangster Disciples, Vice Lords, and Simon City Royals were reported by law enforcement to be the most prevalent gangs and the most involved in criminal activity in the state.
(U//FOUO) Data collected from the MSAIC questionnaires identified six law enforcement agencies who reported positive contact with Mara Salvatrucha (MS-13) gang members in their jurisdictions.
(U//FOUO) The Mississippi Department of Corrections (MDOC) data determined 62% of the 19,150 inmates, incarcerated as of December 14, 2017, have been identified as active gang members within their facilities.
(U//FOUO) The MDOC data identified the three most prevalent gangs in state facilities as the Gangster Disciples, Simon City Royals, and Vice Lords. This ranking is consistent with the data provided by law enforcement who participated in this assessment.
(U//FOUO) The formation of neighborhood cliques and hybrid gangs contributes to the large variation of gang subsets within the state. MDOC identified 38 additional gangs validated within their facilities and law enforcement identified 43 additional gangs as most prevalent within their jurisdictions.
…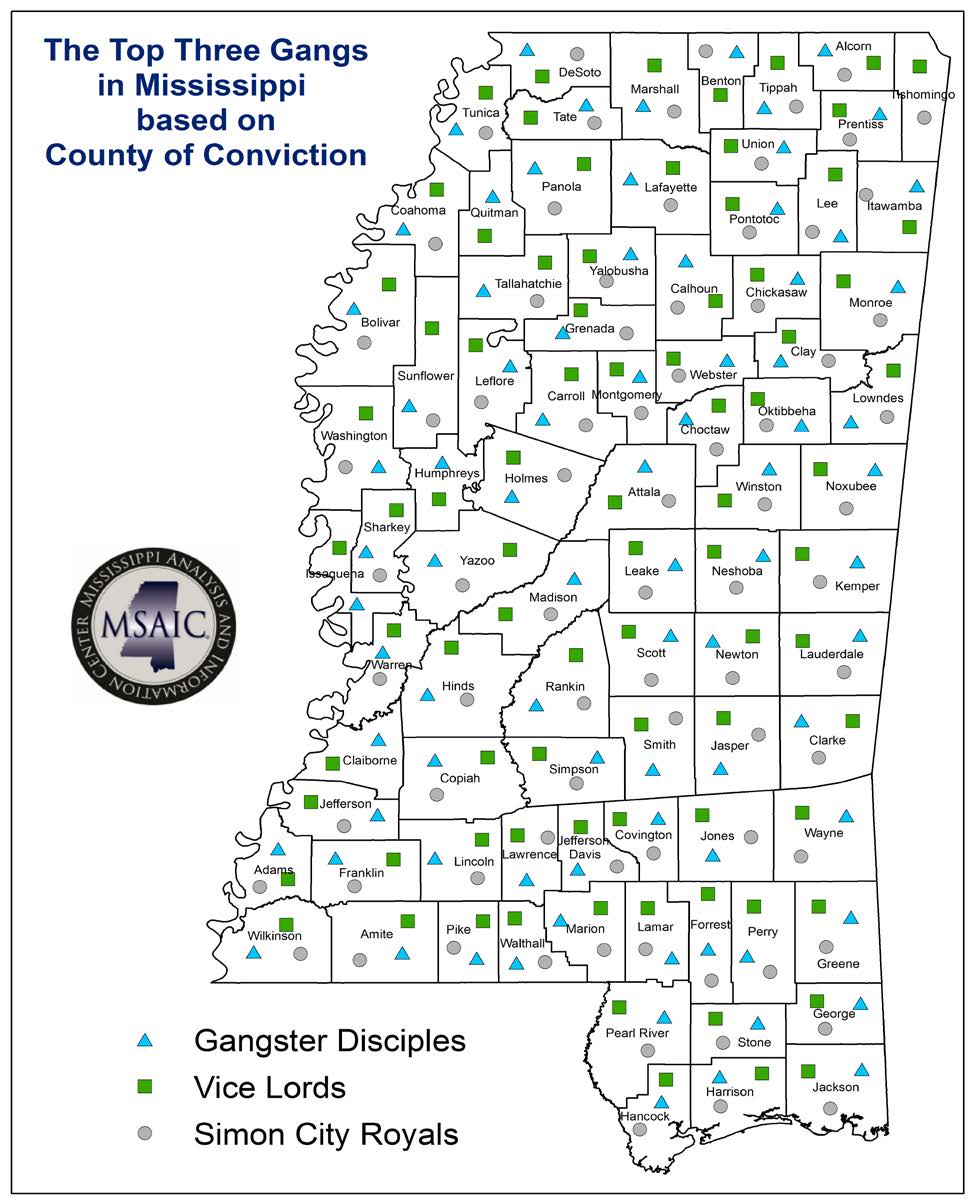 Share this: