The following document was obtained in the form of a low-resolution image, making the ultimate PDF of low quality.  A complete transcription of the document's text is provided below.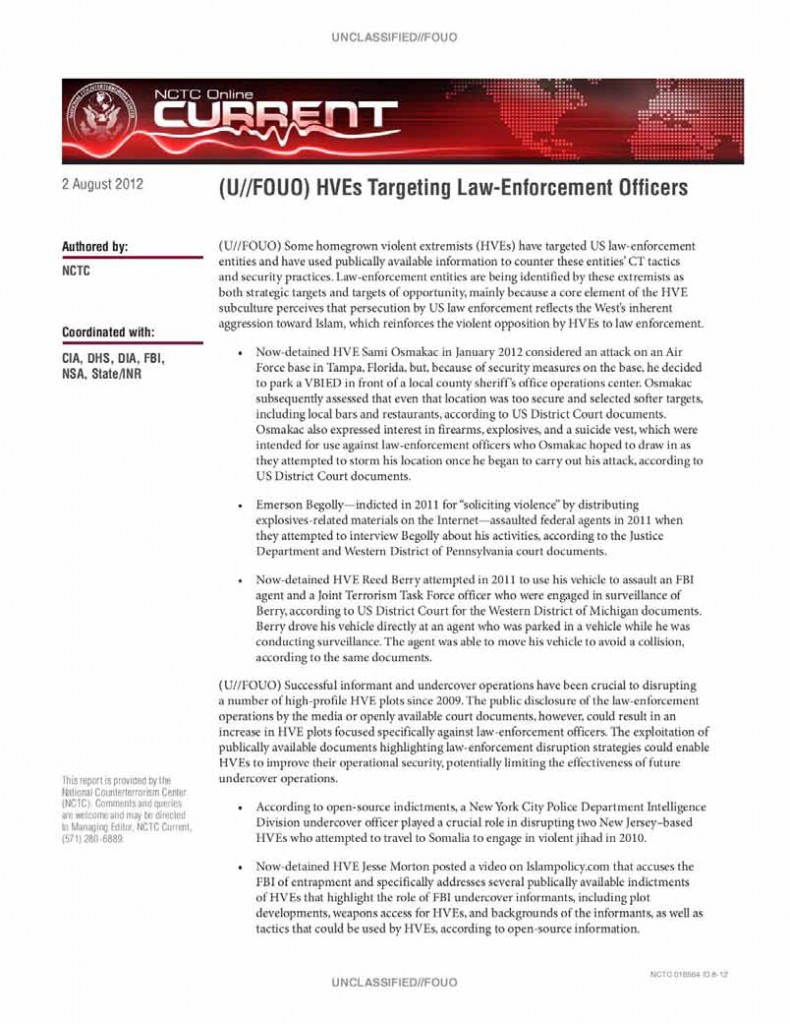 NCTC Online Current
1 page
For Official Use Only
August 2, 2012

Authored by: NCTC

Coordinated with: CIA, DHS, DIA, FBI, NSA, State/INR

(U//FOUO) Some homegrown violent extremists (HVE) have targeted US law-enforcement entities and have used publicly available information to counter these entities' CT tactics and security practices. Law-enforcement entities are being identified by these extremists as both strategic targets and targets of opportunity, mainly because a core element of HVE subculture perceives that persecution by US law enforcement reflects the West's inherent aggression toward Islam, which reinforces the violent opposition by HVEs to law enforcement.

Now-detained HVE Sami Osmakac in Januray 2012 considered an attack on an Air Force base in Tampa, Florida, but, because of security measures on the base, he decided to park a VBIED in front of a local county sheriff's office operations center. Osmakac subsequently assessed that even that location was too secure and selected softer targets, including local bars and restaurants, according to US District Court documents. Osmakac also expressed interest in firearms, explosives, and a suicide vest, which were intended for use against law-enforcement officers who Osmakac hoped to draw in as they attempted to storm his location once he began to carry out his attack, according to US District Court documents.
Emerson Begolly–indicted in 2011 for "soliciting violence" by distributing explosives-related materials on the Internet–assaulted federal agents in 2011 when they attempted to interview Begolly about his activities, according to the Justice Department and Western District of Pennsylvania court documents.
Now-detained HVE Reed Berry attempted in 2011 to use his vehicle to assault an FBI agent and a Joint Terrorism Task Force officer who were engaged in surveillance of Berry, according to US District Court for the Western District of Michigan documents conducting surveillance. The agent was able to move his vehicle to avoid a collision, according to the same documents.

(U//FOUO) Successful informant and undercover operations have been crucial to disrupting a number of high-profile HVE plots since 2009. The public disclosure of the law-enforcement operations by the media or openly available court documents, however, could result in an increase in HVE plots focused specifically against law-enforcement officers. The exploitation of public available documents highlighting law-enforcement disruption strategies could enable HVEs to improve their operational security, potentially limiting the effectiveness of future undercover operations.

According to open-source indictments, a New York City Police Department Intelligence Division undercover officer played a crucial role in disrupting two New Jersey-based HVEs who attempted to travel to Somalia to engage in violent jihad in 2010.
Now-detained HVE Jesse Morton posted a video on Islampolicy.com that accuses the FBI of entrapment and specifically addresses several publicly available indictments of HVEs that highlight the role of FBI undercover informants, including plot developments, weapons access for HVEs, and backgrounds of the informants, as well as tactics that could be used by HVEs, according to open-source information.

This report is provided by the National Counterterrorism Center (NCTC). Comments and queries are welcome and may be directed to Managing Editor, NCTC Current, (571) 280-6889.
Share this: