This document was originally published by Phi Beta Iota.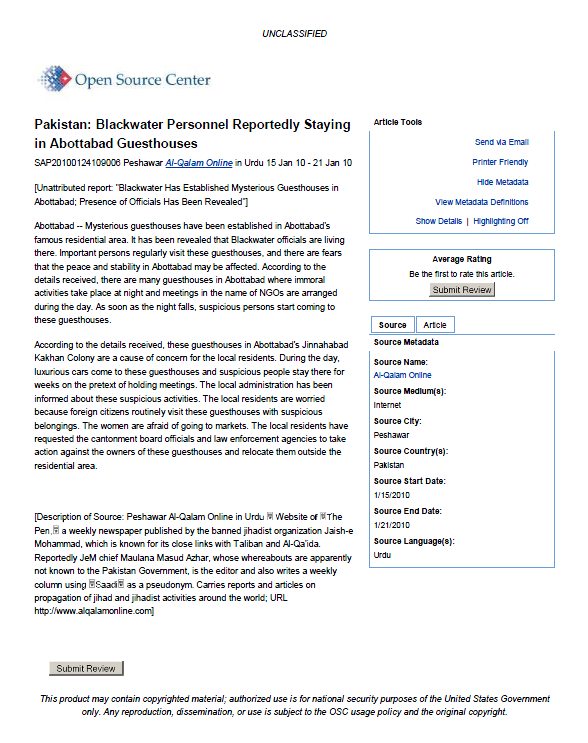 Pakistan: Blackwater Personnel Reportedly Staying in Abottabad Guesthouses
1 page
Original report from January 2010

Abottabad — Mysterious guesthouses have been established in Abottabad's famous residential area. It has been revealed that Blackwater officials are living there. Important persons regularly visit these guesthouses, and there are fears that the peace and stability in Abottabad may be affected. According to the details received, there are many guesthouses in Abottabad where immoral activities take place at night and meetings in the name of NGOs are arranged during the day. As soon as the night falls, suspicious persons start coming to these guesthouses.

According to the details received, these guesthouses in Abottabad's Jinnahabad Kakhan Colony are a cause of concern for the local residents. During the day, luxurious cars come to these guesthouses and suspicious people stay there for weeks on the pretext of holding meetings. The local administration has been informed about these suspicious activities. The local residents are worried because foreign citizens routinely visit these guesthouses with suspicious belongings. The women are afraid of going to markets. The local residents have requested the cantonment board officials and law enforcement agencies to take action against the owners of these guesthouses and relocate them outside the residential area.
Share this: