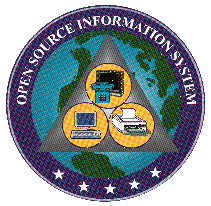 Overview
The Open Source Information System was an unclassified network of computer systems that provides the intelligence community with open source intelligence.  As of 2006, the OSIS name was retired and the network and content portions of the system were decoupled.1  The network portion of the system is now called DNI-U and the content portion is known as Intelink-U.2
According to the Army Foreign Military Studies Office, "Intelink-U is a virtual private network — a government intranet. It provides a protected environment to exchange unclassified and FOUO/SBU US Government and other open source data among Intelligence Community and other selected organizations. The Intelink-U firewalls safeguard government information resources and allow customers access to both the Intelink-U network and the public Internet. This gives Intelink-U users a single point of access to an unprecedented amount of unclassified open source information. "3
Users or "customers" can remotely access OSIS with a commercial phone line via modem dial-up, much like any Internet service provider (ISP). In addition, users may now use any broadband connection.4
Content
Intelink-U provides access to an unprecedented number of US Government and commercial open source information resources. The following Web site addresses are accessible from Intelink-U only:5
World Basic Information Library
http://wbil.fmso.osis.gov
Current baseline information on more than 140 countries which has been selected and validated by reservists with area expertise.
Foreign Broadcast Information Service
http://www.hq.rccb.osis.gov
Timely translations of political, military, economic, and S&T reports from 2,350 publications, 331 radio stations, 153 television stations, 112 news agencies, and hundreds of databases and Web sites in 210 countries and 73 languages.
Homeland Security Central
http://www.hls.osis.gov
A resource for information and collaboration of homeland security issues. Provides a daily summary of open source articles relating to Homeland Secuirty and an annotaed resources directory.
OSIS News Headlines
http://headlines.osis.gov
The OSIS Headline Server provides current information on world events to the OSIS community. It uses more than 40 Internet news feeds and places them into a single web page.
CIRC (Central Information Reference and Control)
A database of over 10 million titles on scientific and technical topics, including patents, standards, military equipment and systems.
DTED (Digital Terrain Elevation Data)
Map collection from The National Geospatial-Intelligence Agency (NGA), formerly the National Imagery and Mapping Association (NIMA) providing global coverage.
TEL (Technical Equipment List)
Indexes over 100,000 brochures and manuals on telecommunications and related equipment.
IC ROSE (Intelligence Community Rich Open Source Environment)
Adatabase service provides searchable text articles from hundreds of periodicals on a wide range of subjects.6
In addition to these services, Intelink-U provides information from a number of specialized databases that provide extensive coverage of foreign political events, military activities, and economics.7  Examples include:
Armed Forces Medical Intelligence Center
NASIC Trade Show Imagery & Brochures
ChinaVitae (biographic data)
BBC Monitoring
Jane's Electronic Library
Oxford Analytica
UNM Latin American Database
Economist Intelligence Unit
Marine Corps Intelligence Activity
Operations
According to GlobalSecurity.org, the "Community Open Source Program Office (COSPO) supports all aspects of open source information systems, spanning collection, processing, analysis, and dissemination, to include network and distributed computing resources. The National Air Intelligence Center (NAIC) is the Executive Agent for a major element of OSIS, the Open Source Service Agent (OSSA). Dr. Joseph Markowitz, Director of COSPO has noted that while Allen Dulles was fond of saying that open sources provided 80% of the input to the all-source intelligence production process, "the more common contribution of open sources to the average all-source product is on the order of 20 to 30 percent."8
Intelink-U is currently being operated by the DNI-CIO Intelligence Community Enterprise Solutions (ICES) office.
Location
The web adress of the Open Source Information System is osis.gov, a domain controlled by two nameservers on different IP networks. Incoming mail for osis.gov is handled by three mailservers at osis.gov themselves.9 All of them are on the same IP network. dni.gov, odni.gov, ugov.gov, osis.org, iarpa.gov and at least seven other hosts share nameservers with this domain.10
Nameservers

nsn.intelink.gov  –  65.222.132.34
nsn.osis.gov  –  206.112.75.240

Mailservers

fw-a.osis.gov  –  206.112.75.238
fw-b.osis.gov  –  206.112.75.239
fw-c.osis.gov  –  206.112.75.237
The physical address of the registrant for osis.gov is:11
CustName:   OSIS
Address:    2N37 Plaza A
City:       Washington
StateProv:  DC
PostalCode: 20505
Country:    US
RegDate:    2003-08-06
Updated:    2003-08-06

NetRange:   206.112.75.192 - 206.112.75.255
CIDR:       206.112.75.192/26
NetName:    UU-206-112-75-192-D4
NetHandle:  NET-206-112-75-192-1
Parent:     NET-206-112-0-0-1
NetType:    Reassigned
Comment:    Addresses within this block are non-portable.
RegDate:    2003-08-06
Updated:    2003-08-06
This address is further confirmed in several military sources, though these are from the mid-nineties and refer to the site as the Community Open Source Program Office.12
Internet E-Mail: Director@cospo.osis.gov

Mail: COSPO, 2N37 Plaza A,
Washington, D.C. 20505
Phone: (703) 281-8097
Fax: (703) 242-0013
Secure Fax: (703) 242-3962
Cryptome identifies this address with the "US Navy Secret DC Tunneling Project", a site which is south of the railroad bridge that runs beside Route 1 and I-395, approximately 2 miles northeast of the Pentagon.13 According to a Washington Post article from November 26, 2004, the Navy controls the location and describes it as a "utility assessment and upgrade".  The article says that "theories abound about the four-acre complex, which is dead center in a ring that includes the White House, the U.S. Capitol, the Pentagon, Reagan National Airport and the National War College. Is it a sophisticated sensor station, guarding the 14th Street bridge and other Potomac River crossings? Is it an excavation point for underwater barriers to protect the Washington Channel and Potomac River from submarines? Is it a staging area for Navy Seabees securing underwater cables between the White House and the Pentagon, across the river?"14
The osis.gov registrant information that provides this address is dated August 6th, 2003.  Given that construction on this site seems to have begun in 2004, it seems the site is related to the implementation of new IT network infrastructure leading up to the decoupling of the Open Source Information System in 2006.  This would explain the registrant information for osis.gov and would likely be part of the push to enhance network security and CNO following the Information Operations Roadmap of 2003.
Share this:





Source notes: