U.S. Department of State Overseas Security Advisory Council
| | | | |
| --- | --- | --- | --- |
| Attack on U.S. Consulate Benghazi: U.S. Officials Killed | September 12, 2012 | 3 pages | Download |
| Fatal Car Bombs Hit Tripoli | August 27, 2012 | 2 pages | Download |
| Libyan Elections | July 20, 2012 | 3 pages | Download |
| Libya Instability Continues | June 12, 2012 | 2 pages | Download |
| Progress Elusive in Libya | March 7, 2011 | 2 pages | Download |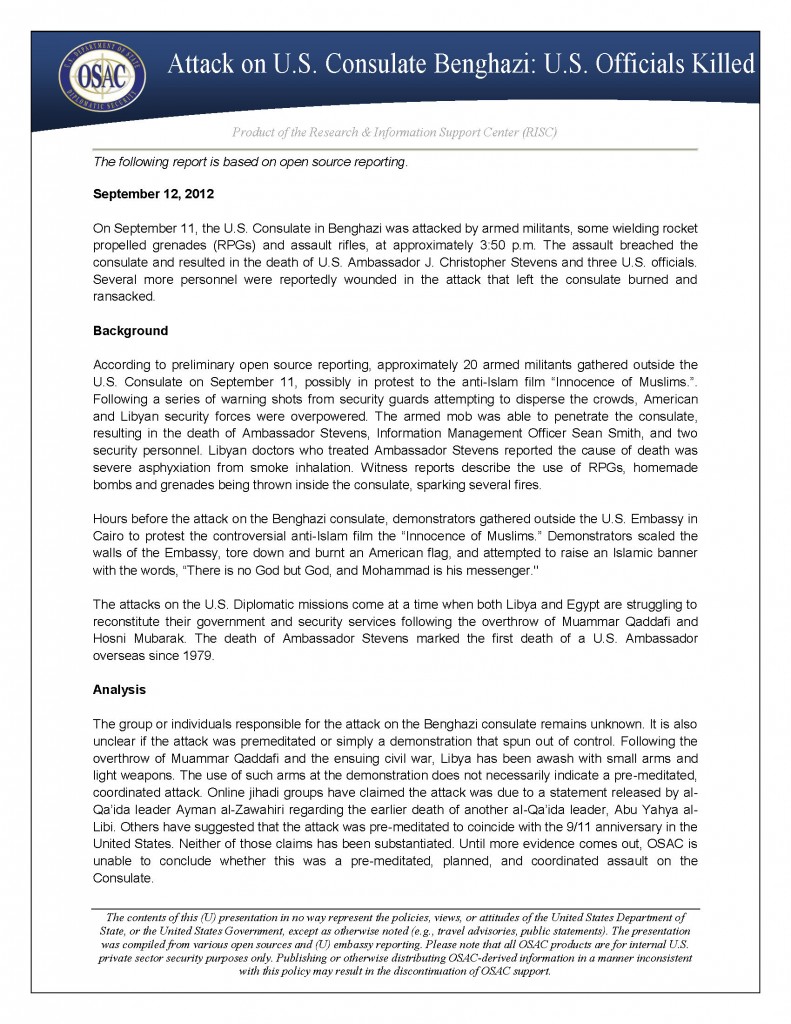 The group or individuals responsible for the attack on the Benghazi consulate remains unknown. It is also unclear if the attack was premeditated or simply a demonstration that spun out of control. Following the overthrow of Muammar Qaddafi and the ensuing civil war, Libya has been awash with small arms and light weapons. The use of such arms at the demonstration does not necessarily indicate a pre-meditated, coordinated attack. Online jihadi groups have claimed the attack was due to a statement released by al-Qa'ida leader Ayman al-Zawahiri regarding the earlier death of another al-Qa'ida leader, Abu Yahya al-Libi. Others have suggested that the attack was pre-meditated to coincide with the 9/11 anniversary in the United States. Neither of those claims has been substantiated. Until more evidence comes out, OSAC is unable to conclude whether this was a pre-meditated, planned, and coordinated assault on the Consulate.
In general, as the Libyan government and security forces have attempted to reconstitute themselves, a number of militias continue to impact the security environment, particularity in Benghazi. Some of the Libyan militias are anti-Western in nature and share similar ideologies with al-Qa'ida. As such, the September 11 attack in Benghazi is not necessarily indicative of a larger trend of violent protests across the Middle East.
There has been no substantiated claim of responsibility for the attacks, though media reports suggest members of Ansar al-Sharia participated in the attack. Ansar al-Sharia, or "Partisans of Islamic Law" in Arabic, is a hard-line Islamist group based in eastern Libya with ties to al-Qa'ida. Ansar al-Sharia opposed the recent Libyan elections, condemning them as illegitimate and un-Islamic. Ansar al-Sharia believes Libya should be governed by the Koran rather than a written constitution. It should be noted that Ansar al-Sharia is often used as a "catch-all" term to describe religious extremists in Libya.
Previous Attacks in Benghazi
June 6: Militants threw an improvised explosive device (IED) at the perimeter of the U.S. consulate resulting in damage but no injuries.
June 11: The motorcade of the British Ambassador to Libya attacked with an RPG, leaving two bodyguards wounded.
June 18: Armed gunmen attacked the Tunisian consulate and burned the Tunisian flag in protest of an art exhibition in Tunisia.
August 5: The International Committee of the Red Cross compound was attacked by individuals using RPGs, with no injuries reported.
Share this: