For those who wish to understand the true nature of our current financial system, the Pujo Committee's 1912-1913 investigation of the "Money Trust" is essential reading.  The Committee identified a concentrated group of Wall Street bankers who operated a sophisticated financial network unified by 341 interlocking directorships held in 112 corporations valued at more than $22 billion in resources and capitalization exerting significant control and influence over the U.S. economy and monetary system.  The companies and individuals comprising this network were primarily agents of the Morgan and Rockefeller banking empires which dominated U.S. finance following the "Industrial Revolution".  The Committee names a number of prominent banking institutions as participating in this system including J.P. Morgan & Co., First National Bank of New York, Kuhn Loeb & Co. and individuals such as Paul Warburg, Jacob H. Schiff, Felix M. Warburg, Frank E. Peabody, William Rockefeller and Benjamin Strong, Jr.  Understanding this system of overlapping financial networks and how those networks were used to dominate utilities, railroads, banking and the U.S. financial infrastructure throughout much of the twentieth century is key to the proper analysis of our current economic situation and the influence that the "Money Power" wields over global politics.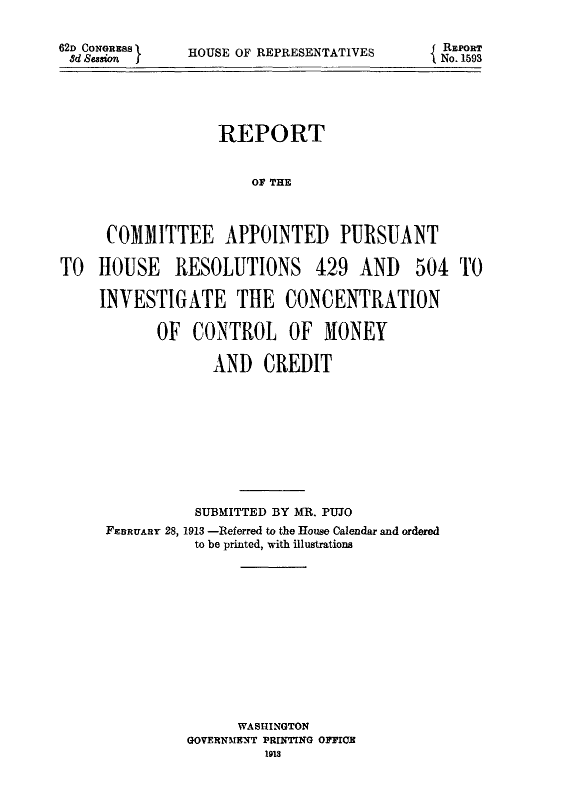 Money Trust Investigation: Investigation of Financial and Monetary Conditions in the United States Under House Resolutions Nos. 429 and 504 : 1912-1913
In 1912, a special subcommittee was convened by the Chairman of the House Banking and Currency Committee, Arsene P. Pujo. Its purpose was to investigate the "money trust," a small group of Wall Street bankers that exerted powerful control over the nation's finances. The committee's majority report concluded that a group of financial leaders had abused the public trust to consolidate control over many industries. The Pujo Committee report created a climate of public opinion that lead to the passage of the Federal Reserve Act of 1913 and the Clayton Antitrust Act of 1914.
The hearings were conducted between May 16, 1912 and February 26, 1913. The transcript of the hearings was published in three volumes. It is presented in the original 29 parts with the index, a table of interlocking directorates of 18 financial institutions, and the majority/minority report of the committee.
| | |
| --- | --- |
| SUDOC: | Y 4.B 22/1:M 74/2/ |
| OCLC: | 5538616 |
| Authors: | United States. Congress. House. Committee on Banking and Currency |
Download Pujo Committee Report (pdf 14.3 MB)
Download Complete Investigation Documents (zip archive 157 MB)
Contents
Money Trust Investigation – Part 1, May 16, 1912. Pages 1-94. (pdf 5.9M)
Money Trust Investigation – Part 2, June 6, 1912. Pages 95-170. (pdf 4.3M)
Money Trust Investigation – Part 3, June 7, 1912. Pages 171-267. (pdf 5.2M)
Money Trust Investigation – Part 4, June 11, 1912. Pages 269-342. (pdf 4.2M)
Money Trust Investigation – Part 5, June 12, 1912. Pages 343-411. (pdf 3.9M)
Money Trust Investigation – Part 6, June 13, 1912. Pages 413-504. (pdf 5.5M)
Money Trust Investigation – Part 7, December 9, 1912. Pages 505-573. (pdf 4.1M)
Money Trust Investigation – Part 8, December 10, 1912. Pages 575-667. (pdf 5.3M)
Money Trust Investigation – Part 9, December 11, 1912. Pages 669-740. (pdf 3.8M)
Money Trust Investigation – Part 10, December 12, 1912. Pages 741-823. (pdf 4.8M)
Money Trust Investigation – Part 11, December 13, 1912. Pages 825-894. (pdf 3.9M)
Money Trust Investigation – Part 12, December 16, 1912. Pages 895-928. (pdf 1.9M)
Money Trust Investigation – Part 13, December 17, 1912. Pages 929-969. (pdf 2.4M)
Money Trust Investigation – Part 14, December 18, 1912. Pages 971-1010. (pdf 2.5M)
Money Trust Investigation – Exhibit 134-A, December 18, 1912. Supplemental chart. (pdf 9M)
Money Trust Investigation – Exhibit 134-B, December 18, 1912. Supplemental chart. (pdf 1.3M)
Money Trust Investigation – Interlocking Directorates (Exhibit 134-C). Pages 1-28. (pdf 1.3M)
Money Trust Investigation – Part 15, December 19, 1912. Pages 1011-1101. (pdf 5.2M)
Money Trust Investigation – Part 16, Exhibit 71, December 11, 1912. Pages 1103-1214. (pdf 4.6M)
Money Trust Investigation – Part 17, January 6, 1913. Pages 1215-1266. (pdf 3.2M)
Money Trust Investigation – Part 18, January 7, 1913. Pages 1267-1360. (pdf 5.3M)
Money Trust Investigation – Part 19, January 8, 1913. Pages 1361-1418. (pdf 3.6M)
Money Trust Investigation – Part 20, January 9, 1913. Pages 1419-1487. (pdf 3.9M)
Money Trust Investigation – Part 21, January 10, 1913. Pages 1489-1573. (pdf 4.5M)
Money Trust Investigation – Part 22, January 15, 1913. Pages 1575-1635. (pdf 3.5M)
Money Trust Investigation – Part 23, January 16, 1913. Pages 1637-1775. (pdf 9.4M)
Money Trust Investigation – Part 24, January 22, 1913. Pages 1777-1802. (pdf 1.5M)
Money Trust Investigation – Part 25, January 23, 1913. Pages 1803-1955. (pdf 8.2M)
Money Trust Investigation – Part 26, January 24, 1913. Pages 1957-2140. (pdf 10.7M)
Money Trust Investigation – Part 27, February 7, 1913. Pages 2141-2142. (pdf 126k)
Money Trust Investigation. Index to Parts 1-27. (pdf 3M)
Money Trust Investigation – Part 28, February 25, 1913. Pages 2143-2213. (pdf 5.3M)
Money Trust Investigation – Exhibit 243, February 25, 1913. Supplemental diagram. (pdf 979k)
Money Trust Investigation – Exhibit 244, February 25, 1913. Supplemental diagram. (pdf 864k)
Money Trust Investigation – Part 29, February 26, 1913. Pages 2215-2226. (pdf 656k)
Report of the Committee Appointed Pursuant to House Resolutions 429 and 504 to Investigate the Concentration of Control of Money and Credit. February 28, 1913. Pages 1-258. (pdf 14.3M)
Share this: